Pit Bull Photos That Prove They're The Snuggliest, Silliest, Coolest Dogs On The Block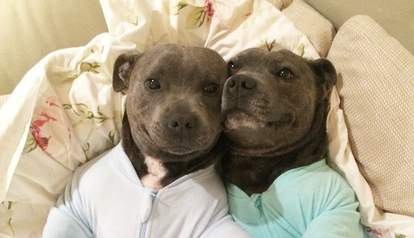 <p><a href="http://ink361.com/app/users/ig-421387877/the_blueboys/photos?utm_source=thedodo&utm_medium=externalsite&utm_campaign=dodo-pitbulls" target="_blank">@the_blueboys</a><span></span><br></p>
Anyone who's spent any time with a pittie knows that they are just the biggest love bugs. Their big noggins give sloppy wet kisses and their big stocky bodies make for perfect cuddle buddies. It really is a shame that they have the bad rap that they do. A picture is worth a thousand words though, right? See for yourself in 12 photos why pit bulls are just so luv-a-bull!
1. Meet Darren and Phillip - BFFs and pajama bros for life!
2. Her name is Noodlez. I don't think we really need to say much more.
3. This freckle nosed baby is Wilson and he's nothing but smiles.
4. "Sorry guys, not my fault you're too short!"
5. Bama's jowly face makes for some pretty derpy faces!
6. They're really just big babies.
7. Tongues out, guns out!
8. Their smiles are contagious :)
9. Be prepared for a make out session at anytime!
10. "Look into my eyes, human. You know you want to rub dis belly!"
11. "Hey Mawm, do you think I could get a Frosty Paws over here?"
12. Warning: Looking at this picture for more than five seconds will lead to extreme happiness!