This Pit Bull Falls In Love With Every Cat She Meets
"She obviously gives off a vibe that tells them she's safe and loving."
There's something about a pit bull named Jewel that makes cats go crazy - with affection, that is.
"They all just love her," Hayley Baer, Jewel's current owner, told The Dodo. "They want to cuddle with her, rub against her and try to get her to lick them. They would crawl all over her like a jungle gym."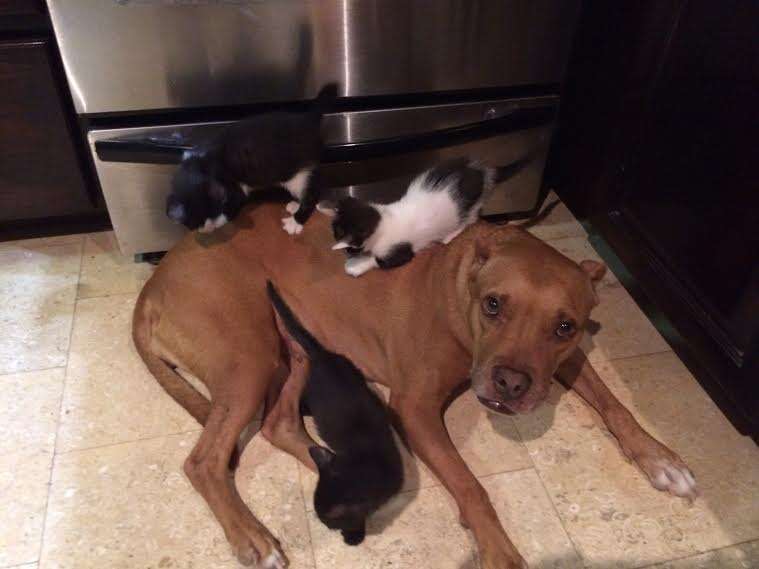 Before Jewel became a cat magnet, the 10-year-old dog lived through some rough experiences.
In 2009, animal control officers working for the Nassau Humane Society seized Jewel from a house in northern Florida. She was skinny and malnourished, and someone had also cut off her ears with scissors. Sores and cigarette burns covered her body. When approached, Jewel cowered, suggesting someone had previously abused her. A vet also diagnosed her with heartworm disease, and she required a series of treatments to save her life.
On top of everything else, Jewel had a litter of puppies to care for. This wasn't her first - the vet believed Jewel's former owners had bred her over and over, selling her puppies for profit.
Three of Jewel's babies had already died by the time animal control officers arrived at the house, and the remaining four were so weak, they couldn't nurse. Rescuers did what they could to help, but two more puppies died by the time Baer (who worked as a foster carer for Nassau Humane Society) took Jewel into her home.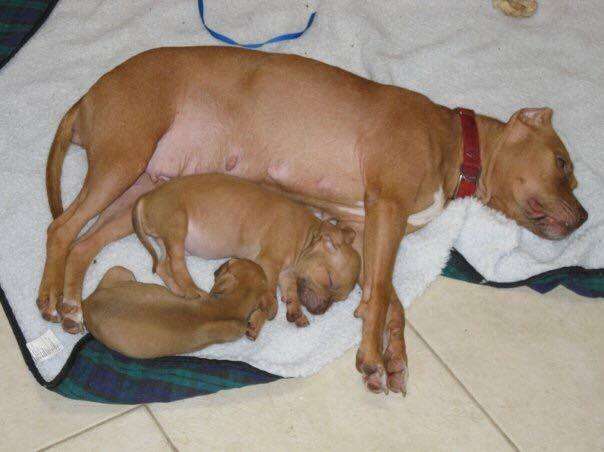 Despite all the horrible things that happened to her, Jewel didn't seem angry at all - in fact, she just wanted to love.
"From day one in my care, she was wonderful with any person or animal," Baer said.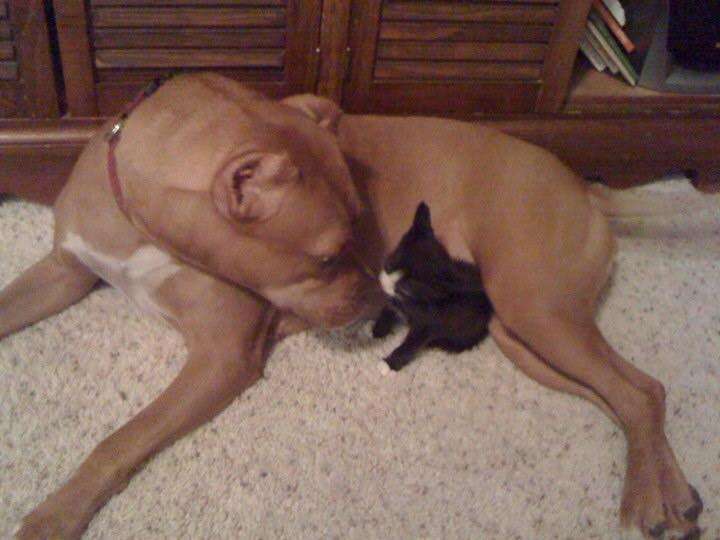 The first cats Jewel met were Lavender and Lily, whom Baer fostered, then adopted. Initially, the cats watched Jewel from the safety of the kitchen countertop. But slowly, they started to get used to her.
"They would get around her more and more as I let [Jewel] into the house with me around," Baer said. "I trusted her, but was still cautious."
Eventually, Jewel, Lavender and Lily forged a friendship, and it didn't take long before they were cuddling together on the floor.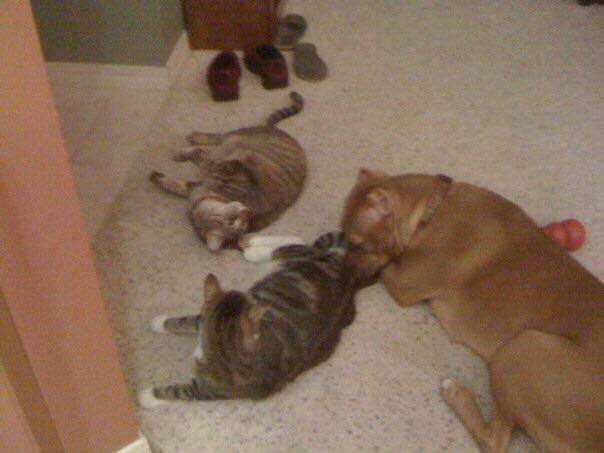 "I was extremely happy," Baer said. "I had hoped it would happen."
In 2012, Lavender and Lily unfortunately passed away, and Baer wanted a couple more cats in her life, for herself and for Jewel. So, Baer started fostering other kittens.
"The kittens usually cuddled with her within days," Baer said. "They love Jewel!"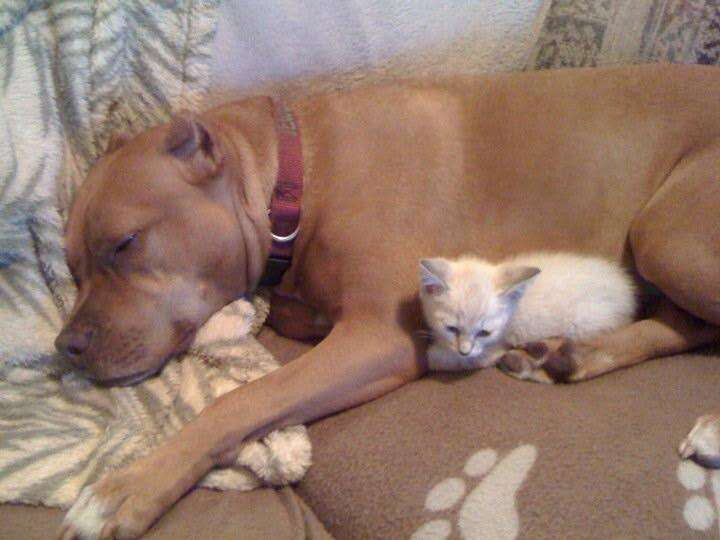 Some of Baer's foster cats trusted Jewel before they trusted Baer herself. "She obviously gives off a vibe that tells them she's safe and loving," Baer said. "It's so wonderful to see."
For example, later in 2012, Baer started caring for Anderson and Cooper, two street kittens who'd been living under her sister's porch in Florida. Anderson and Jewel formed a particularly strong bond - they snuggled together, licked each other and played together.
"Anderson followed her around the house," Baer said. "He lay next to her many times a day. When Jewel started licking her paw, he would run across the room and shove his head in trying to get her to lick him, even though it rarely worked."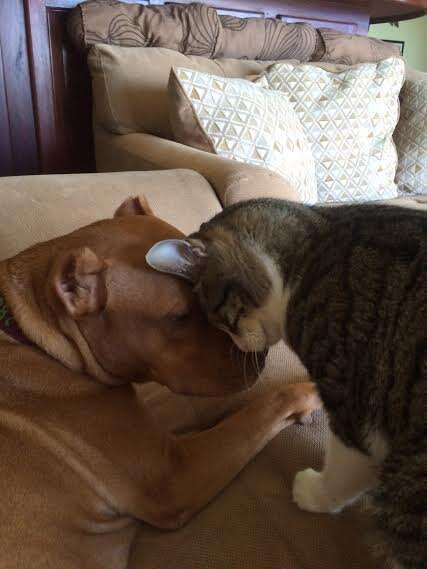 When it came time for Anderson and Cooper to be adopted into another home, Baer knew she couldn't separate them.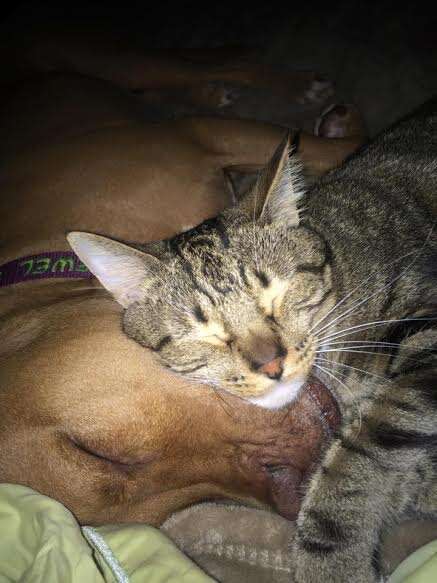 "Once Anderson started laying in Jewel's arms constantly, I couldn't give him up, or his brother," Baer said. "After four-plus years, he is still more [Jewel's] cat than mine."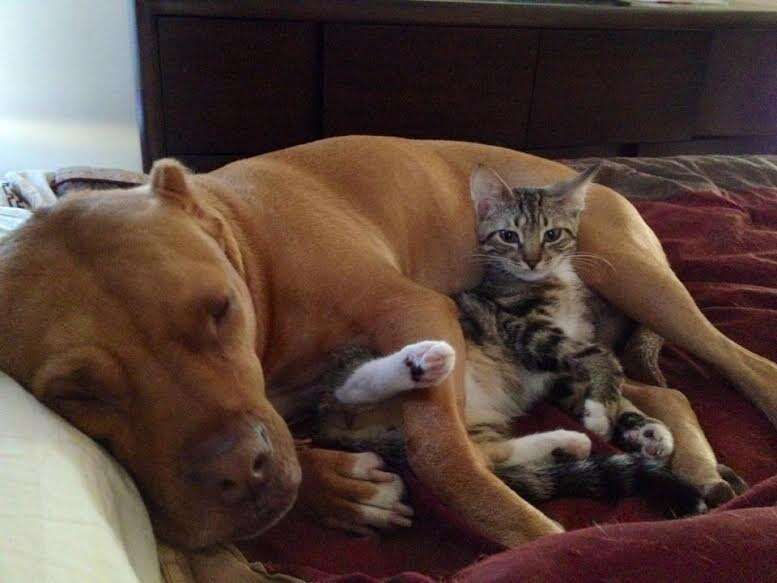 "Anderson waits for her at the door when we go for walks," Baer added. "Not for me - for her."
In 2014, Baer moved to Belize, and she took Jewel, Anderson and Cooper with her. They might be in another country now, but nothing has changed in their relationship.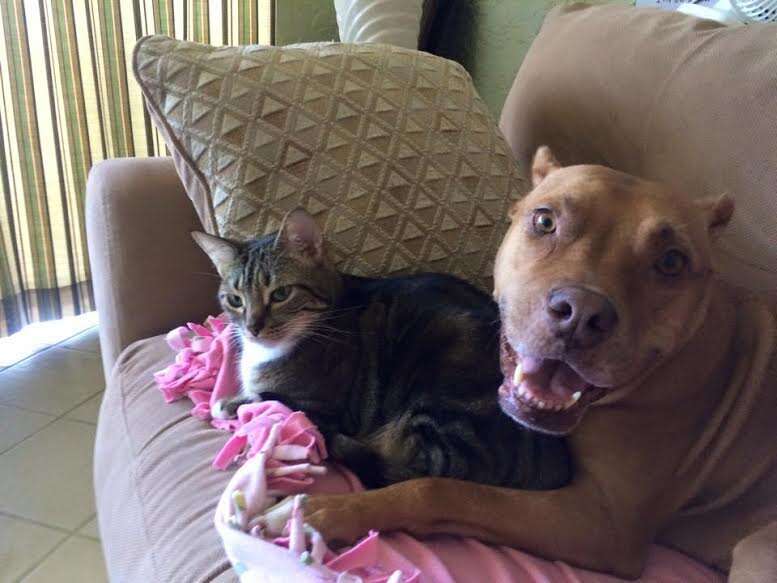 "Many times while I'm working on my laptop, [Jewel] will be on the couch beside me with two cats next to her," Baer said. "They all also sleep in bed with me. It melts my heart every time."