Leesa the homeless pit bull was living on the streets of Los Angeles with a very large mammary mass. When the mass ruptured, she wandered around bleeding and in pain until someone finally noticed that she desperately needed help.
Hope for Paws got a call about Leesa, and upon hearing that she was bleeding, rushed to where she'd been spotted as quickly as they could.
"Someone who follows Hope For Paws spotted Leesa living behind a restaurant, hiding under cars, and not feeling well," Eldad Hagar, founder of Hope for Paws, told The Dodo. "She could see her bleeding tumors, so she asked me for help. I didn't know how severe the bleeding was, so I didn't stop to get a cheeseburger and I just rushed to the rescue location."
Hagar tried to reach out to Leesa with his gentle snare ...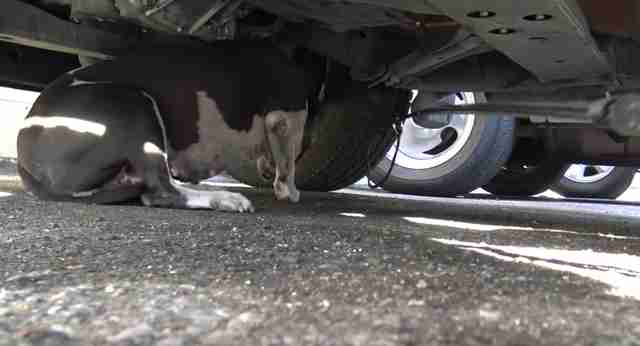 ... but as soon as he did, Leesa got scared and crawled out and under another car.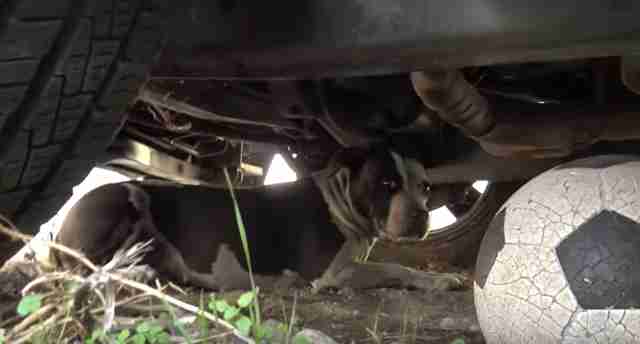 Hagar knew he would have to earn Leesa's trust if he wanted to get her safely out from under the car, and so he decided to slowly try petting her ...
... and after a while, she finally started to relax a little bit.
Once he'd shown her he wasn't going to hurt her, Hagar showed Leesa his leash, and was finally able to slip it around her and guide her out from under the car.
Once she was out in the open and could fully see her rescuer, Leesa began to warm up even more, and even felt comfortable enough to climb into Hagar's lap ...
... and give him kisses as a way of thanking him for saving her life.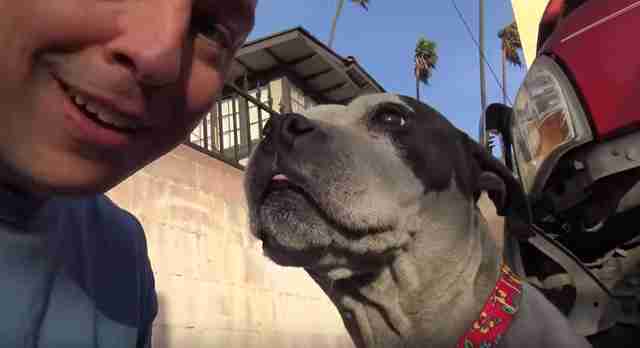 "I have done this thousands of times already, but it's always so special to go through this process where you actually develop a relationship and trust over such a short period of time (the whole rescue took less than 30 minutes)," Hagar said. "It was so sweet to have her climb onto my lap, come close for a hug, and then sneak a kiss. Her reaction for me kissing her was even sweeter. She almost reacted like a human."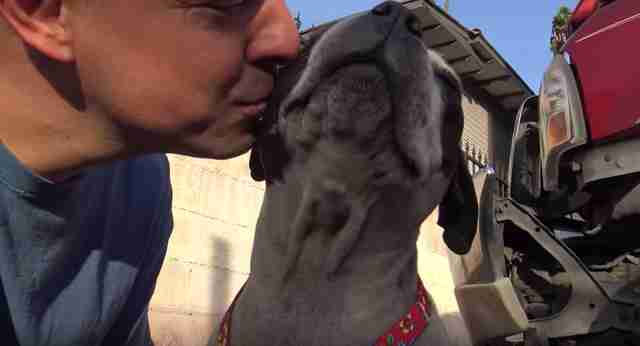 Leesa was quickly rushed to a local vet, where she had surgery to remove her mammary tumors, as well as a tumor on her head and one on her back. Her recovery took quick a while, but she's now in a loving foster home, waiting for the day when her forever family finally finds her.
"I went to visit Leesa, and she is doing AMAZING," Hagar said. "She is healthy, happy, running around and she had so much fun playing with toys."