Pit Bull With Severe Anxiety Finds Parents Who Totally Get It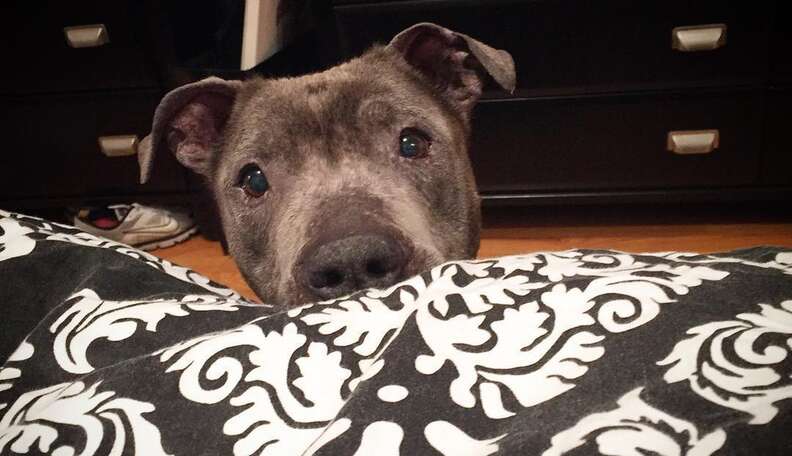 A few weeks back I wrote about a 10-year-old pit bull named King. King has severe anxiety issues, and was having a ton of trouble getting adopted from Animal Haven, the shelter that had taken him in.
While at the shelter, King definitely had issues. All of the commotion and the other animals were making his anxiety more intense, and he almost always needed to have a toy in his mouth in order to feel safe.
King had been at the shelter since December, and Erin O'Sullivan of Susie's Senior Dogs was pushing hard for him to get adopted. Susie's Senior Dogs is an organization that helps senior dogs find homes, and Erin, its founder, had taken a special interest in King. Erin made countless posts about King, hoping that the right person would see one and take a chance on him.
I had the pleasure of meeting King, and what I saw was an anxious dog who just needed to find a place he belonged in order to really find himself. That's all I wanted for King, all I wished for after every post Erin made. Almost a month after I wrote about King, everyone who has been rooting for him has finally seen all of our wishes come true.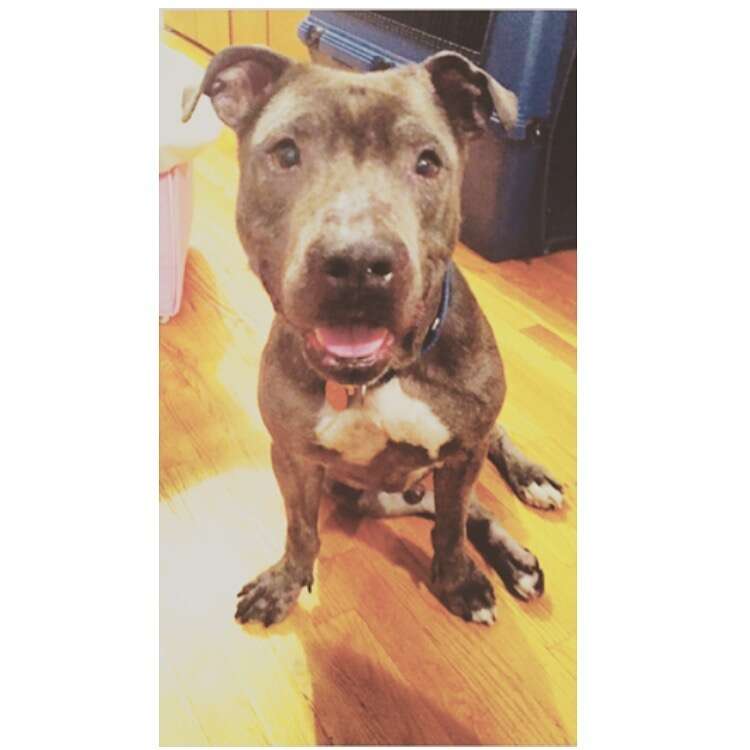 On July 15, King finally made it to his forever home. A young woman saw King's story and thought her cousin and cousin's boyfriend might be the perfect people to take on King, his challenges and his love. When Lexa and Tim heard about King, they had the thought that we had all been waiting for: "We can take him." Lexa and Tim adopted King, finally giving him the home, and second chance, that he has always deserved.
Today, King has made more strides than anyone could ever imagine. Upon arriving at his new home, King didn't feel the need to have a toy in his mouth at all. King became a sweet cuddle bug with his new mom and dad.
"The minute I brought King home his whole personality changed," Lexa told The Dodo. "The first night when Tim and I were snuggling him he breathed a sigh of relief that just showed us how happy he was to finally be home and to us it really showed how relaxed he was."
Now, King cuddles and watches TV with his new family. They go for walks in Central Park, and King has even ridden in an Uber and been out to eat. The senior dog who was losing his fur from stress is gaining his confidence back. Most of all, he loves his new family with all his heart because they gave him what he always wanted - a chance.
"If we are walking around the apartment, doing other things while he's eating, he will eat a few bites, come check up on us then go back and eat a few more and check again," Lexa said. "It's pretty funny and cute."
King probably feels like Lexa and Tim rescued him, but Lexa says they feel the same way about King. "Overall we are just so excited to have been rescued by King and have the love of a dog in our home."
Is King still anxious? Probably. When you have anxiety, it never fully goes away. Trust me, I know. When you find where you belong, though, it's easier to manage. It's easy to manage to the point where you might be the only one who's aware of it. No one else may ever know.
Even if King has moments of anxiety along the way, his new family will now always be there for him to help him through it. "It's only been a week and we still have so much more to do with him and so many more adventures and experiences to plan for him," Lexa told The Dodo. "We are so in love with him and can't wait to create these memories"
King, I am so happy that you have finally, finally found your home. You deserve it more than anyone. May the rest of your days be happy and filled with love.