Pit Bull Hit By A Car Was So Scared Of Being Helped
She growled at her rescuers — then realized they were saving her life.
When a homeless pit bull was hit by a car, she was so terrified of being helped by anyone - until she realized that help was exactly what she needed.
Hope for Paws, a rescue organization in Los Angeles, received a call about a pit bull who'd been hit by a car and was unable to move, clearly severely injured. The woman who saw the dog get hit, and made the call, stayed with her until rescuers arrived to help.
Hope for Paws
The pit bull, later named Jezebel, had taken shelter under a parked car, too scared and injured to do anything else. The noise from the passing cars kept startling her, and rescuers knew it would be a struggle trying to get her out from under the car.
Hope for Paws
Slowly and carefully, rescuers attempted to slip two gentle snares over Jezebel, so they could safely pull her out and take her to get the help she so desperately needed.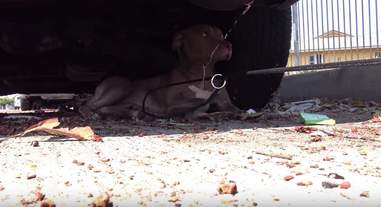 Hope for Paws
Terrified, Jezebel started growling at her rescuers, and they knew they needed to keep a safe distance until they gained her trust.
Rescuers were finally able to pull Jezebel out from under the car and onto the sidewalk, away from the rushing cars. Eldad Hagar, founder of Hope for Paws, attempted to touch Jezebel with a towel to try and calm her down and gain her trust ...
Hope for Paws
... but the poor pup was still terrified and continued to growl a little. In order to safely transport her to get medical attention, they decided to place her in a crate.
Hope for Paws
Once she was securely in the crate, they immediately drove her to the animal hospital to be treated.
Luckily, Jezebel didn't have any broken bones, but she did have some severe bruising. As soon as she was safe and sound at the hospital, Jezebel began to calm down, and finally realized that everyone was there to help her, and not hurt her.
Hope for Paws
She even offered Hagar a hug, as if to thank him for saving her life.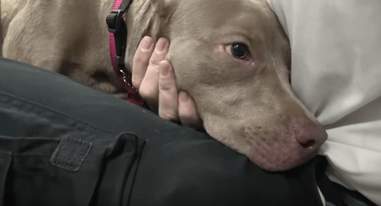 Hope for Paws
Jezebel is now up for adoption, and more than ready to find her forever home.
If you'd be interested in adopting Jezebel, you can contact Farren Mahone, who is handling Jezebel's adoption.
Watch the full video of Jezebel's rescue below: