A golden-furred pit bull went into labor in the back of an animal control vehicle last week.
An officer had picked her up just minutes before from a rough area in Dallas, Texas, where she'd been wandering. She'd probably been on the streets for a while, according to Jerry Chandler, an officer for the Dallas Animal Services (DAS), and would've had every reason to be scared of people. But when approached by Chandler, the pit bull was nothing but friendly.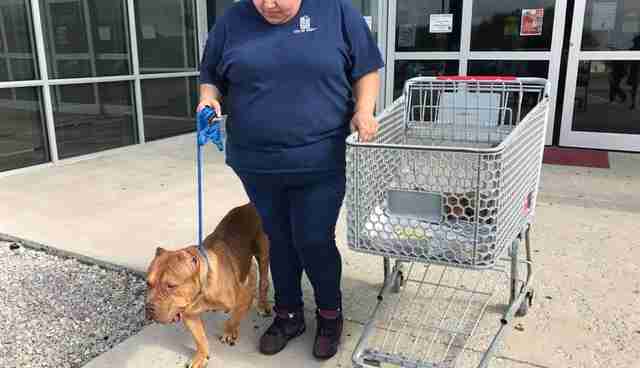 "She just wagged her tail," Chandler tells The Dodo.
Chandler thought the pit bull might be pregnant, but he wasn't entirely sure. He'd get a vet to look at her back at the shelter, but he didn't think the situation was too urgent.
But, things happened more quickly than he imagined - by the time Chandler had put the dog into his truck and driven to the shelter, she'd given birth to one of her puppies.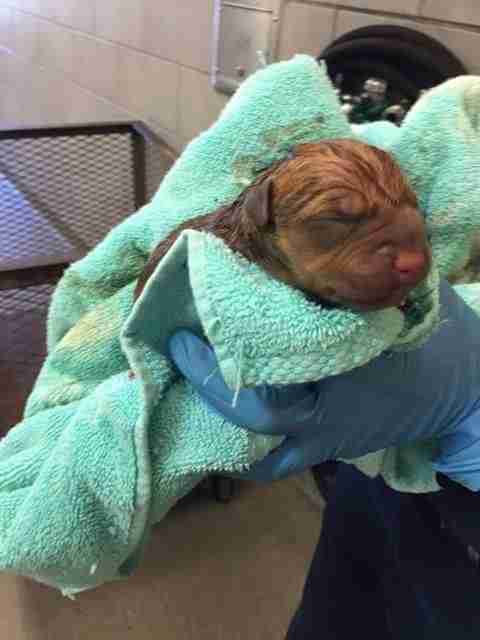 Chandler called for help to get the mother dog and puppy safely out of the truck. "We brought out a basket and we got a lot of towels and blankets," Chandler says. "We lifted her up from the truck and put her in the basket, then we put her into her room [in the shelter]."
Once inside the shelter, the dog - who'd later be named Pepper - gave birth to six more puppies. Together, they'd stay at the shelter for the next four days. Then on November 2, staff at the DAS put Pepper on "review," which is when the shelter decides her fate.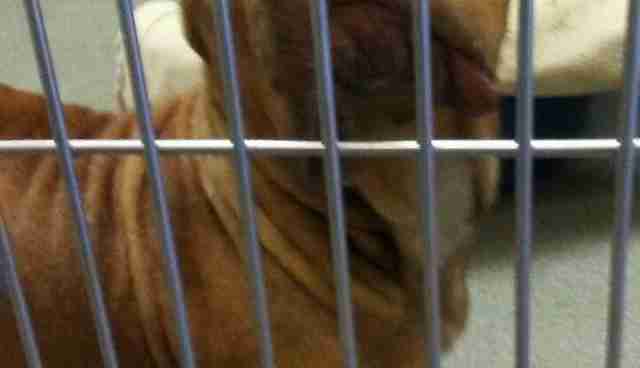 When a woman named Carrie DeBord saw a Facebook post about Pepper and her babies, she knew she needed to help. "I began sharing the Facebook post, as I always do," DeBord tells The Dodo. "I saw on the website that [November 2] was meant to be her 'review day.'"
On review day, animals at the Dallas Animal Services become the property of the city of Dallas, and the shelter staff may be forced to euthanize some animals, according to Chandler. "But we try not to [euthanize animals] as much as possible," Chandler says.
While DeBord isn't certain what would've happened to the puppies, she doesn't think they'd survive if the mom had been euthanized. "If Mom wasn't there to nurse, I doubt a bottle-feeder would have come forth," DeBord says. "I've seen whole families put down because of the overpopulation issue."
DeBord already had three pit bulls at home, and she didn't have much room in her house. But when no one offered to adopt Pepper and her babies, DeBord drove to the shelter to pick them up.
DeBord was shocked to see Pepper's condition - she was in bad shape. "She was severely emaciated, and had a poor skin condition with sores all over her body," DeBord says. "It looked like she hadn't been cared for in a long time."
Besides being skinny and covered in sores, Pepper had trouble walking on her hind legs. Her nails were also about 4 inches long and curled. Many of her teeth were broken or rotted.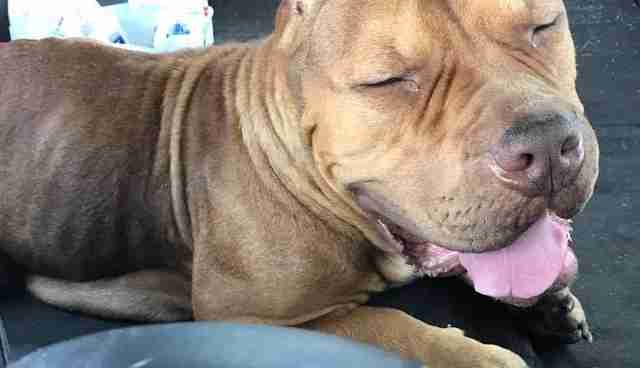 Despite all of this, Pepper was one of the sweetest dogs DeBord had ever encountered. "She had no fear getting into my car," she says. "Pepper showed trust and willingness, with her seven puppies in tow. I suspect Pepper is naturally a calm and balanced dog, which may allow her to go into [an unknown situation] more easily than a more excitable, high energy dog."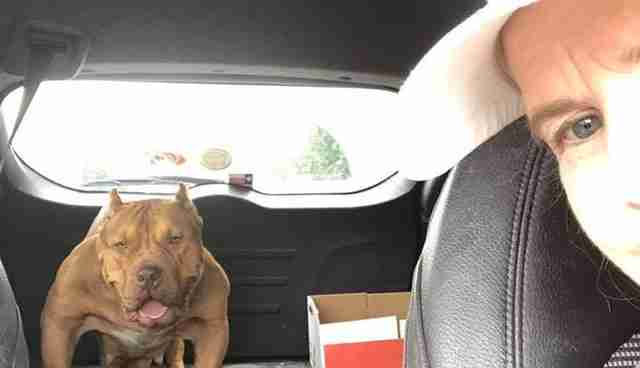 Pepper was attentive to her babies, and she didn't mind if DeBord - or anyone else - got close to them. "If [the puppies] were placed in the basket, she always checked on each one," DeBord says. "She's shown absolutely no signs of 'aggression' or concerning behavior whatsoever. She allows the puppies to be handled, and checks on each one to make sure they are there and OK. She's pretty incredible."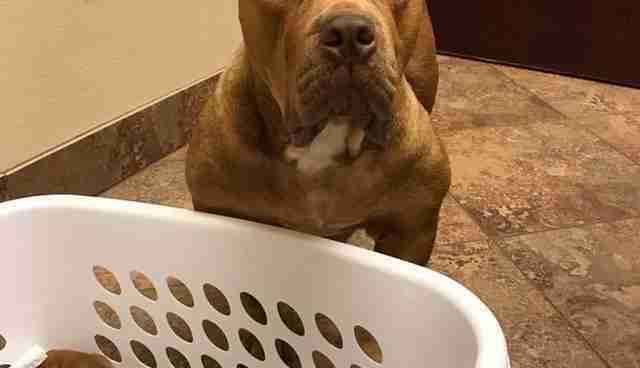 When Officer Chandler heard that DeBord was fostering Pepper and her puppies, he was delighted. "[Pepper] is so beautiful," he says. "I felt like a proud father. Glad to hear she made it to rescue."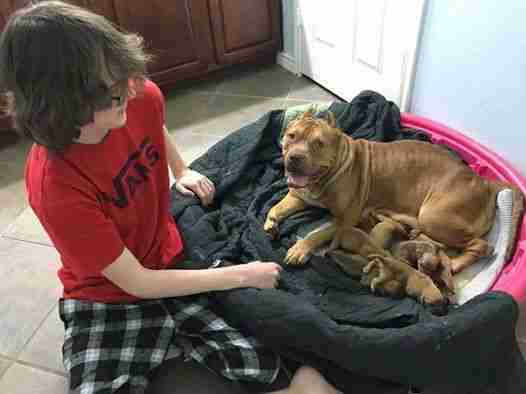 After taking Pepper for a vet visit, DeBord made her comfortable in her home ...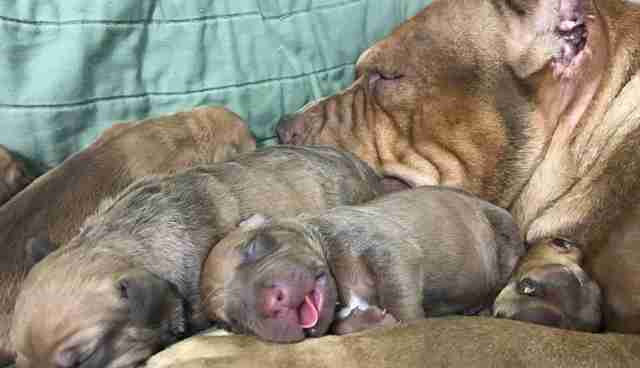 ... and Pepper's finally relaxing.
"Pepper appears to be 'alert,' but she's been sleeping a little deeper in the last 6 to 8 hours," DeBord says. "Very small time pockets of deep sleep, but she's getting some much needed rest."
DeBord will keep Pepper and her seven puppies until the puppies are old enough to be spayed and neutered. Then, she'll make sure they all go to loving homes.