Pit Bull Who Lived Through Hell Finds Someone Who Knows What That's Like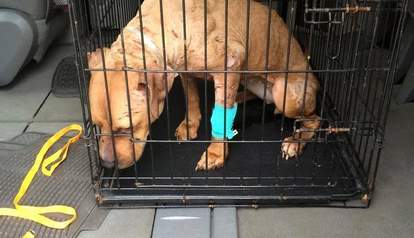 <p>Second Chance Rescue NYC</p>
Hope the pit bull was rescued from unimaginable pain and waited nearly a year for her forever home.
Second Chance Rescue NYC
Second Chance Rescue NYC
Hope was found by Animal Care And Control (ACC) NYC in June 2014, wandering the streets in the Bronx covered in bruises, open wounds and her own blood. It was clear that she had been used as a bait dog for dog fighting, as many of her injuries appeared to be from a whip or a wire. She was also covered in bite marks.
Second Chance Rescue NYC
Second Chance Rescue NYC
Sweet little Hope was only 2 years old when she was found, and yet she had already been through so much pain. Second Chance Rescue NYC pulled Hope from the shelter and vowed to help her find the happy ending she deserved.
After she was rescued, Hope waited, and waited, and waited some more. It seemed like the perfect family would never come along ... until they did. A family finally stepped up to adopt Hope, and they were more perfect for her than anyone ever could have dreamed.
Jennifer Bobzin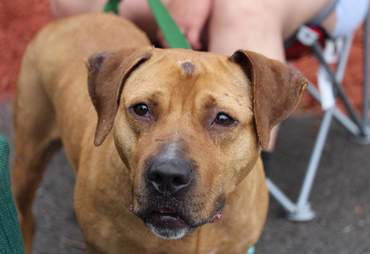 Jennifer Bobzin
Jennifer Bobzin knows what it's like to overcome past experiences all too well. In 2008, Bobzin was in a serious car accident that left her paralyzed, and the doctors told her that she would never walk again.
But instead of accept that fate, Bobzin fought against it - and ended up making a full recovery.
When Bobzin saw Hope's story posted on a friend's Facebook page, she knew that she could help Hope overcome her past the same way she had. "I knew I could give her a better life," Bobzin told The Dodo.
Second Chance Rescue NYC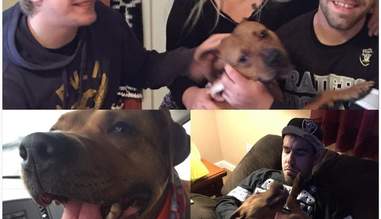 Second Chance Rescue NYC
Now, Hope is living with Bobzin and her family, far away from the horrors of her past. Both Hope and her new mom are survivors, and they help each other cope with their struggles every day.
"She loves to cuddle with me at night," Bobzin said. "My son Chad was concerned about having a pit bull but she stole his heart. We love her very much."
Jennifer Bobzin
Jennifer Bobzin
Moving on from a terrible ordeal can be one of the hardest things in the world, and sometimes all we need to get through it is someone who truly understands.
You can help Second Chance Rescue save more dogs in need by donating here:
Fundraising Websites - Crowdrise
The current sentencing guidelines for convicted dog fighters are very low and don't come close to matching the seriousness of this barbaric activity. Ask the U.S. Sentencing Commission to get tough on animal fighters and increase jail sentences here.