Desperate Pit Bull Takes Herself To Fire Station For Help
Sistine, a pit bull mix, was sick and desperately needed help. As she wandered around a town in Ohio, she came across a fire station and her instincts told her to go in - almost as if she knew it was the place that could save her.
The firefighters at the East Cleveland station are used to seeing strays wandering through their doors, but usually none in as bad condition as Sistine - she had an awful case of mange and other issues as well. She was taken to Crossroads Animal Hospital for treatment. Muttley Crue, a rescue organization, has also taken her on.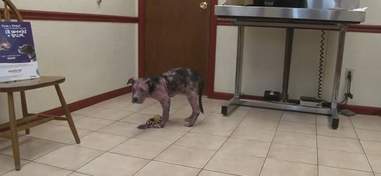 WKYC
Sistine's injuries are so bad that it will likely take a while before she is ready to be adopted. While she recovers, Sistine will remain with the vet who has been treating her at Crossroads.
Rescuers think that Sistine knew the fire station was a place where people go to get help. Either way, she had a big hand in saving herself.
WKYC
WKYC
If you would like to donate to Sistine's cause, you can check out the Muttley Crue website for more information.
Check out video coverage on Sistine's story below: