Pit Bull Rescued From Dogfighting Can't Stop Giving Kisses
<p>Carrie DeBord</p><table><tbody><tr><td><br><br></td></tr></tbody></table>
The pit bull's injuries were bad - really bad. The side of the dog's head was covered in open wounds, and part of her left ear was missing. While no one knew exactly what happened to her, she'd probably been used in dogfights, or stabbed with a knife before being dumped to die.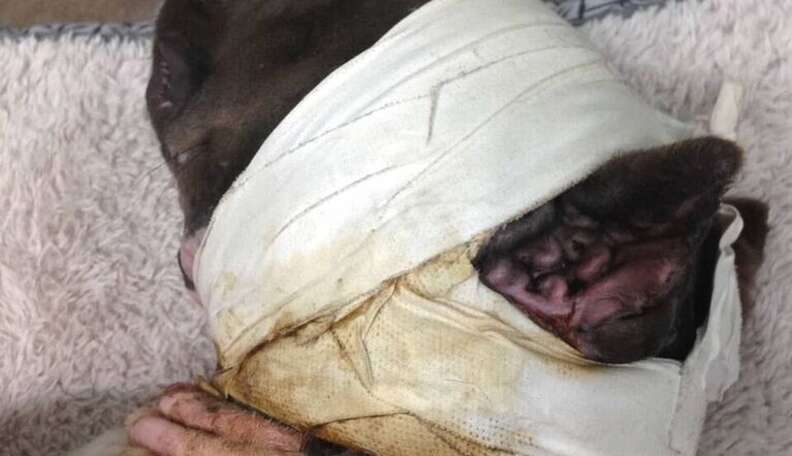 The shelter holding the dog had plans to euthanize her.
Then things got even worse.
Her head wound ruptured, causing her to lose a lot of blood.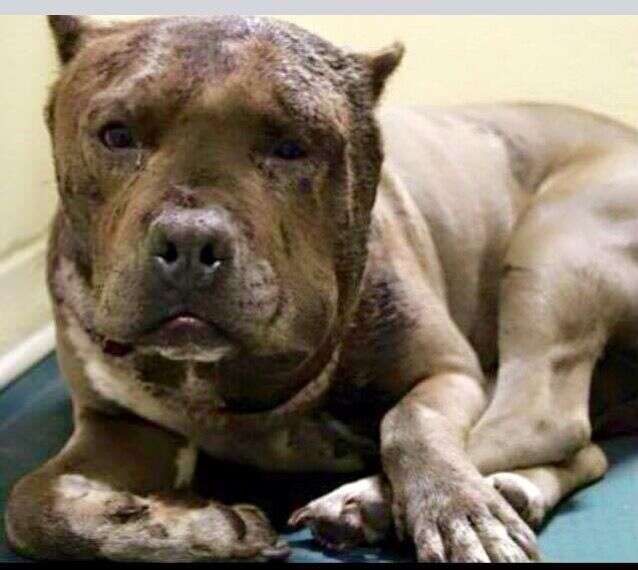 As the pit bull bled in the shelter, two nonprofit rescue groups worked behind the scenes - Dallas DogRRR in Fort Worth, Texas, and Second Chance Rescue NYC in New York. Volunteers from the groups had learned about the dog - who was named Addy - and made fast plans to pick her up first thing in the morning. As soon as Addy was in their care, Dallas DogRRR volunteers rushed her to the Country Brook Animal Hospital to get her the urgent care she needed. One of the volunteers posted a picture of Addy on Facebook with an "SOS" call for a foster home.
When Carrie DeBord saw Addy's photo, she already had six dogs in her care, including a pit bull foster dog, Tess, who had been saved from death row. DeBord had no room for another dog, especially one in such a severe condition, but she couldn't stop thinking about Addy. "My heart broke and I desperately wanted to help," DeBord tells The Dodo. "I knew I would do it, even though I'd never done so previously."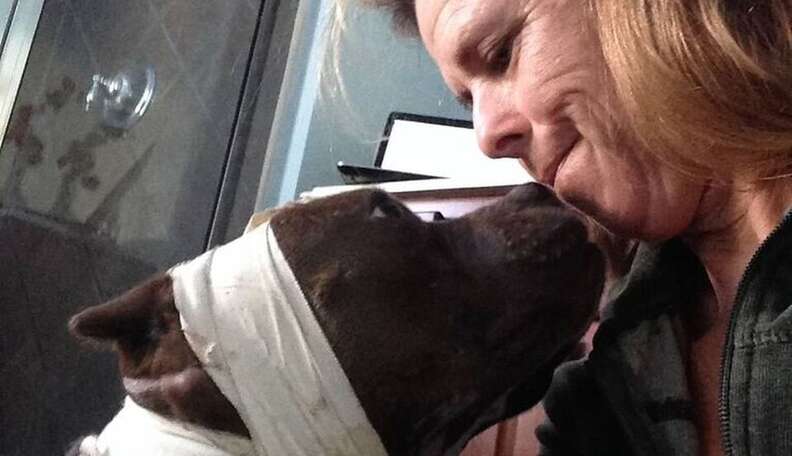 As luck would have it, a family adopted Tess that week, which gave DeBord the space she needed to foster Addy. She got in touch with Dallas DogRRR, and as soon as Addy was medically cleared to leave the animal hospital, Addy was delivered to DeBord's home.
Based on the veterinarian's instructions, DeBord had to keep Addy isolated in a room by herself so her head wounds could heal. Addy had also been diagnosed with a severe case of luxating patella, a knee condition that required surgery, so she had a 12-week recovery period for this as well.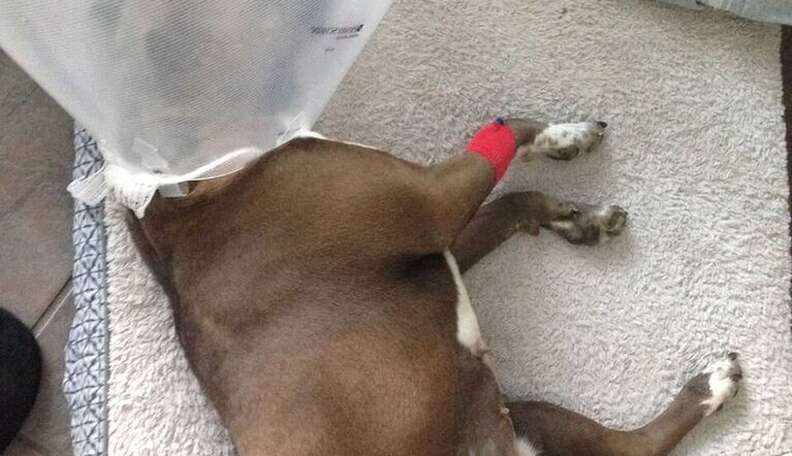 For the first few months at DeBord's house, Addy slept in a spare room while taking a cocktail of heavy pain medications and antibiotics. The only time she left the house was to go outside to "use the bathroom," or visit the veterinary hospital for wound cleanings and hydrotherapy treatments.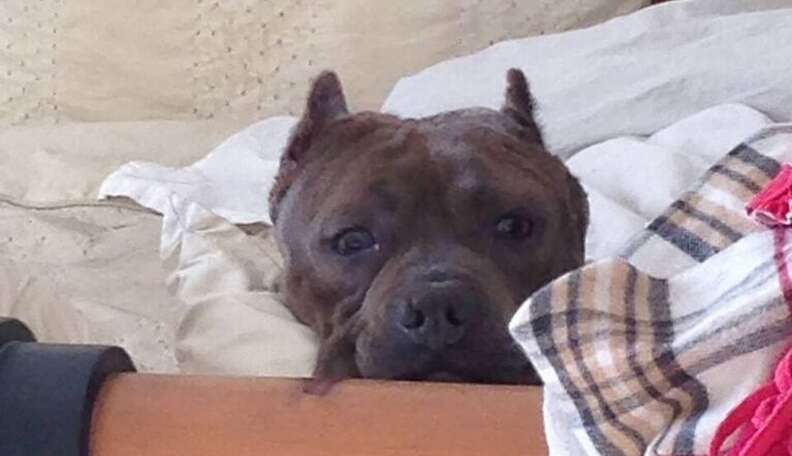 One would think a dog who's been through so much would end up mean and bitter. If she did, who would blame her?
But according to DeBord, Addy has shown incredible resilience, patience and tenacity. "She's by far a dog that has endured the harshest of circumstances I have ever dealt with," DeBord tells The Dodo. "But she's a very happy pup."
After being medically isolated for four months, Addy is finally well enough to socialize with others. This week, DeBord introduced Addy to three of her dogs, including Tuck, a male pit bull rescue. The dogs played well together, and Addy started doing something adorable - she now lifts her chin all the way up, and grins in a way that shows how happy she is.
"I first noticed her doing this the first time she met and played with Tuck," DeBord says. "As they played together Addy seemed to find relief and comfort in being outside and with another dog. Gaining her freedom and the chance to play seemed to bring her real happiness."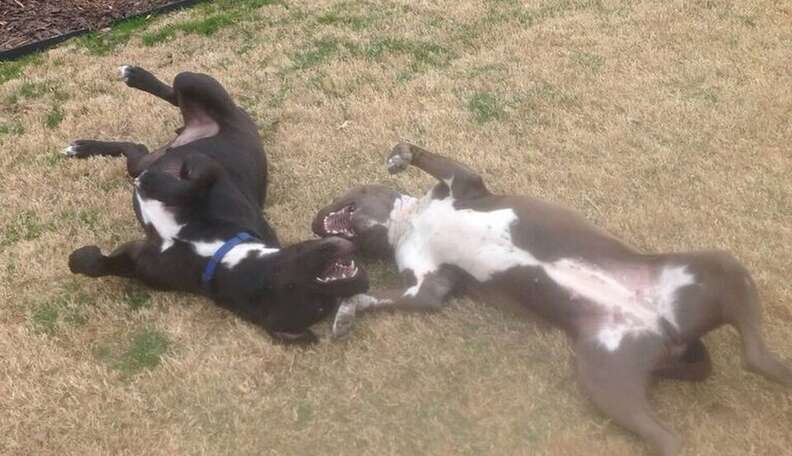 Each day, Addy continues to improve - both physically and emotionally. Besides playing with her new doggy friends, she loves playing tug-of-war, chasing a ball and cuddling with people she trusts. "She is really blossoming," DeBord says. "It's beautiful to see her smiling and finding her dog joy."
When Addy is fully recovered, she'll be looking for her forever home. "The perfect family for Addy is one with another fun and playful dog for Addy to run and play with," DeBord says. "It's very clear she desires and enjoys this. Equally important is a family that will allow Addy to be physically close and cuddle with her human, and a family sensitive to her need for consistent ear cleaning and infection monitoring. Other than that, lots of love, structure and doggie leadership!"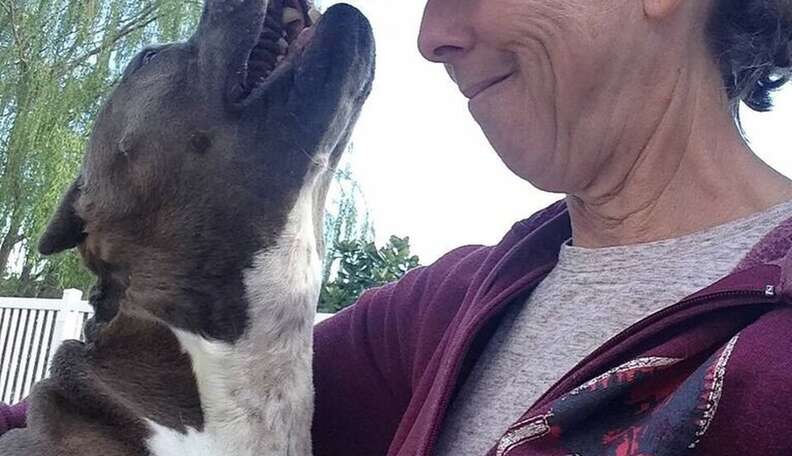 If you're interested in adopting Addy, please contact Dallas DogRRR at adopt@dallasdogrrr.org.
DallasDogRRR is currently partnering with Second Chance Rescue NYC to undertake more extraordinary rescues of animals in need.