Abused Pit Bull Caitlyn Snuggles Up To Foster Family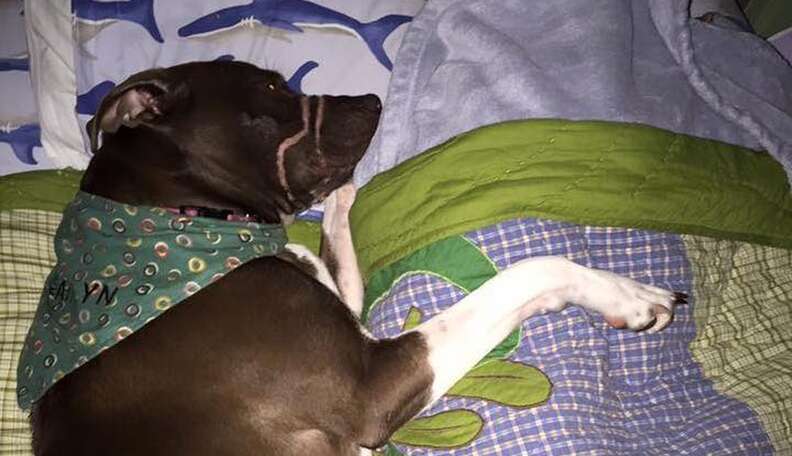 <p> <a href="https://www.facebook.com/CharlestonAnimalSociety?fref=ts">Facebook/Charleston Animal Society </a><span></span> </p>
Caitlyn, the abused pit bull whose mouth was taped shut, is on her way to a happy ending.
When she was found over a month ago, her condition was dire, but it's absolutely incredible how far she's come after multiple surgeries.
Now, the next phase of Caitlyn's long journey has begun. She's finally getting the chance to live with a family, and is receiving the love that she's always deserved.
Caitlyn's new foster family includes a little boy who is more than willing to share his bed with her, and Caitlyn clearly loves to cuddle with him. Just seeing how Caitlyn throws her paw over the boy protectively is a testament to what a sweet girl she is, and what a wonderful addition to a family she will make.
And now that she's living with a family, she gets a chance to play around like she's always loved to.
The Charleston Animal Society also reports that Caitlyn has been snuggling up to her new foster brother, Oreo, and generally enjoying her time getting to be a normal dog.
Caitlyn, who's about 15 months old, has such spirit, and living in a home with children and dogs is exactly what she needs and deserves. So far it seems that she's doing very well in her foster home, which means she's that much closer to finding her forever home - and that's what the whole world wants for Caitlyn.
The support Caitlyn has received is endless, and will hopefully only continue. Her journey is definitely not over, and it seems everyone is very excited to continue to follow her progress and cheer this puppy on as she makes a full recovery. We're rooting for you, sweet girl!