Boy With Autism Had Trouble Making Friends ... Until He Met A Pit Bull
<p><a href="https://www.youtube.com/watch?v=B9I1yG5sSe8" target="_blank">YouTube/PAWsitive</a></p>
When Joey Granados was diagnosed with autism at the age of 7, his mother knew his life would be a struggle. Joey always had trouble connecting with others and making friends - until he met Roxy.
Amanda Granados
Joey's autism caused him to want to be alone and he often didn't know how to handle himself in social situations. He asked his mom, Amanda, if he could get a dog to help him with the social aspect of his life.
When Joey and Amanda first met Roxy, a pit bull at Best Friends Animal Society, she went straight to Joey. Joey had never before connected with someone the way he connected with Roxy, which is huge for an individual with autism.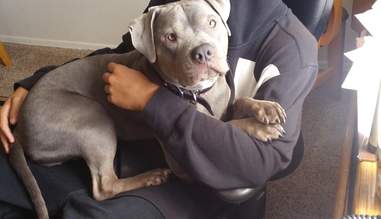 Amanda Granados
Both Roxy and Joey have to fight through stereotypes and stigmas everyday. Luckily, another organization, PAWsitive, worked with Best Friends, Joey and his mom to make a video detailing Joey and Roxy's story. "Pit bulls get a really bad rap," said Amanda in the video. "Children with autism get a really bad rap. You put these two things together and you see how amazing they can be."
The footage shows just how beautiful the friendship between a special boy and a special dog can be.
The Dodo is joining the Huffington Post in celebrating Pit Bull Week, a week-long, community-driven effort to bust the myths and raise awareness about pit bulls, a maligned "breed" that often bears the brunt of dated, discriminatory legislation that can make it near impossible for these dogs to find a forever home.