Janette Hamilton would be the first person to tell you her dog's a little overweight.
She's also got a big, blocky head.
What she couldn't have imagined was that on a June day in 2009, those very qualities would be enough to change her dog Niki's life forever.
It started with a pickup truck pulling up alongside Hamilton while she was walking Niki in Barrie, Ontario.
"Excuse me, but can we talk to you about your dog?" a man asked from the passenger window.
The man, who was an animal control officer, persisted, asking, "Can I ask why your pit bull is not muzzled?"
It came as a shock to Hamilton, who knew her dog was actually a cross between a husky and a labrador retriever. She told the officer Niki wasn't muzzled because she wasn't a pit bull.
"I remember thinking at first, 'You know, I can talk my way out of this. She's not a pit bull. They're going to understand that,'" Hamilton tells The Dodo.
In Ontario, breed-specific legislation (BSL) has outlawed pit-bull-type dogs since 2005 - a move that critics say has been an abject failure when it comes to reducing the number of dog bites in the Canadian province.
It also cast an impossibly wide net that got all kinds of dogs irrevocably caught up in it.
"Ma'am, we are telling you that this is a pit bull dog, and as such is subject to BSL," the officer continued. "I will not take your dog today, as it is clear to me that you were not aware that she is a pit bull. However, if I see her without a muzzle again, I will take her from you."
And with those words, a friendly, bouncy dog who had friends on every street corner suddenly became an outcast.
Fearing Niki would be taken away from her, Hamilton started keeping her out of off-leash parks - where pit bulls are not allowed - and muzzling her in public.
The muzzle, it turned out, changed everything for Niki.
"When it goes on a dog's face, it changes people's perception of that dog," Hamilton says. All of a sudden, people who might have once greeted Niki on the streets, shunned the outgoing dog.
"You look at Niki and you could see the confusion," Hamilton notes. "She couldn't understand why suddenly people didn't seem to like her."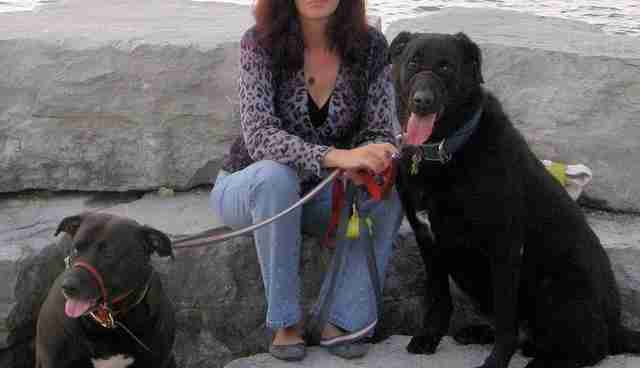 Indeed, the sudden change in the way people treated her hit the dog hard.
"I can see it in her," Hamilton says. "She's friendly. She loves people. And all of a sudden, no one wanted to talk to her. Everyone wanted to cross to the other side of the street."
At times, people yelled at Niki - "Get rid of that vicious thing!" - and even threw stones at her.
It turned a dog who was once a beachcomber - bounding along shorelines, offering big, bouncy greetings to everyone she met - into a public enemy.
All because of the way she looks. Today, with a pit bull ban looming over Montreal, Hamilton sees the same sad potential for countless more dogs - especially since the wording of how the city determines a pit bull is so vague.
"This doesn't just affect pit bulls," she says. "This could affect your dog in a heartbeat. If you have a short, blocky-headed dog, your dog can be affected."