Piper is that dog who lights up a room when she prances in. She's goofy, awkward, and always desperate for attention. It's hard to even think of her as a dog. She's just my furry best friend who walks on all fours and sometimes eats off the floor.
Rescuing a dog from NYC Animal Care and Control was the most rewarding decision. (Rescuing an 11-week old puppy while living on the fifth floor of an apartment building in New York City... let's just say it was a character building process.) She was the cutest, most laid back puppy I'd ever met. How she could have ended up in a city shelter is beyond me. We've made it our goal to give her all the love a dog deserves.
The day we found out she would need major knee surgery all but broke my heart. It was just a month before her first birthday, and she had a torn ACL. We had to limit her walks and playing, and start giving her pain medicine. Piper is happiest when playing with other dogs - taking that away from her without being able to explain why was very difficult.
The surgery was scheduled for a month after her first birthday. We couldn't wait. Not because we were excited for the $3,000 bill or the two to three month recovery. We just wanted to finally get our happy, playful pup back. Watching her roll around in the dirt with another dog or race me up the stairs after a walk are priceless moments of dog companionship and we had been devoid of it for way too long.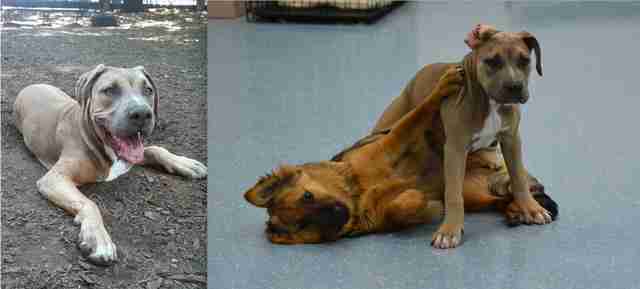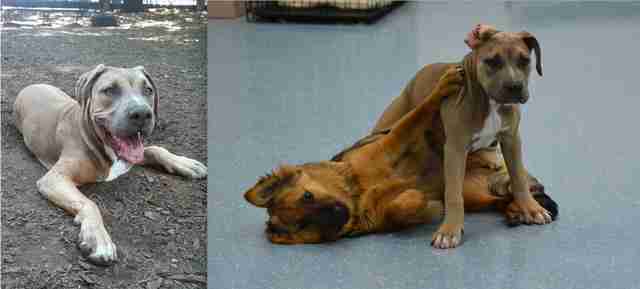 Surgery day finally arrived. My husband and I dropped Piper off at the vet at 9 a.m. and spent the rest of the day attempting to distract ourselves with Netflix. That evening we were told: the surgery went fine, but her knee was worse than they thought, and she also needed a pin in her tibial ligament. Her recovery would now be longer and harder. And they wanted to keep her at the hospital for three more days. I cried thinking of her spending those first days of recovery without us.
That didn't last long. The next day we were told that Piper was too depressed and should be brought home. Talk about breaking my heart, but I couldn't wait to pick her up!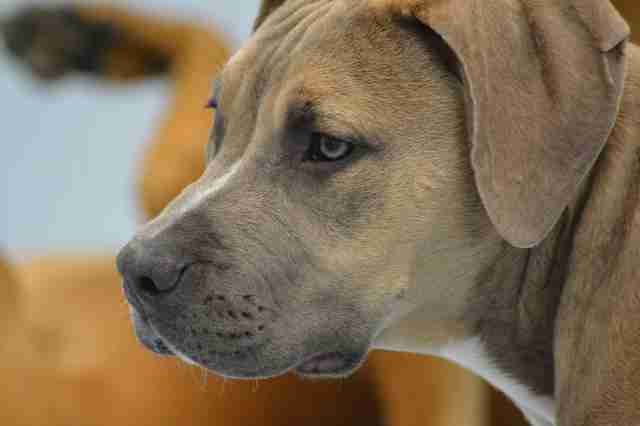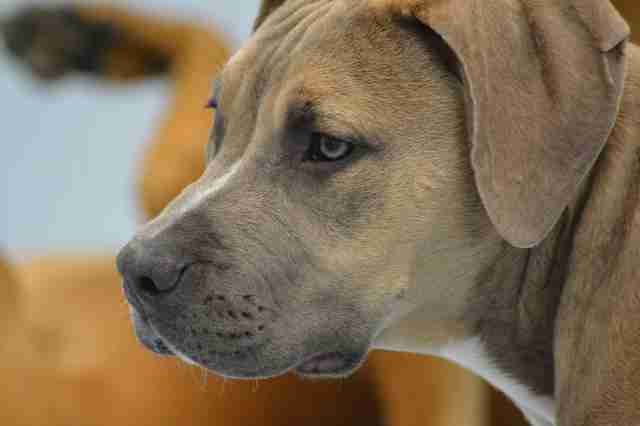 Little did I know how challenging this recovery was going to be. We're only a few days in and so far it's been sleepless nights, a hunt for a softer cone, daily pill schedules, and scooping handfuls of food to her mouth. My husband carries her up and down our four flights of stairs so she can go outside twice a day (oh, the joys of a fifth floor walkup in New York City).
This may sound like a lot of effort for one dog, but as any pet parent will tell you, she's worth it.
Piper is one of those dogs who lives life to the fullest. She wants to meet every single dog in the neighborhood and be their best friend. She is enthused beyond belief when one of our friends comes over to our apartment. She's a champion snuggler and the most loving dog I have ever met (I know I'm biased, but trust me on this one). I cannot wait for the day I bring her back to the dog park or on a long stroll to our (read: my) favorite coffee shop and return to have the exhausted dog snuggle up on my lap. That is what pet companionship is all about.
Piper deserves the best care we can provide. As a young couple, we have made sacrifices to afford this procedure. But what's great about this generation is we can use technology to help: Piper is loved by so many people, and that showed when our community came together on multiple crowdfunding sites to quickly raise over half the funds for her surgery. Not only did our friends and co-workers support us throughout the surgery, but we received countless calls, texts and emails wishing her well and asking if we needed anything. It was remarkable to see everyone rally around our pup.
But Piper isn't the only dog who deserves this kind of care. If you spend time with any dog, you'll quickly learn their quirks and preferences. You'll see what gets them excited, what treats and games are their favorites, and how much love they have to give to those who will accept it. There are over seven million pets in U.S. shelters alone, waiting for someone to choose them and learn about their unique personality. Making the decision to adopt a companion animal should not be done lightly. It's a forever decision that might require unexpected challenges like expensive surgeries and carrying your large dog up multiple flights of stairs.
If we pooled our resources, time and love to help each other out, pet adoption could become a viable option for more individuals and families: from homecoming celebrations and pet sitting to raising funds for the more challenging times. And that would mean less pets living out their lives without a family to call their own.
They say "it takes a village to raise a child," but our village came together for a dog and we will be forever grateful.