Salamander Shindig Appears On Front Doorstep, Shocks Homeowner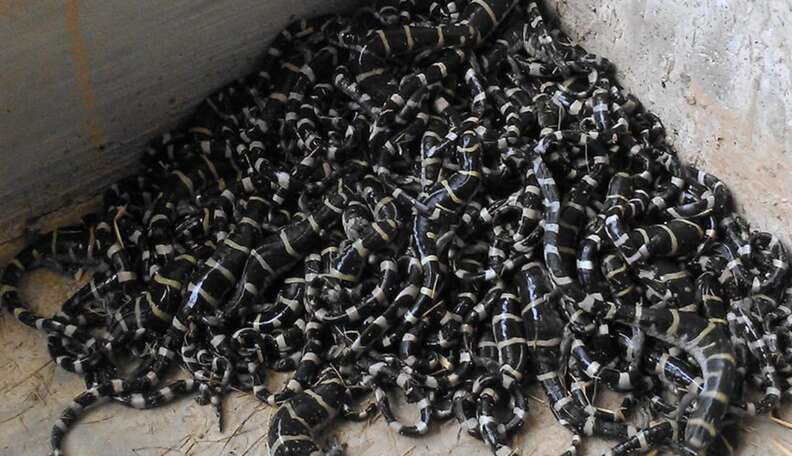 <p><a class="checked-link" href="https://www.facebook.com/MDCOnline?nr">Missouri Dept. of Conservation/Facebook</a></p>
<p><a class="checked-link" href="https://www.facebook.com/MDCOnline?nr">Missouri Dept. of Conservation/Facebook</a></p>
When ringed salamanders throw a party, they invite everyone. This was especially true on a doorstep in Missouri this week, when a big pile of the amphibians showed up all at once.
The Missouri Department of Conservation took to its Facebook to share the news:
Our St. Louis office got a call last week from a homeowner who had this pile of ringed salamanders trapped in an outside stairway. In autumn they travel by night to fishless woodland ponds where they may congregate by the hundreds for breeding. The salamanders were moved to a nearby fishless pond so they could continue.
Ringed Salamanders, members of the Ambystomatid family, spend most of their lives underground in the forest. According to wildlife biologist Dr. David Steen, in the fall and winter they emerge from the ground and migrate to a pond to breed, usually during or after a large rain. They often settle in ponds formed by that very rain - which, luckily for the salamanders, are predator-free because fish haven't arrived there yet.
"So, the ringed salamanders that this Missouri homeowner found on their doorstep had undoubtedly just emerged from their subterranean lairs and were undertaking their annual terrestrial migration to a breeding wetland," Steen told The Dodo.
It's not known exactly why they ended up there - but new construction or ditch-digging could've thrown the salamanders off their normal route.
"In any case, this salamander pile-up is a reminder that we are surrounded by animals that are both secretive and fascinating and also that we should consider how our local wildlife uses our landscapes when we are deciding how we must change them to suit our needs," said Steen.