Still just a baby, Matilda was being touted as a "barbecue pig" in an ad claiming "first come, first served." An Ontario farm was having a seasonal sale, offering up several live animals for dinner at a discount.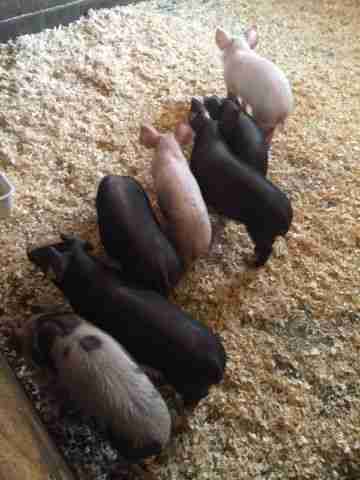 But, instead, a nearby sanctuary stepped in to buy the pig.
The thing is, Dog Tales Rescue and Sanctuary didn't have any pigs at its King City property, just north of Toronto. The rescue had mostly dogs, in fact.
Matilda was one of three pigs brought home from the farm that had placed the ad. But the other two were so sick, they couldn't be around other animals until they got stronger.
"The first few days were an experience, to say the least," Clare Forndran, media director for Dog Tales, tells The Dodo. "Matilda was terrified of being touched, and would scream at the top of her lungs whenever we would try to take her outside - much to the horror of visitors to our sanctuary."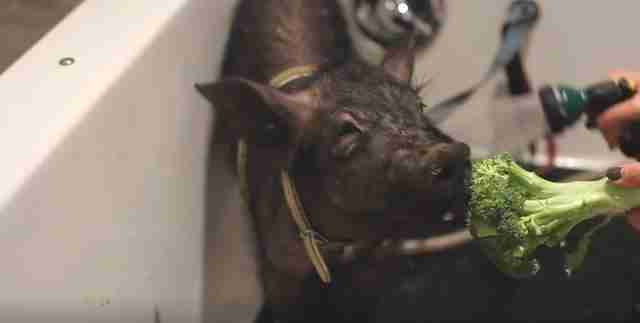 So, how do you get a traumatized pig to feel at home? Start by changing her opinion of humans. From the start, Matilda was given all the love staff and volunteers at Dog Tales could muster.
And by the end of the first week, Matilda was sleeping on laps.
And running to the door to greet new visitors.
"After just a few days she realized that humans are not so bad, and that nothing beats a good belly rub," Forndran explains.
And then a few of the dogs stepped in - one named Fiona in particular - who forged a powerful bond with the newcomer.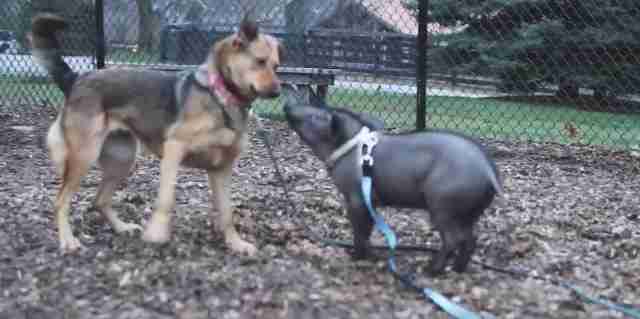 The rest was up to Matilda. Famously intelligent, pigs have a way of soaking up their surroundings and learning from them. Matilda quickly learned a few commands. Some of them, like sit, might have been picked up from her canine companions.
"Matilda, like all pigs, is incredibly smart, and has learned so fast," Forndran notes.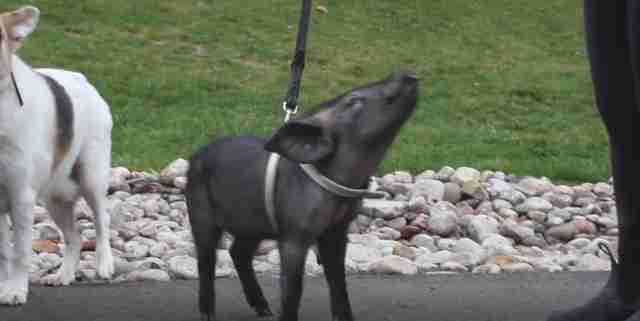 It won't be long before Matilda gets to enjoy the company of her own kind - the other rescued pigs will soon be healthy enough for a reunion.
But the biggest step in Matilda's remarkable turnaround? The feeling that she will be among friends for the rest of her life.
"Matilda will have a forever home at our sanctuary," Forndran says. "We think she will be the perfect spokes-pig so that our visitors can see first hand how intelligent, charming, and full of personality pigs are."
If you would like to support Dog Tales in its mission to save countless animals - and pigs - consider making a donation here.
You can also watch a video about Matilda below: