Only hours after Stephanie Darnell said goodbye to a pig named Wilbur on Friday, she caught herself swooning over his file.
"Ahhh... there's his baby pictures," she sighed. "I loved Wilbur. He was like a big dog."
Darnell has seen countless animals at the Tuscaloosa Metro Animal Shelter in Alabama come and go. But none quite like Wilbur.
"He would chase you, run with you, play with toys," she tells The Dodo of his dog-like mannerisms.
Wilbur even pushed a tennis ball along the ground with his snout.
"And he loved belly rubs," Darnell adds.
If it feels like shelter staffers said goodbye to a family member, that may be because they watched Wilbur grow up big and strong. And still bigger.
Wilbur was found wandering the roads alone earlier this year, when he was just a few months old. Animal control officers couldn't find his owner. He had likely been abandoned.
"He was so tiny when he came in," Darnell recalls. But in just a couple of months, Wilbur weighed in at more than 100 pounds.
His gratitude for saving his life was even more monumental.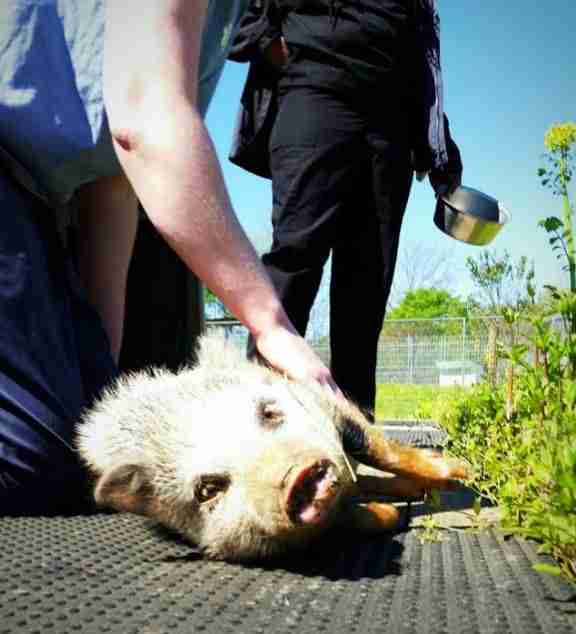 "I'd get down on the ground to take a picture of him and he'd come over and sit in my lap," Darnell says.
Gently, we assume.
When Wilbur's image was posted on Facebook this week, it didn't take long for offers of a home to pour in.
He ended up going to live on Westminster Farm, a sprawling acreage in nearby Northport, Alabama.
He found a family there, among the people and horses and dogs - yes dogs, Wilbur - who call the farm home.
"I'm glad he found a home," Darnell says.
Home, indeed. But, even more importantly, the pig who once had no one at all, will now have not one, but two families.