Sweet Potato was only 4 months old when she showed up at the Humane Society of Silicon Valley - but it was clear from her condition she had spent almost every day of her young life in pain.
The sweet pittie pup had one of the worst cases of mange the shelter had ever seen. "She was startling when you first saw her," shelter vet Andrea Berger told The Dodo.
Sweet Potato was brought in as a stray, so no one knew where she had come from, but staff at the shelter were sure nobody had ever cared for her before.
Berger decided to bring Sweet Potato home and foster her until she got better. "She had no hair on her body, just infected crusts of scabs and oozing sores," Berger said. "It was terrible to see, it was really sad."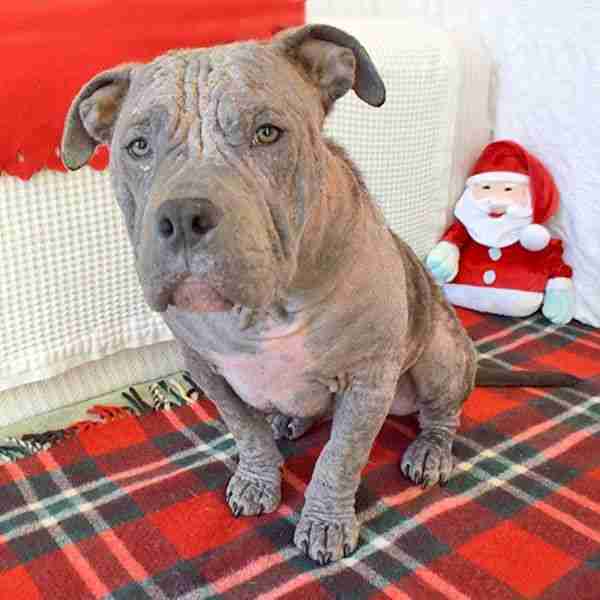 The shelter decided to document Sweet Potato's journey to health by taking a photo of her every day. In the meantime, Sweet Potato's winning personality began to shine through once she was home with Berger.
"Other than her physical appearance she was just lovely," Berger said. And even though it hurt Sweet Potato to be touched, she was "really affectionate and sweet."
Sweet Potato instantly fell in love with Berger's 3-year-old daughter Lillian. According to Berger, Sweet Potato was a true nanny dog. "She's incredibly good with children and other dogs," Berger said. She even let Lillian dress her up.
Slowly but surely, Sweet Potato began to get better. Berger had to give her a medicated bath twice a week, which she absolutely did not care for, but her painful skin infection began to resolve.
"Her hair started growing back," Berger said. "We started seeing her true personality." Sweet Potato, it turned out, was a "bit of a goofball."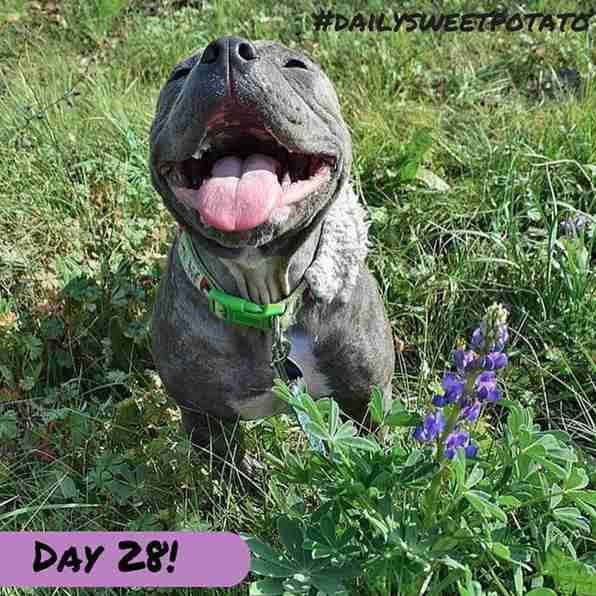 After more than a month at Berger's house, Sweet Potato was almost ready to start looking for a forever home. But that meant it was time for Berger and her family to say goodbye.
"She came very close to being my first foster failure," Berger said. "We would have very much loved to have kept her." But with her other dogs and a young child, Berger didn't feel she could devote the time and energy Sweet Potato deserved.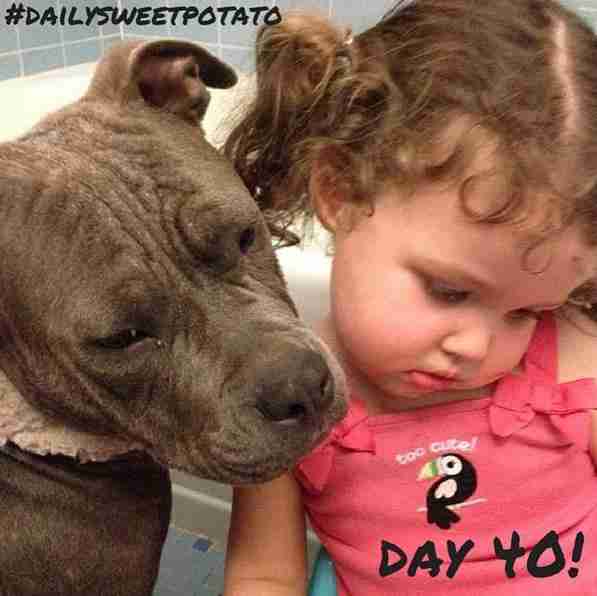 But Berger didn't need to worry about Sweet Potato's future for long, because almost as soon as she became available for adoption, she found the perfect home.
Jolie Avenia fell head over heels for Sweet Potato and became her new forever mom. "I'm so thrilled with where she wound up," Berger said.
Shelter staff told The Dodo that Avenia is "the proudest dog mama ever" and Sweet Potato couldn't have found a better home. But there were so many people involved in saving Sweet Potato - and she'll probably never forget her foster family and the first home where she felt loved.
After all, it takes a village to save a sick dog - and Sweet Potato needed a whole team to get her where she is today.