In honor of Dogfighting Awareness Day, The Bark Post has decided to commemorate some of the most famous fighters in recent memory: Michael Vick's pit bulls, who have since been dubbed "Vicktory Dogs." When Vick was arrested for abusing and killing dogs involved in his dogfighting operation in 2007, a handful of pit bulls living on his property were taken in by Best Friends Animal Society, a rescue organization and sanctuary based in Utah. Since then, the dogs have all found loving new homes, and Best Friends has kept in touch with them. Here are the happy endings that came out of Bad Newz Kennels.
Cherry
"What we have found is Cherry continuously grows and overcomes the next obstacle in his way. It will be a lifelong journey for him, and he has days where he regresses, but eventually he moves forward. It has been an incredible journey watching him go from a dog who slept with his eyes open to a dog that we can call 'normal.' We know that isn't the most exciting term, but that's all he wants to be -- a normal dog." -- Cherry's adopter, Paul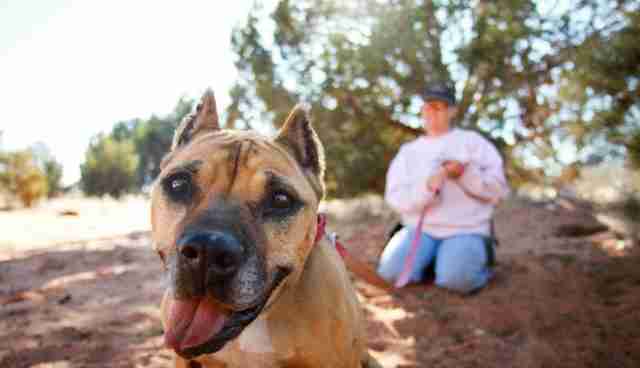 "Georgia, along with many other dogs like her, has so much to teach us about forgiveness and love and learning to trust again. Despite her horrific past and all that she endured, she has shown us that she was not only able to survive, but to thrive and be happy and enjoy life in a home as a loving family member and truly a best friend!" -- Georgia's adopter, Amy (sadly, Georgia passed away last year)
Halle
"I had a lot of people try to talk me out of adopting a "dog like that," and I never listened for one second. Through positive reinforcement training and an awesome trainer, I watched Halle learn to trust again and overcome a lot of fears... She has taught me great lessons about resiliency, forgiveness, and unconditional love." -- Halle's adopter, Traci
Handsome Dan
"Dan is my best friend, truly. I have never had such a strong bond with a dog before, and I have fostered over 100. When our daughter, Josephine, was born in 2010, we knew Dan would be great with her. We just had no idea how great. When she was a baby, he would sleep next to her crib. Now that she is a little older, he is so calm and patient with her." -- Dan's adopter, Heather
"I never think that Little has been 'rehabilitated.' She didn't need to be rehabilitated. She needed to 'recover' from the debilitating physical and emotional trauma she experienced for five years as a bait dog. Her recovery is slow, but she knows that I will never hurt her and she will be safe with me and her four other canine buddies. She is part of a family." -- Little Red's adopter, Susan
Oliver
"There are no words to explain how I feel about Oliver. It was an absolute honor to have him trust us after all he had been through. He had a way of getting into people's hearts, and he will always remain there. Oliver saved me from a life of anger. Since I couldn't control what happened to Vick, at least I could control how my emotions were channeled. I chose to channel all the anger towards Vick into love, and, in turn, give this love to Oliver." -- Oliver's adopter, Erika(sadly, Oliver passed away shortly before Erika spoke with Best Friends.)
Squeaker
"Squeaker also proves that dogs who come from bad situations need time to heal, but can make wonderful pets. Maybe even more loyal pets. I believe that because of her bad past, she actually has more to give than a "regular" dog who had a great upbringing. She seems more appreciative of little things. While her brothers and sisters think that affection is nice, she thinks it's the greatest thing on Earth." -- Squeaker's adopter, Annick
"As fearful as Mel still is of new people, he always gives everyone a chance. I know many humans who would never trust anyone again if they had gone through what he has, and who would blame them? Mel has made amazing strides, and compared with when he was first adopted, it takes him a lot less time to adjust to a new face in the room." -- Mel's adopter, Richard
Oscar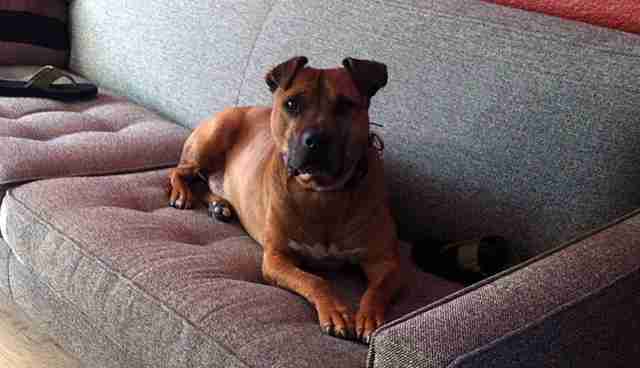 "Humans do unimaginably cruel things to dogs. Oscar and the other dogs rescued from Bad Newz Kennels don't hold that against the rest of us. All you have to do is look at how well the dogs have done in the five years since they were rescued. Look how many have found forever homes. Sure, they may be frightened, cautious, and slow to trust, but at the end of the day, all they want is to be loved and to love in return." --Oscar's adopter, Rachel
For more photos and stories of each of the Vicktory Dogs, visit Best Friends' website.