Snakes might not be as fluffy or as classically cute as your more conventional pets, but in the eyes of those who know them best, they're lovable all the same. Just ask Gian Carlo.
For the last 18 years, 19-year-old Carlo has shared each day with a Burmese python named Lucky at home in the Philippines. In that time, the boy and his snake have forged an incredibly close bond, regardless of how "different" an animal companion Lucky might be.
"We're just like brothers," Carlo told The Dodo. And like brothers, they have photos showing their happy lives growing up together.
While it's clear that they've both grown considerably, Carlo says that Lucky has always been more than a plaything.
When Carlo was younger and his parents separated, the snake was always there for him.
"I lived with my grandmother, and my father used to work abroad, and my mother has a new family. All I had when I was a kid was my grandmother, father and Lucky," he said. "When I had a problem, I would share it with Lucky."
Nowadays, little has changed. In fact, sometimes Lucky even sleeps in his bed.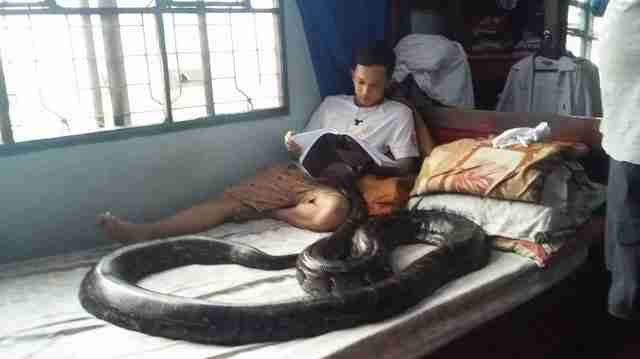 It's important to note that keeping snakes like Lucky should never be a casual decision. Burmese pythons can live for over 20 years, and grow to around 7 feet in length - requiring true commitment from their owners. In that regard, Carlo is setting a wonderful example.
As always, if you're thinking about getting a snake, adopt, don't shop.