Photo evidence of disturbing treatment of a trapped coyote has been uncovered allegedy from the production set of Animal Planet's reality TV show, "Call of the Wildman." The news follows a seven-month investigation by the publication Mother Jones, which revealed animal injuries, deaths and alleged harassment behind the scenes of the show. The expose eventually led to an investigation by Houston officials, to see whether any of the happenings violated Texas State law.
Now, Mother Jones has obtained information that says that the show may have violated Kentucky law as well while filming there by trapping a coyote and keeping it captive for three days.
A photo obtained by Mother Jones from a person who worked on the production shows a coyote that was captured at the request of producers and held in a cramped trap for an unknown period of time prior to filming on location in Kentucky, according to the person who provided the photo. By the time of the shoot, according to two people who worked on the production, the coyote was "sick and unresponsive" and had to be replaced. [Warning: graphic images.]
[Warning: graphic images.]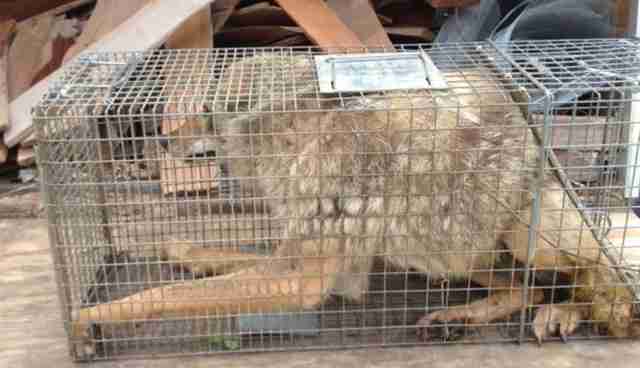 According to production documents, the show quickly brought in a replacement coyote for the shoot from Ohio, despite Kentucky law, which forbids the importing coyotes. Even worse -- it seemed that the show's star, "Turtleman" Ernie Brown, Jr., had been warned previously:
Mother Jones has also obtained government documents showing that state wildlife regulators began warning the show's star about violations in March 2012-more than a year before Sharp Entertainment, the producer of the show, says that it first became aware of complaints about animal mistreatment in connection with Call of the Wildman.
What's more, both the show and the company that owns it won't say what happened to the coyotes after production, according to Mother Jones:
Animal Planet and Sharp Entertainment did not respond to additional questions about...what the production did with the two coyotes after the film shoot was over.
"Call of the Wildman" follows the exploits of Brown, who operates a nuisance animal removal business and catches and releases wild animals. The coyote was used in an episode called "Lured into Danger," which first aired in July 2013. Brown lures and traps a coyote in a barn in Kentucky purportedly owned by an "animal psychic." According to Mother Jones' source, the sick animal was kept and transported in cramped conditions -- until it was replaced by another coyote.
Are you concerned about the treatment of animals? Voice your opinion by using the hashtag #StopAnimalCruelty or #StopAnimalAbuse on Twitter or Instagram. You can see your contribution and others below: