Phoenix rising: Cat founded burned now available for adoption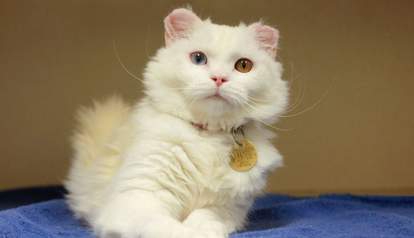 In November, a 10-month-old white kitten arrived at the Dumb Friends League with scorched fur and painful burns covering her face, ears, tail and all four paws. She had been found near the laundry room of an apartment complex, and we suspect that her injuries may have been caused by hiding under a clothes dryer to stay warm. Shelter staff named her Phoenix and it was clear she was in desperate need of medical care.
Veterinarians at the Dumb Friends League performed surgery on Phoenix to remove her burned skin, reconstructed her ears and wrapped her scorched paw pads to prevent infection. After surgery, Phoenix spent two months recovering in a foster home. Slowly, the small, quiet kitten began to heal-both physically and emotionally-from her trauma.
Phoenix has been cleared for adoption and is now looking for her forever home. She is a truly resilient cat who, despite what happened to her, has been sweet, loving and affectionate throughout her road to recovery. The Dumb Friends League has identified Phoenix as a 'special needs' cat and is looking for an adopter who will be patient and understanding of her history and needs. Interested adopters can contact the Dumb Friends League at (303) 751-5772.
To learn more about the Dumb Friends League, visit ddfl.org.
About the Dumb Friends League Founded in 1910, the Dumb Friends League is the largest community-based animal welfare organization in the Rocky Mountain region, helping pets and people in the Denver metro area and beyond. The Dumb Friends League has shelters at 2080 S. Quebec St. in Denver and the Buddy Center at 4556 Castleton Court in Castle Rock, as well as the Dumb Friends League Harmony Equine Center™ near Franktown. For more information, visit ddfl.org or call (303) 751-5772.