This Is Where PetSmart Gets Its Animals, And It's Not Pretty
<p>Shutterstock/PETA</p>
<p>Shutterstock/PETA</p>
This is where those cute little lizards live before they're put on display at the store - and it's not pretty.
Warning: Disturbing content below
Last month, pet store giants Petco and PetSmart came under fire for purchasing furry companion animals from a breeder where hundreds of animals were neglected and dying. Now, a new report shows what life is like for reptiles sold at PetSmart, and their situation might be even worse.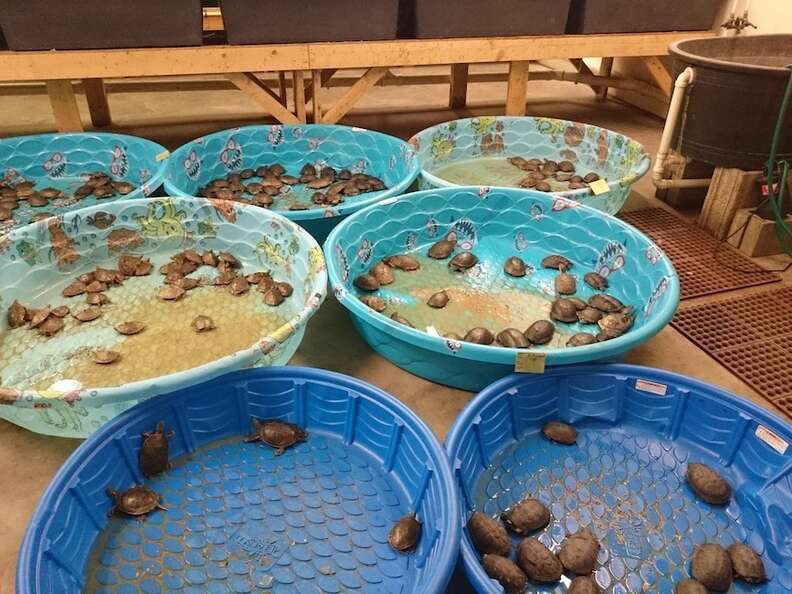 While many people know about the horrors of puppy-mill-type breeders, fewer people know that dogs aren't the only victims. PETA recently sent an undercover investigator to Ohio breeder Reptiles by Mack, which supplies reptiles and amphibians to PetSmart and other pet stores, and recorded nearly 675 deaths in just two of the breeder's several departments in 15 weeks.
Tens of thousands of animals - including lizards, frogs, turtles and snakes - were poured into filthy tubs at Reptiles by Mack and left without fresh food, water or the heat and UV lamps that many captive reptiles require.
Piled onto each other and starving, the animals would fight with each other. The undercover worker witnessed bearded dragons with "mangled limbs," some barely hanging on by a thread. Injured limbs and tails were left to rot off, or were snapped off with wire cutters or even broken off by hand. The animals received no veterinary treatment except Neosporin.
Other animals tried so desperately to escape that they rubbed the skin off their snouts, and even exposed their teeth in severe cases.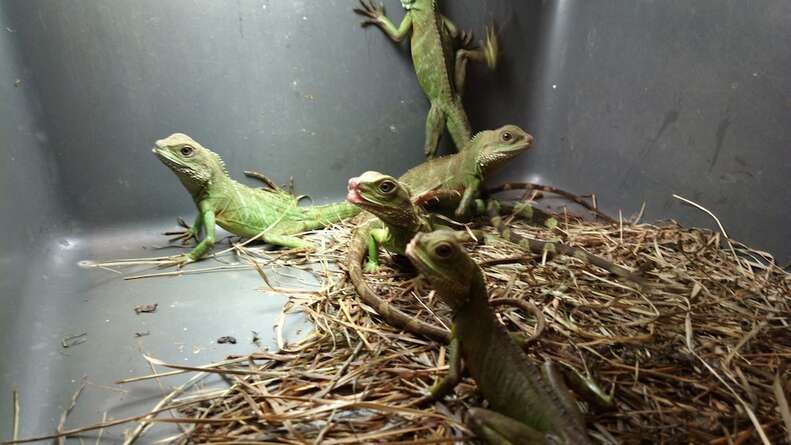 When they did escape, workers would leave out makeshift glue traps to catch them. The freed animals would get stuck and be left for days without help before dying. "One lizard's tail broke into 11 pieces as a result of thrashing and trying to escape," PETA said. "Live animals were often carelessly yanked off the sticky boards."
Severely injured animals were left in "put down" tubs without food or water, sometimes waiting for days before a manager killed them by throwing them into plastic bags, gassing them and leaving them in a freezer - one supervisor reportedly found gassed animals who had tried to escape the freezer. Others were left to starve to death.
While Reptiles by Mack reportedly had a veterinarian contracted to visit the facility, the investigator never saw him. "I'm not really sure on what he even fucking does, honestly," one supervisor reportedly told the witness.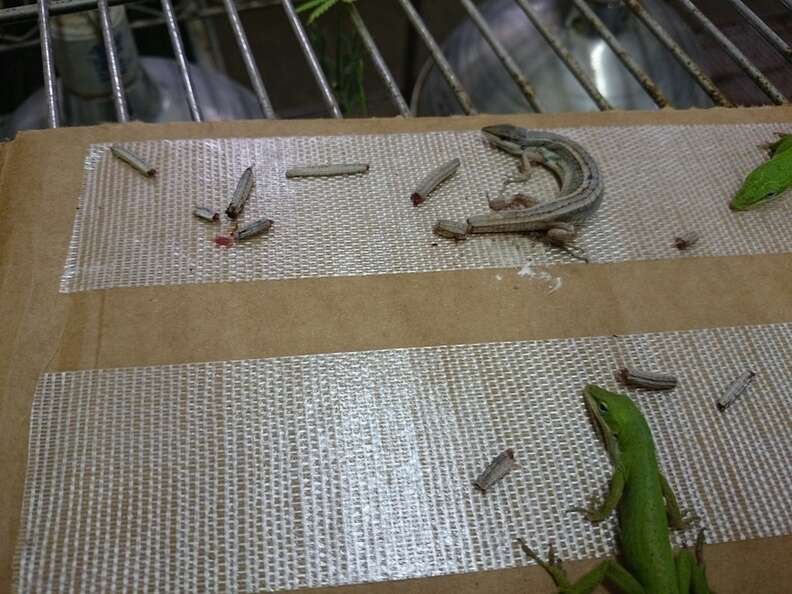 When one group of neglected bearded dragons was given water, they were so thirsty they reportedly drank for up to four minutes straight.
Reptiles by Mack imported animals from all over the world to replenish their stock, and they arrived in what PETA described as "barbaric" conditions: "crammed into plastic two-liter bottles, one-gallon milk jugs, mesh bags and wooden crates separated into tiny compartments like egg cartons." It's unclear if they were wild-caught, but many of them arrived at the supplier dead.
When they were shipped out to PetSmart and other pet stores, they weren't much better off. The lizards, snakes and other animals were packed into plastic containers that looked like "restaurant 'to go' boxes" for the harsh journey out, PETA said. In one instance, hundreds of animals were left waiting to be shipped without food or water for more than 24 hours.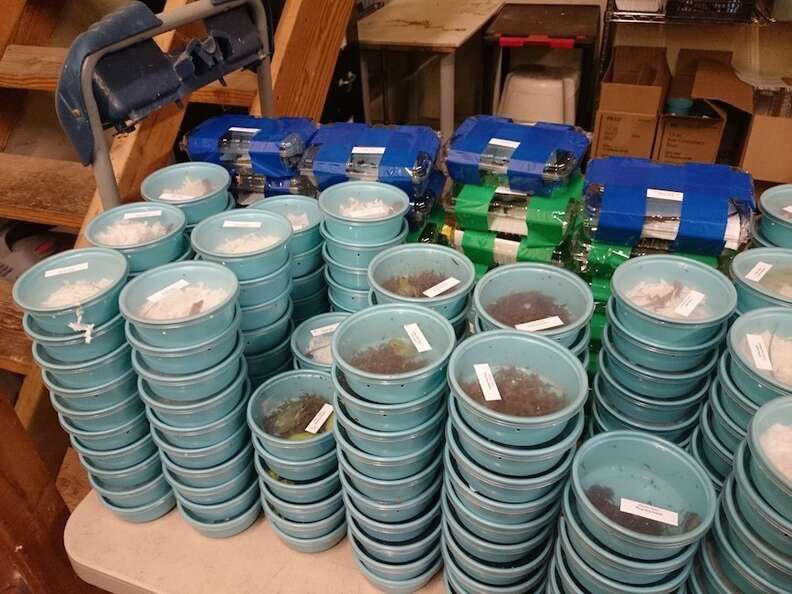 According to PETA, a supervisor told the investigator that the tortoises were purposely refused water, and that the people in charge had "no...empathy for the animals."
In a statement provided to The Dodo, PetSmart said that "nothing is more important to us than the health and safety of pets."
"We take these allegations very seriously," the company said. "We hold ourselves and all of our pet suppliers to the highest standards. We are reviewing the matter internally, and if we find that our standards have not been met, we will take appropriate action immediately."
Reptiles by Mack did not immediately respond to a request for comment.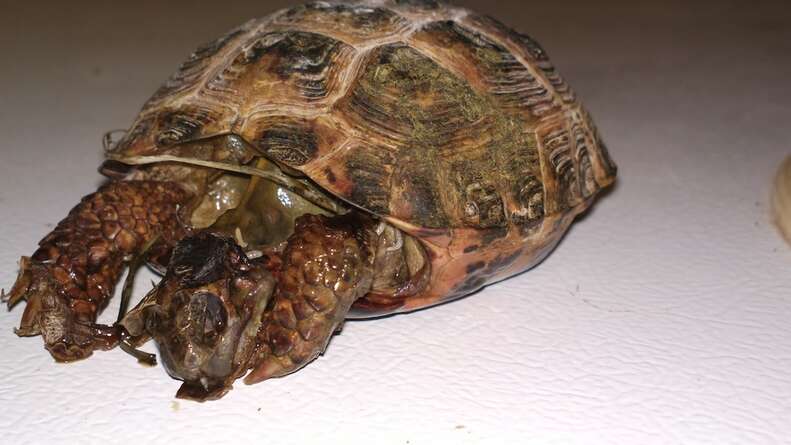 PETA said that it informed Reptiles by Mack of the investigation late last year and was told that conditions would improve. However, a second investigator reportedly revealed that animals were still being left without vet care or water, and that some were left to suffer in the "kill" tubs for several days before being put down.
Unfortunately, these conditions aren't surprising for anyone familiar with how pet store animals are often treated behind the scene. Last month's investigation of Holmes Farm, a large Pennsylvania breeder that supplied animals to Petco, PetSmart, Pet Supplies Plus and other large pet store chains revealed hundreds of animals packed into filthy bins and cages, dead and dying animals left in cages with their companions, workers throwing animals and plastic bags of struggling newborn mice left to suffocate in a freezer.
Of course, the best way to avoid supporting these industries is simple: Adopt. To get started and find animals in need near you, you can visit Adopt-a-Pet.com.
If you'd like to ask PetSmart to raise standards for its suppliers - or stop selling reptiles altogether - you can reach the store's customer care department at 800-437-8458.
Update: In a response in mid-March, Reptiles by Mack told The Dodo that it was conducting an internal investigation following the undercover report, but that the accusations weren't accurate. "I want to assure you that we take very seriously our reputation as a respected and credentialed reptile supplier," the company wrote. "We have found numerous discrepancies in the photos and video and report that much of what you see here [in the report] is misrepresented or taken out of context. The PETA allegations reflect care that is absolutely not up to our standards; this type of animal treatment is not how we train our employees and will not be tolerated in any of our facilities."