These Pets Are OWNING Their Cone Of Shame
Their parents have turned them into all kinds of things.
When Goober had to have surgery - and consequently wear the cone of shame - his mom had an idea to try and make the whole experience a little more fun. How? By turning the cone of shame into a martini glass.
"He had surgery around Halloween and I never really dressed him up, but figured I couldn't pass up the opportunity," Stephanie Ogozaly, Goober's mom, told The Dodo. "I can't say he was a big fan of it, as immediately after the picture was taken he shook the 'olives' off, but he was a good sport."
The cone of shame is not something most pets look forward to. Cats and dogs everywhere are most likely counting the minutes and seconds until they can be free of the cone forever. But since it's a necessary evil, some pets and their parents decide to try and make the best of it.
Like Goober, another dog named Bud was feeling a little down about his cone, so his parents decided to lift his spirits by turning him into a beautiful flower.
"This was the second time he needed the cone, so we thought we'd dress him up a little for it," Bud's owner told The Dodo. "He adapts well but looks a bit down, so we spent the afternoon cutting up felt and hung out with him while he recovered from surgery."
Then there's Olive, who decided to make the best of her cone by turning it into a cape, despite her dad's objections.
"When we put her in it, she was not very happy and when we left her for a very short while she managed to destroy the cone," Jeff, Olive's dad, told The Dodo. "After she destroyed the cone, we got her a different style which was like an inflatable airline pillow. She popped that after a day or so too."
Plenty of other pets have gotten creative with their cones. This guy used his as a fun place to store all his toys ...
... while this dog used it to realize his biggest dream.
This gal made her cone into a secret, adorable meeting place for her and her best friend.
Some pets aren't super tolerant of the cone, so their humans have to find ways to make it fun, like using a cowboy hat ...
... or even just a plate.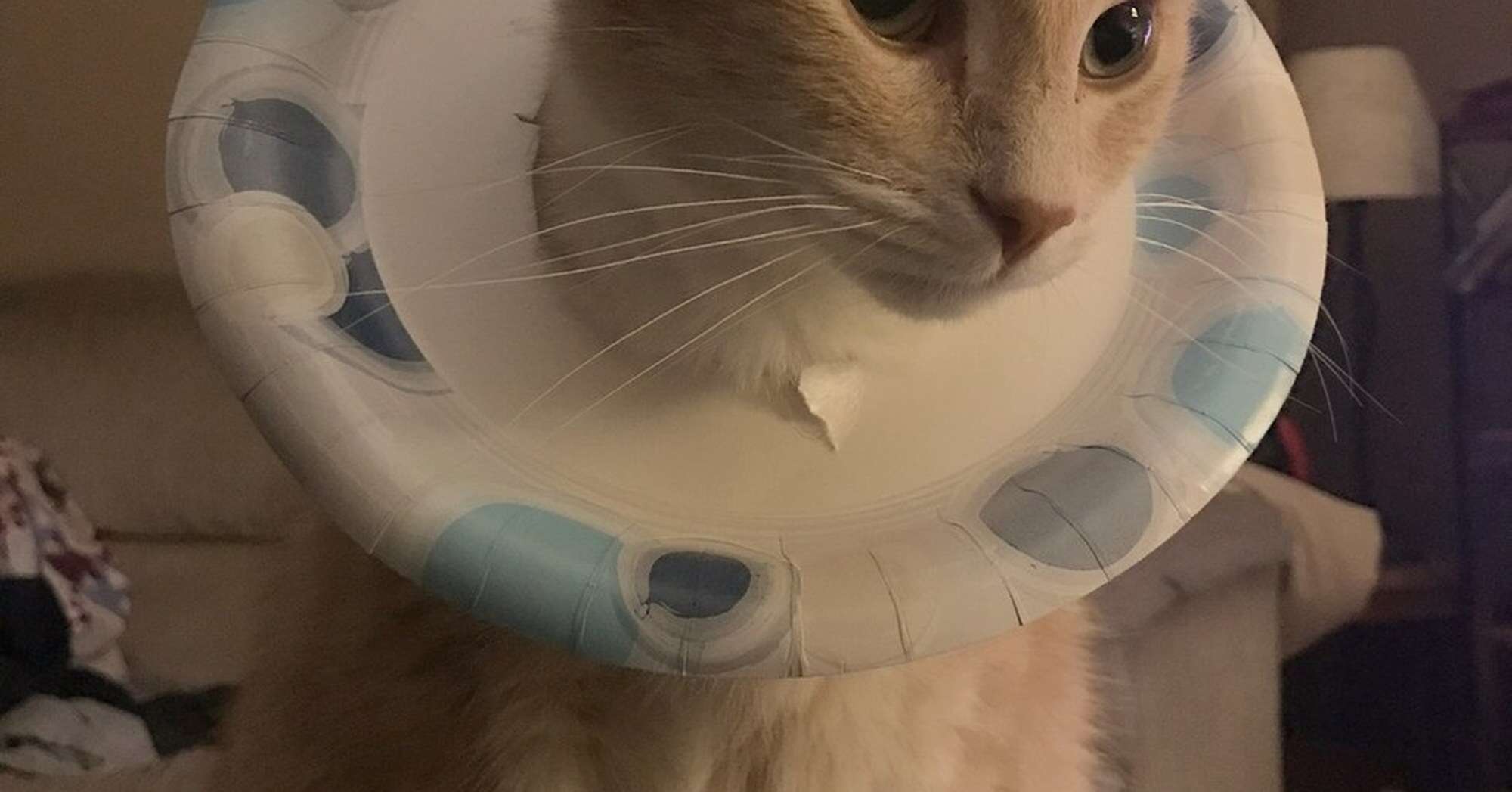 This dog was feeling down about his cone until his very best friend got one, too.
This cat did the same thing as Olive, but decided to make a skirt instead. Their determination is admirable.
This cat took a much less sunny approach, and made his cone better by making rude faces at everyone who passed him.
This dog's cone is much more festive than most ...
... while this cat's cone is much more cozy.
This guy's parents decided to turn him into a classic movie icon.
This dog realized his cone was the perfect way to make sure he never loses his tennis balls ever again ...
... and this rescued sugar glider is making the best of her cone - by being the cutest animal to ever wear one.
Hang in there, guys. Your cone will come off soon enough!