Dog Left Behind In Flood Reunites With Heartbroken Family
He waited on the porch while the waters rose around him.
When Mildred Davis had to leave her home in Lumberton, North Carolina, ahead of the flood, she had to make an impossible decision.
What would she do with her dog?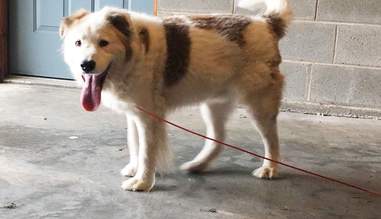 Tina Floyd Davis
The car waiting out front was already crammed full. Her family had arrived with just moments to collect the 78-year-old woman and her belongings.
"There simply wasn't enough room in the car," her daughter Tina Floyd Davis tells The Dodo. "And there wasn't much flooding at the time."
Just an order from authorities to get out.
FEMA
No time. No space in the car. No Jake.
But Jake was more than just a pet. Davis' late husband had a special attachment to the dog. Losing Jake, even for a short time, meant losing a memory she treasured.
"My father passed in April and that was really his dog," Tina says.
In case things took a turn for the worse, Jake was left on the front porch - the highest, most visible part of the house.
"At that point, the water was nowhere near the porch of course," Tina says. "Or we would have done something differently."
Then things took a turn for the worst.
FEMA
Rising water levels in the wake of Hurricane Matthew overwhelmed a levee, flooding many parts of the city and surrounding area.
Jake's family was frantic. In fact, the next day, Tina asked a friend who had a boat if he could get back to her mother's house. But the boat couldn't access the flooded neighborhood.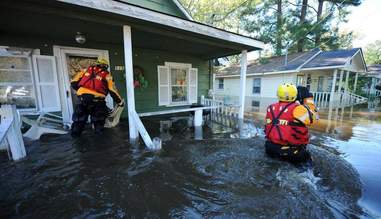 FEMA
The waters kept rising. Teams of volunteers and members of Federal Emergency Management Agency (FEMA) were wading door to door looking for anyone left behind.
They found a lot of dogs.
FEMA
FEMA posted images of dogs the agency rescued on Facebook hoping to reunite them with their owners.
FEMA
The Davis family kept looking for signs of Jake. And two days after leaving him, they got one.
Jake appeared on FEMA's Facebook page, pictured in the arms of a rescuer who found him at the home.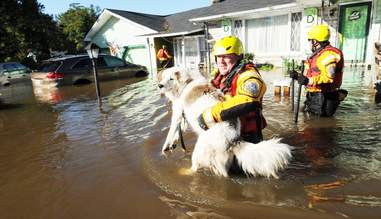 FEMA
"My cousin tagged my sister, my brother, myself on the FEMA Facebook page," Tina recalls. "And said, 'Isn't this 226 Side Street?'"
As in her mother's address?
"I was in a restaurant at the time and went, 'Oh my god! They got Jake!" Tina recalls.
Mildred Davis was ecstatic.
On Friday, the family picked up Jake from a local veterinary office.
"He's fine," Tina says. "They even groomed him."
For now, Jake is staying at Tina's house while rescuers continue to comb through the disaster area, looking to bring hope to people who desperately need it.
FEMA