10 Sly Pets Who Aren't Breaking The Rules — Just Bending Them
1. "No, I'm clearly NOT on the counter. I'm OBVIOUSLY just standing on this stool."
2. "I'M not sitting on the couch - only my bottom is!"
3. "I'm simply stretching to get a better look at that beautiful water bottle collection you have."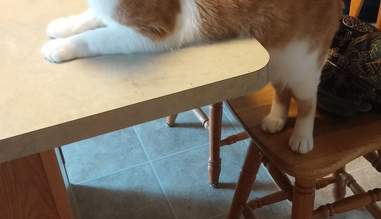 4. "I'm only touching the bed. With my face. And my paws."
5. "Just making sure this granite's really solid ... yep, seems good."
6. "Uh, no. I fell over, and the couch broke my fall."
7. "Counter? What counter?"
8. "I'm not ON the couch - I AM the couch."
9. "I may not be allowed on the table, but you didn't say anything about sitting in your purse!"
10. "I wanted to check what kind of fabric this is."