In recent years, health care specialists have discovered the effectiveness of therapy animals on improving the well-being of folks who need it the most -- the elderly. But one nursing home has already taken the concept one step further, believing that time spent with furry and feathered creatures is a medicine you can never have too much of.
For Ellen Levinson, director of the Life Care Center of Nashoba Valley, in Littleton, Massachusetts animals are at the center of her caregiving approach. That's why she and her staff encourage patients there to spend as much time interacting with animals as possible. The facility hosts its own little menagerie of non-human therapists, including llamas, alpacas, goats, fish and chickens, who are always on hand to brighten spirits.
"This is my philosophy: A lot of places say, 'We have pet therapy,' and what they have is someone who brings a dog in on a leash once a week," Levinson tells the Lowell Sun. "If I were living here, that would make me more miserable. It's not like real life. It's not like having a dog, and then you're just tempted with what you could have all the time."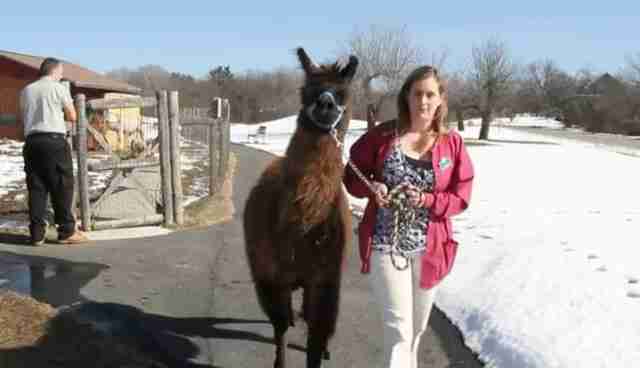 Ellen says that the non-traditional approach, using a variety of animals, has been instrumental in creating a happy, enriching environment for the nursing home's seniors, many of whom suffer from dementia and other memory problems.
"I wouldn't attribute it directly to the animals, but to the idea there are ways to make life pleasant beyond just giving [the residents] a pill," Levinson says. "A pill is a very last resort."
And, judging the from the smiles and laughs that light up whenever resident therapy llama, Travis, walks into the room, it's hard not to suspect that the Life Care Center's animal-centered approach might quickly catch on.
"There's always something to look at," says Levinson. "And it's life that they're looking at."