Zoo Introduces Two Tigers To Each Other — And One Loses Her Leg
She's an older tiger, and people are fighting to get her out of there.
The life of Petra, a Malayan tiger, will never be the same again.
"Our goal was to have both cats on exhibit in their own yards; however, the exhibit requires a shared fence line," Jackson Thompson, Asia zookeeper at Dickerson Park, told local news outlet KY3. "During Tuesday morning's training, the tigers came into contact with each other through the barrier. Following protocol our zookeeper staff did everything they could to separate them, but Petra's front left paw was severely injured."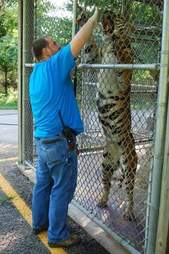 Petra in the midst of a training routine with Thompson

| Facebook/Dickerson Park Zoo
Petra's paw was so damaged that there was no other choice left but to amputate it, leaving her with only three limbs.
"Petra's recovery is going well," a spokesperson for the zoo told The Dodo. "She is being cared for by our staff veterinarian as well as a board-certified surgeon. She is being treated with antibiotics and pain medication. Her appetite is good."
When asked whether Petra would remain at the zoo or be retired to a sanctuary, the spokesperson told The Dodo, "Our focus right now is on Petra's recovery."
But some people are concerned that, after everything Petra's been through, she shouldn't have to spend her golden years at the very zoo responsible for her disablement.
Big Cat Rescue (BCR), a sanctuary in Florida, has already offered to become the tigress' permanent home in an open letter to the zoo - which also questioned the circumstances that led to Petra's injury.
Petra post-amputation

| Facebook/KY3
"The news article quoted Jackson Thompson as saying, 'the exhibit requires a shared fence line' and that's clearly inappropriate for big cats," the letter reads. "They should never have a shared fence line that would allow them to lose an ear, a tail, or limb. It happens a lot in backyard collections and over the years we have had quite a number of cats come to us missing ears, tails and limbs."
Many big cats - including tigers - are solitary animals, Carole Baskin, founder and CEO of BCR, told The Dodo.
"Zoos have to mix and match cats in order that they not be too inbred, which often means shipping cats across [the] country, for mating," Baskin said. "That is a recipe for disaster because the resident cat has territory to defend and the newcomer has to assert their domination. The fact that every such pairing doesn't end in a death or substantial mauling is actually noteworthy."
Back in February, another tiger introduction went awry when a female tiger at California's Sacramento Zoo died after being attacked by a male tiger during an attempted mating.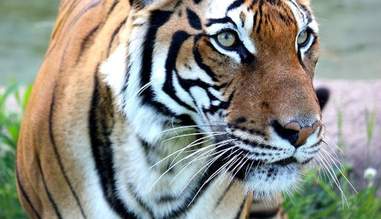 An older photo of Petra

| Facebook/Tiger Conservation Campaign
Baskin said that the fact that Dickinson Zoo's exhibition area was built in such a manner that a cat was able to access and attack the body part of another cat, and that big cats were housed next to each other in general, shows a lack understanding - or concern - about the behavior of the species.
"Once a cat sinks his teeth into the flesh of the cat on the other side of the fence, there is nothing the victim cat can do to protect the extremity on the other side of the fence," she said.
Furthermore, Baskin believes that Petra's quality of life will be immensely affected by the amputation, stating that excessive pressure will be placed on her spine and joints while walking around on three legs.
Petra in her enclosure at the zoo in early August

| Facebook/Dickerson Park Zoo
"It is standard in the zoo industry for big cats to be locked up in concrete-floored night houses when the zoos are closed," she said. "This is when cats are most active because they are nocturnal ... Considering that zoos are usually closed from 5 p.m. until 9 a.m. you are talking about cats being locked up 16 hours a day in these windowless cells. For Petra that means hopping around on concrete for more than half of the rest of her life."
In BCR's letter to the zoo, the rescue expressed concern that the worst could happen to Petra, who, at 16, is entering her senior years.
"I fear she will just disappear now, either through euthanasia, once the media has turned away their attention, or to some tiny, barren holding cell, or to some backyard collector," it read.
You can contact the Dickerson Park Zoo here or by phone at 417-833-1570 to encourage the zoo to allow Petra to retire to a sanctuary.
Watch this video on why tigers shouldn't be used as entertainment: