These Are The Photos Petland Doesn't Want You To See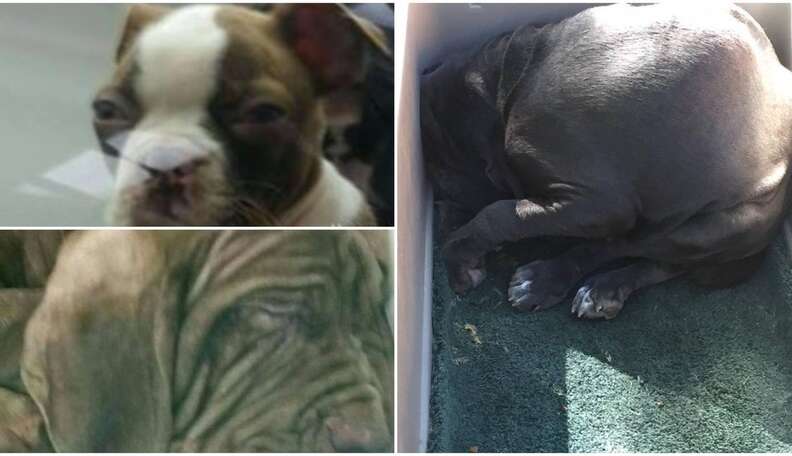 <p><a href="https://www.facebook.com/shutdownpetlandkennesawga/?fref=ts">Shut Down Petland in Kennesaw, Ga</a><span></span></p>
How much is that nightmare in the window?
As someone who worked in the animal rescue field for years, Karen Paul could never put a price on suffering.
Still, she felt like it was a kind of duty to check up on the inmates at Petland in Kennesaw, Georgia.
Those visits always left her with some haunting scene she couldn't shake from her mind.
"Every time I went into the store, there was something wrong - either a sick dog or an animal showing injury," she tells The Dodo.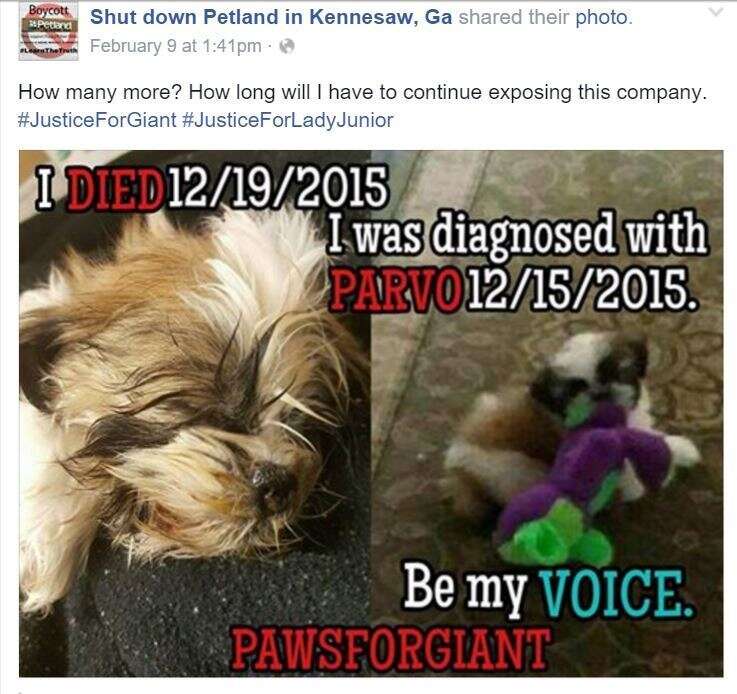 Often, she found the animals weak, riddled with various ailments and in severe distress.
In her eyes, the dogs bore all the hallmarks of hailing from a puppy mill: trembling and excessively shy, runny noses, diarrhea.
She also noted frequent injuries among puppies - a not uncommon trademark of wholesale breeding.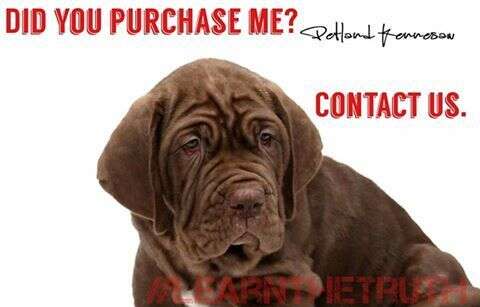 Nearly all pet stores that sell dogs get them from puppy mills, and most of these mills are completely legal. USDA-licensed doesn't mean much, as large-scale breeders are required only to keep the animals in cages large enough for them to turn around, and not much more.
As the Humane Society of the United States (HSUS) notes on its website, "under USDA standards, it is legal to keep dozens or even hundreds of breeding dogs in small wire cages for their entire lives with only the basics of food, water and rudimentary shelter."
What kind of existence does that spell for an animal?
Picture dogs in cages, stacked upon more cages - their entire lives, from squalid start to anonymous end, spent in a cage. Their sole occupation? To breed.
Some puppy mills have up to 1,000 breeding dogs.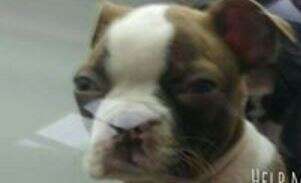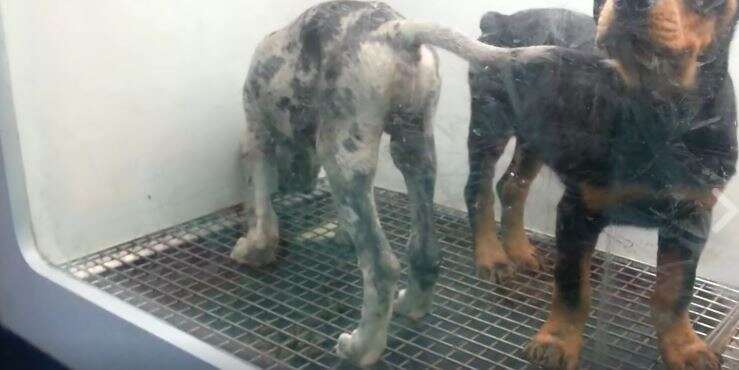 The puppy, she says, was in such obvious pain he was "walking on his joints."
That was in 2014.
Since then, Paul founded a Facebook group pointedly dubbed "Shut down Petland in Kennesaw, Ga" - and it has since drawn more than 8,000 members.
"I reached out to the community and I said if you are a consumer, I want to talk to you," she said.
She collected testimonials from dozens of customers at both the Kennesaw location and a second Petland store in Sarasota, Florida. Both stores are owned by Brad Parker, a man who has addressed allegations only sparingly in the media.
Rylee Barr, a former employee at the Sarasota location, told The Dodo last December she saw puppies "coming in multiple times a week or who were sick and had deformities."
A lot of puppies went to the vet, she added, but she only realized later they had died.
The store's response to her claims?
"We have irrefutable proof that she is making falsehoods," Jenn Kennedy, a manager at Petland Sarasota, told The Dodo.
The company appears to be making efforts to clean up its online image. Paul says she was given copies of letters the company sent to customers whose animals died shortly after buying them from Petland.
A letter from Petland to a customer whose pet died after purchase states the store will issue a refund for the pet's loss, but with conditions:
"You must agree to cease/refrain from all sorts of slander on all platforms of social media, such as Facebook, Twitter, Yelp!, Instagram or any such venue."
The letter goes on to prohibit customers from contacting the Better Business Bureau as well as the office of the Attorney General.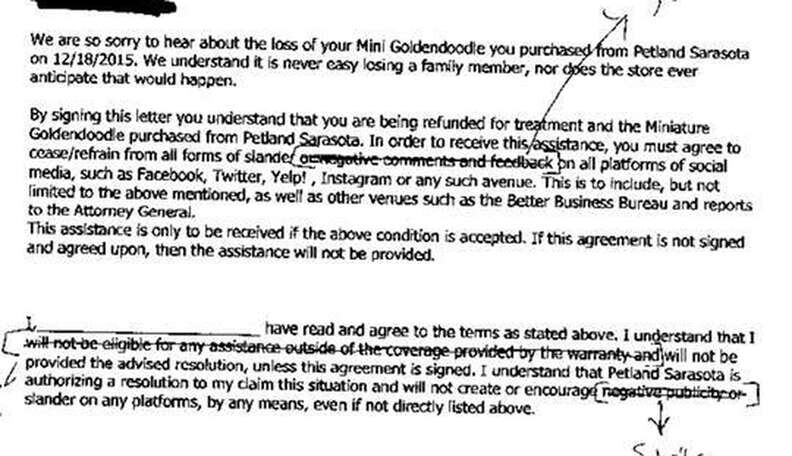 "We have quite a few people who have signed something like this," Paul says. "It astounds me what they are doing to try and cover up what's going on."
Paul called it an attempt to gag the store's customers.
And then she got sued.
Parker, who owns the Petland stores in Kennesaw and Sarasota, has launched civil litigation against Paul. While she says she can't speak about the ongoing case in detail, she says it involves defamation, libel, slander - about as much as you can get sued for on social media.
Stacy Stewart, whose law firm Cantor Colburn is representing Parker, called Paul's allegations "false and defamatory" in an email to The Dodo.
"Karen Paul was unable to provide a scintilla of evidence to prove that the statements in the complaint were true and made in good faith," the email reads. "Petland Kennesaw has never interrupted or harassed Karen Paul's protests or other activities, because it believes in the First Amendment Rights afforded to all citizens. However, Petland Kennesaw maintains that the First Amendment is not a license to defame a business in order to benefit any cause or mission."
But Paul maintains the pet store is trying to "silence what I have exposed."
"Someone needs to raise their voice and really show consumers what Petland is doing," she says.
Fellow Kennesaw resident Cyndee McClintock drives past the local Petland store all too often.
"They hire these high school kids to stand out front and hold signs," she tells The Dodo.
Usually, they're touting store sales. Sometimes, McClintock stops and rolls down her window.
"I know they don't understand the ramifications," she explains. "They think they're doing something good. I've actually pulled over my car and educated a few of them. So much of it is education. People really don't know until you tell them that that's not really where they should get their dogs."
If you would like to support the battle against Petland, visit the Facebook page here.
Petland is only part of an enormous problem. Just about every puppy sold in a pet store is from a puppy mill. If you're looking to give an animal a home, consider looking for a shelter adoption through Adopt-a-Pet.com.