Huge Pet Store Chain Selling Puppies From Worst Conditions Imaginable
'Tis the holiday season: Lots of colored lights. Lots of wreaths. Lots of hangovers.
Lots of people buying puppies to put under the Christmas tree.
Shutterstock
Unfortunately, the holiday season also means it's the time of year "when we see an increase of people complaining about sick puppies that they've bought from pet stores," says Kathleen Summers, puppy mill campaign director at the Humane Society of the United States (HSUS).
And many of those puppies come from Petland, the Ohio-based company that has more than 70 retail stores across the U.S. "It is the largest chain of puppy-selling pet stores in the U.S.," Summers says.
A male Yorkie was found to be "thin to the point of spine and hip bones protruding" according to a USDA report, says Summers. Many other animals have been found in poor conditions at another kennel that allegedly supplies to Petland, she adds.HSUS
HSUS has been critical of Petland investigation.html?referrer=https://www.google.com/">for years. In 2008, the organization began an eight-month investigation into the chain store and found it was funneling sick and injured dogs from puppy mills to unknowing customers. The following year, some HSUS members filed a class-action suit against the pet company. HSUS's investigation was part an Animal Planet show about Petland in 2010. This year, HSUS visited a number of Petland stores in Georgia and found they were buying from some of the most notorious puppy mills in the nation, adds Summers. (HSUS calls those puppy mills "A Horrible Hundred:100 Problem Puppy Mills.")
It's not just HSUS railing against Petland. Customers on their own appear to complain far and wide about the chain. The website Consumer Affairs has 490 complaints against Petland, altogether giving the store a composite review of 1 out of 5 stars. Each story highlights the compromised health of the dogs being sold at Petland around the nation.
An HSUS investigation into Petland took undercover video of dogs at a puppy mill.Youtube/HSUS
Alana of Redford, Michigan, wrote that her her 8-week-old Siberian husky, whom she bought for for more than $3,000, was diagnosed with a UTI and a congenital kidney disease. Mia from Las Vegas bought a German shepherd (also for more than $3,000) whom she says had giardia, a parasite. Katrina of St. Louis bought a deaf puppy (which she disturbingly returned, like a sweater), then bought an English bulldog who had spina bifida, an incomplete closing of the backbone. Eventually Katrina had the bulldog euthanized. Kellie of Columbus, Georgia, euthanized her cocker spaniel because the animal suffered from facial paralysis.
What's a puppy mill?
HSUS defines a puppy mill as "a dog breeding operation, which offers dogs for monetary compensation or remuneration, in which the physical, psychological and/or behavioral needs of the dogs are not being fulfilled due to inadequate housing, shelter, staffing, nutrition, socialization, sanitation, exercise, veterinary care and/or inappropriate breeding."
HSUS says the USDA took this photo at a puppy mill in Missouri that has sold dogs to PetlandUSDA/HSUS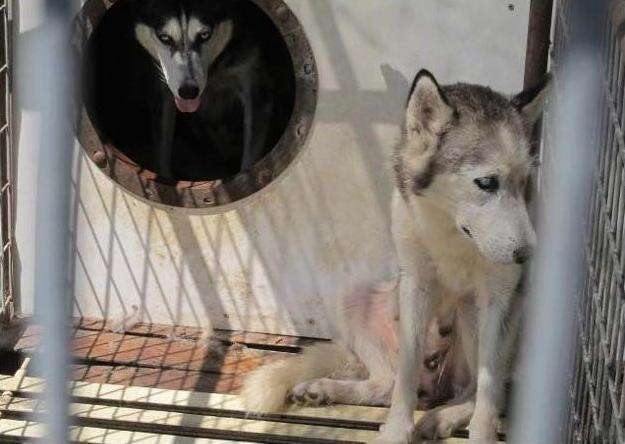 The North Shore Animal League America in New York regularly rehabilitates dogs from puppy mills. Cindy Szczudlo, rescue manager at the organization, says that 80 dogs arrived at its rescue from mills in the Midwest just last week. "We have someone out in the Midwest who has contacts with several mills," she explains. "Mills have a lot of adult dogs who are done breeding and the only option is to euthanize them or sell them at auctions. So we get them relinquished to us maybe four to five times a year."
This puppy mill dog was recently rescued and is now at North Shore Animal League America.Mary DeCaprio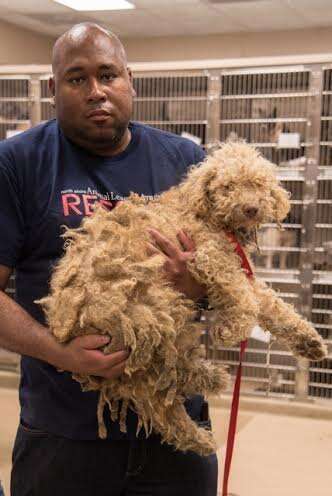 "[The puppy mill dogs] are often very matted, filthy, a lot of ear infections, bad teeth, eye infections, bad teeth, mats are soaked in urine and feces," she says. They also aren't well socialized so they're usually timid or shy.
One puppy arrived this week who was missing his back foot, because "he had a congenital defect," she adds. "But the wonderful thing is that they aren't broken. We bring them, we rehabilitate them and get wonderful updates from families. I just adopted a mill dog last month."
Puppy mill dogMary DeCaprio
'They had actually died'
Rylee Barr is a former employee of Petland in Sarasota, Florida. She told The Dodo that as a staff associate at the store, she saw puppies "coming in multiple times a week or who were sick and had deformities." She also says she saw "a lot of puppies who went 'to the vet' - but realized they had actually died."
Barr says she quit her job this May after an incident involving a Maltese puppy: "When [the puppy] came in, I expressed a lot of concern for her because she wouldn't eat and she was so frail and tiny. I said that she needed to go to the vet."
Barr says she took two days off, and then returned to work, only to find the dog in desperate condition. "She began to 'crash,'" claims Barr.
Barr says she rushed into an employee meeting with the puppy "and [the staff] started to illegally administer IVs into her and was basically shooting water into the puppy's back. I kept insisting she needed to go to the vet."
When the dog went unconscious, Barr says she handed the dog over to another employee and walked out and called local animal services.
Petland Sarasota says these claims are not true and it is seeking legal action against Barr. "We have irrefutable proof that she is making falsehoods," Jenn Kennedy, a manager at Petland Sarasota, told The Dodo.
Brad Parker of Petland Sarasota sent The Dodo a copy of the Sarasota County Animal Services call sheet in which it says upon arrival, the dog was still alive. Parker did not respond to the question of whether the puppy remained so.
Courtesy of Petland Sarasota
What does Petland say?
Petland's headquarters in Ohio did not respond to The Dodo's request for comment. But the company maintains it holds high standards for its dogs and that there is a difference between commercial breeders and puppy mills: "We pride ourselves on our most diligent efforts to find healthy puppies. They come from USDA licensed breeders and distributors with no direct violations on their latest inspection report. There is more oversight of breeders who sell their puppies to pet stores than any other type of breeder, shelter or rescue. Inspection reports for federally licensed breeders are available free of charge on the USDA website."
Furthermore, the chain store appears to have amended its policy late this year: "Effective October 1, 2015, Petland company stores will only source puppies from shelters and rescues, hobby breeders and USDA-licensed breeders who have no direct violations within the previous two years." All breeders who supply to chain stores are required to be licensed by the USDA as long as they have more than five or more breeding females, according to Tanya Espinosa, at USDA-APHIS public affairs office. However, per the HSUS, it should be noted that being USDA-licensed means only that breeders must meet "the bare minimum requirements." Essentially, this means Petland is still selling puppies from puppy mills.
Petland also has an adopt-a-pet program, in which "some Petland store operators make available their highly visible Petland display windows to aid in the placement of homeless pets in local communities."
Someone like Karen Paul, however, thinks Petland's policy is far from resolved. Since 2014, Paul - who lives in Acworth, Georgia - has been protesting Petland. "I was at the Kennesaw Petland and there was a great Dane on the sales floor. It was very sick and was showing signs it needed to see a vet immediately." Paul says she approached every sales associate at the store and they either tried to sell me the dog or claimed nothing was wrong with it."
Paul says she immediately launched a Facebook page called Shut Down Petland Kennesaw as well as Shut Down Petland Sarasota, Florida. Since then, she says, many customers have told her that they believe Petland misrepresents what kinds of breeds are being sold, and chronically sells sick or injured dogs.
Petland is calling Paul's efforts defamatory, and is suing her. "We're not looking to end her web page," Petland attorney Nicholas Geiger told Atlanta, Georgia's Fox 5. "We're not looking to stop the protests. The case is about a handful of recklessly false and defamatory statements made on the web page."
Are there "good" breeders?
Although Petland is arguably the most high-profile retail company to be allegedly selling puppy mill dogs, Summers stresses that just about every pet store that is selling puppies is selling those from puppy mills.
HSUS claim puppies from this mill in Missouri are sold to PetlandUSDA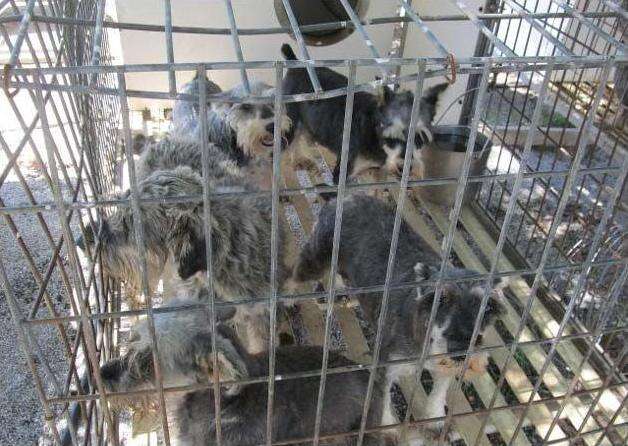 There are about 9,000 independent pet stores in the nation, Summers notes, and more than 3,000 of them sell puppies. Meanwhile there are 10,000 puppy mills in the U.S., she says. HSUS explains that the reason why all pet stores are guilty of purchasing puppies from mills is because a responsible breeder won't sell puppies to a pet store. "We studied the code of ethics for almost 200 different national breed clubs, such as the Yorkshire Terrier Club of America," Summers notes. "And we found that most of them prohibit their members from selling to pet stores."
Wikipedia Commons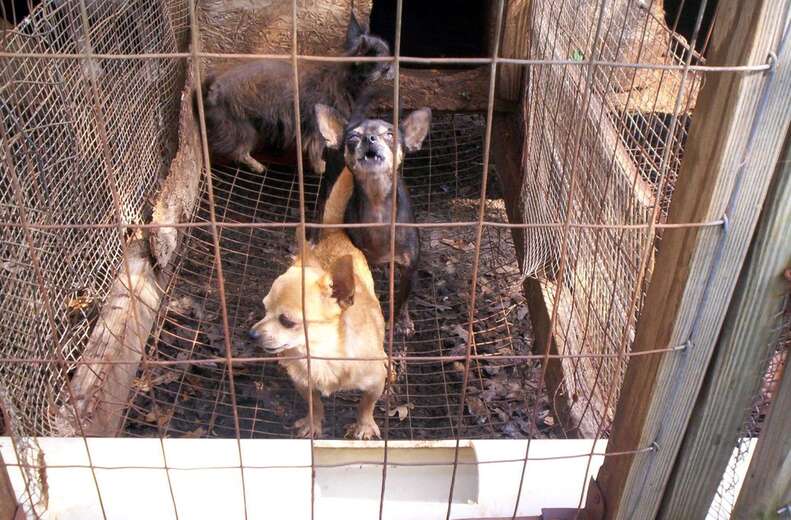 A "good" breeder, Summers continues, "will want to meet the people who are buying the puppy to make the right fit. A good breeder isn't going to put her puppy on a truck and ship her dog away to someone she's never met." That is also why, Summers explains, you shouldn't buy puppies off the internet, either.
The bottom line: Whether the dog is being plucked from some fabulous boutique in Manhattan's West Village or a strip mall in Pennsylvania, chances are, that dog came from a mill.
So this holiday season, when you are thinking about buying that puppy in the window, maybe ... don't.
Happy Holidays. From, The Dodo.