'Right to Know'Bill Will Help Stop Wildlife Services From Cruelly Killing Geese And Turkeys - Pls Sign Petition!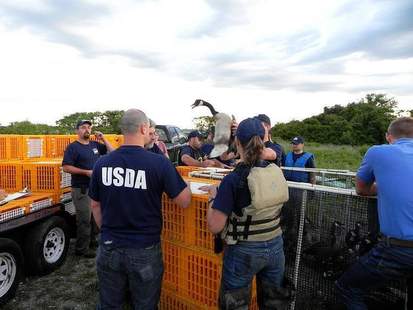 Please Help Pass the 'Right to Know' Bill, stopping secret killing by the USDA/Wildlife Services All across the U.S., communities are complaining that the Wildlife Services branch of the USDA is coming in without prior notification to the public, and against their wishes, and killing geese, turkeys, and their babies. These animals are killed by shoving them into crates and then gassing or shooting them. All done with taxpayer money and without our consent.
Citizens of New York are taking action. They have inspired a bill called the"Right to Know" bill (S6644/A8934). If passed, it will require prior notice from Wildlife Services before any such slaughters take place in the state of New York. It also requires the agency to provide the public with information on humane alternatives to any lethal methods they may plan on using.
Passage of this bill would help the public have a voice and prevent unwanted killing of wildlife in our communities. The law could inspire people in other states to take the same action.
This bill is being presented to the January Legislative session - Please help it pass by signing this petition in support:
https://www.change.org/p/nys-legislature-gov-andre...

Thank you for helping those who have no voice and no choice!