Pet Detective Solves The Mystery Of Woman's Missing Cat
It's a pet owner's worst nightmare to have their furry companion suddenly disappear. But luckily for one family whose feline had vanished without a trace, a real-life pet detective Mona Kay was able to crack the case - 1,600 miles away.
The mystery of the missing kitty began last month in Vallejo, California, where Riley McDermid lives with her indoor-outdoor cat, Sheba. One evening, McDermid grew concerned after her beloved pet failed to appear for dinner, and even more as there was still no sign of her days later.
Mona Kay

| Mona Kay
McDermid eventually turned to her neighbors for help. That's when she learned that, around this same time, the adult children of a man who lived nearby had been in town to gather his things after he passed away. They'd been seen loading, among other possessions, a pet carrier into their rental van, before driving back halfway across the country to their home in Nebraska.
On the off chance that they had seen Sheba, McDermid decided to track down their contact info. She called and left messages, but, oddly enough, never heard back from them.
Was it possible that they had her cat? Nudged by that suspicion, McDermid reached out to private investigator-turned-pet-detective Mona Kay in Omaha.
"She called and asked if I would be interested in trying to locate her cat. I handle lots of types of cases, so I thought I'd give it a try," Kay told The Dodo. "I've spent months trying to find people before, but we weren't even sure the cat was in town. We didn't really know if the cat was alive, or where it could be. All we had was a name."
With that, Kay gathered a list of possible addresses of people with that name in town to pay them a visit. And sure enough, the mystery surrounding Sheba's disappearance began to unravel.
Mona Kay

| Mona Kay
"The first address I went to, a young female opened the door. I introduced myself, saying I was a private investigator and had been retained by a family in California to locate their cat. You should have seen the look on her face," said Kay. "I then pulled out a picture and said, 'Have you seen this cat? There was a long hesitation. I knew right away that I had her."
It took some firm questioning on the intrepid detective's part, but she eventually admitted to having taken Sheba from near her deceased father's home weeks earlier.
"Based on her reaction, I have the impression they took the cat knowingly," Kay said. "I don't know why they would do that."
Fortunately, the purloined cat was still safe and sound when the woman handed her over to Kay, who hurried home to call McDermid with the good news.
"She just started crying. She was just so happy and surprised," Kay said. "I thought it would take a week or more to find her, and maybe require using surveillance. I was surprised, too, to find her so quickly."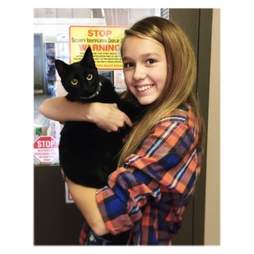 Mona Kay

| Mona Kay
The next day, Riley made arrangements for an airline to fly Sheba back to California where they have since been reunited - bringing the cross-country caper to a best possible conclusion.
"I was happy I could help them," Kay said. "It turned out as well as we could have expected."