How To Dress Your Pet Up For Halloween Without Him Hating It
Don't turn this into a nightmare.
"The most important thing to consider when dressing your pet up for Halloween is safety," Dr. Louise Murray, director of medicine at the ASPCA, told Care.com.
So, if you've just got to dress up your pets for Halloween, here's what you need to know to make sure they stay safe.
Choose a costume that lets him move
Whether a ladybug, pumpkin, devil or angel, the costume should allow your pet to be comfortable.
Make sure he isn't constricted by the costume and able to move freely, the Humane Society of the U.S. (HSUS) advises. Avoid anything that might get tangled up in your pet's legs, making it difficult to move.
"If your pet hates her costume, don't force her to wear it," Dr. Murray said.
Skip the mask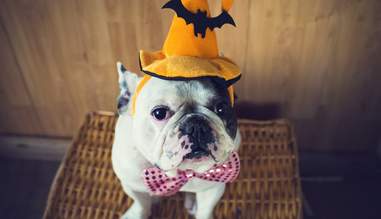 Shutterstock
The HSUS urges pet owners to skip masks, which can affect your pet's ability to see. "A nice orange bandana or bow tie is a happy alternative to a full-fledged costume," Dr. Murray adds.
Avoid choking hazards
Just because a costume was made for a pet doesn't mean that it's guaranteed to be safe, so make sure to remove any parts your pet could get his jaws around and chew. These little pieces could be choking hazards.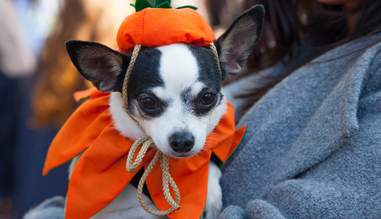 Dog at the annual Tompkins Square Halloween Dog Parade in New York City.

| Donald Bowers Photography/Shutterstock
Similarly, keep an eye on your pet if you have Halloween decorations up, or candy lying around.
During festivities, keep your furry family members in mind
Even if your pets aren't taking part in the masquerade, you still need to keep them in mind if you're having hordes of trick-or-treaters or a halloween party.
Animal behaviorist KC Theisen warns that "the things that make Halloween a treat for people - noises, smells, trick-or-treaters at the door and people in costumes - can overwhelm many pets ... While you're enjoying the fun, make sure your pets have a safe haven in a room where they can feel safe, comfortable and relaxed - and that they are tucked away from any hazards."
Shutterstock
"Remember," the HSUS says, "most pets are happiest wearing nothing but their birthday suits."
And they're already pretty magical as it is.