​Woman On Vacation Finds Starving Kitten — And Can't Go Home Without Her
"I think she recognized that we were helping her."
Hannah Shaw heard the kitten scream before she saw her. It wasn't a cry of pain, but one of terror.
Shaw, the woman behind the kitten advocacy project Kitten Lady, had been vacationing in Peru with her boyfriend, cat photographer Andrew Marttila, and they'd just finished hiking through the Andes and touring Machu Picchu. The last thing they expected on the final day of their trip was to rescue a kitten.
But when Shaw heard the kitten screaming as they wandered through a local neighborhood, she sprinted toward the sound.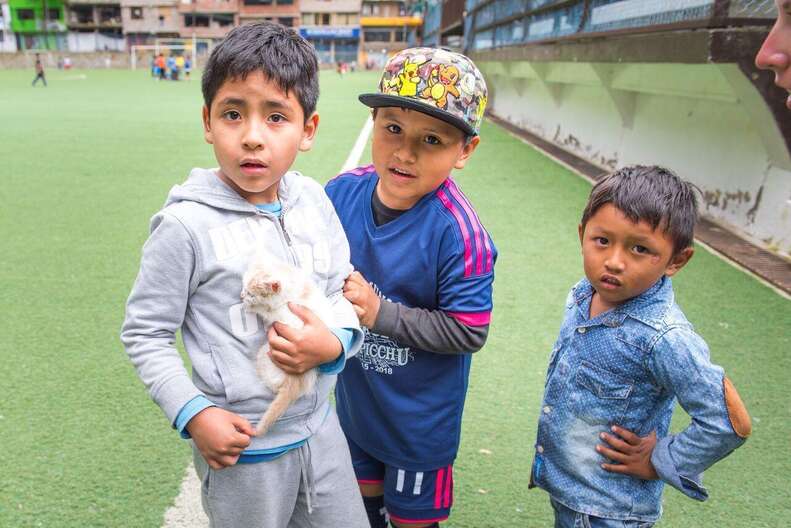 "I saw this little kid, who was maybe about 6 years old, running with a kitten in his hands," Shaw told The Dodo. "The kid wasn't being mean to the kitten - he was really excited, but he was squeezing her a lot. So I started to chase after him, and said, 'Hey, hey - let me try and help this kitten.'"
And she was just the person to do so - Shaw spends most of her time fostering and feeding infant kittens as "Kitten Lady," although usually not while she's on vacation.
The kitten was tiny and white-furred, and she was trembling. But once the kitten was in Shaw's arms, she started to calm down.
"I think she recognized that we were helping her," Shaw said.
But the kitten, whom they named Munay, was still in rough shape - she was skinny and malnourished, and her filthy fur was peppered with fleas. Incidentally, Shaw had been carrying around some cat food, and she offered some to the kitten, who immediately devoured it.
Speaking to the kids in broken Spanish, Shaw learned that Munay didn't have a mom, and that the kids had taken her from another area in town.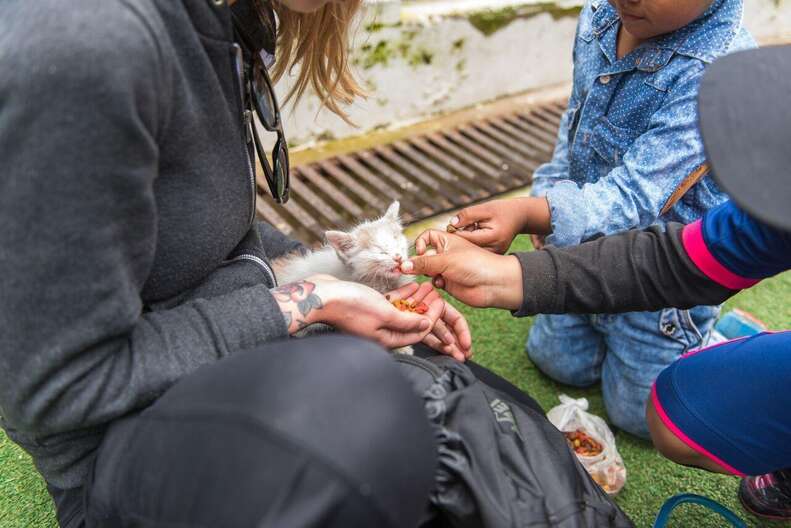 "They didn't have a plan for her, and there was nowhere safe for her to go," Shaw said.
Shaw wanted to help more, but she and Marttila were taking a train out of the area in 45 minutes and they weren't returning. In fact, they were flying back to the United States the next day. But Shaw couldn't just leave Munay there, so she did the only logical thing she could think of - take Munay with her.
The next 48 hours were pure craziness for Shaw and Marttila. First, they had to smuggle Munay onto the train. Then they had to figure out how to get Munay onto their two flights, and get the kitten into the U.S.
The process of exporting a kitten out of Peru turned out to be fairly quick and easy. Once their train arrived in Cusco, they went to a local vet and got Munay the necessary vaccinations and health certificates for travel, and they successfully added Munay to their flights. But they were still incredibly nervous - especially about getting through customs in the U.S.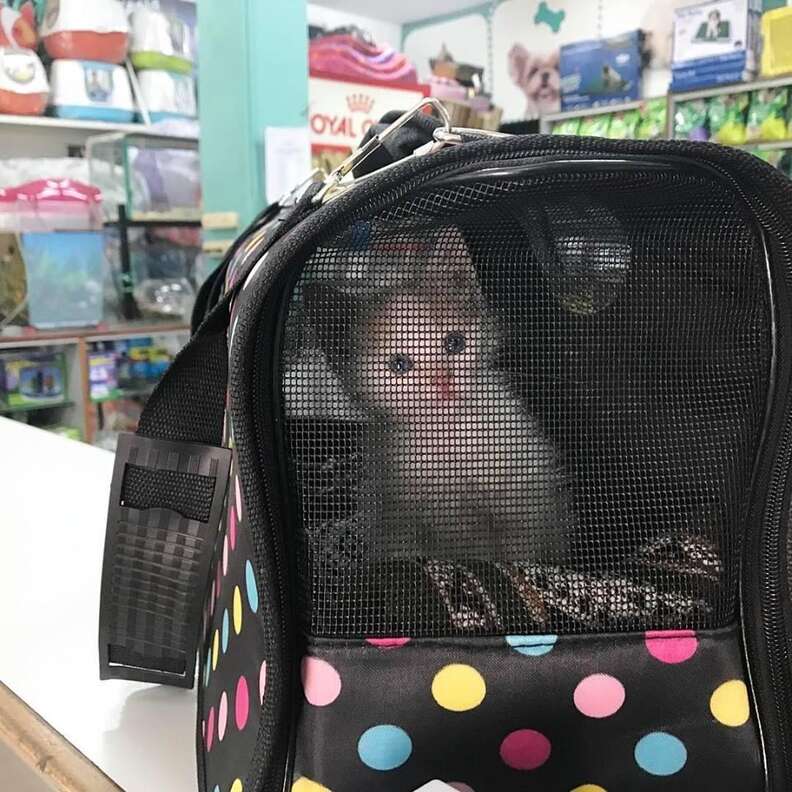 "We were just crossing our fingers, hoping we had done everything right," Shaw said. "We did everything that we knew to do, but there's just not a ton of great information out there about exactly what is needed about this specific situation, so we were kind of going into it, saying, 'We hope this will work. If it doesn't work, what do we do? Do we miss our flight?'"
Luck was on their side - and on Munay's. Shaw and Marttila got Munay onto the plane from Cusco to Lima, and then onto their international flight from Lima to Atlanta.
"She slept on my chest," Shaw said. "I'd wake up on the plane in the morning, and she would be asleep, rattling on my chest with purrs."
When Shaw and Marttila got Munay into the U.S., they were both incredibly relieved.
"I was in tears," Shaw said. "I was like, I can't believe we just did that - that's crazy."
Now that she's safely in the United States, Munay will live with Shaw and Marttila until she's ready to be adopted.
"I was so happy to be able to put her on a couch, put her on a floor and let her run around and show her all the stuff we have here in our house," Shaw said. "We have the most tripped-out cat house ever. I think she had no idea what she was in for. So she has everything she wants now - she has every kind of toy, the best food."
Munay's health is also rapidly improving.
"She's on the up-and-up now," Shaw said. "I'm weighing her every day to make sure she's gaining weight."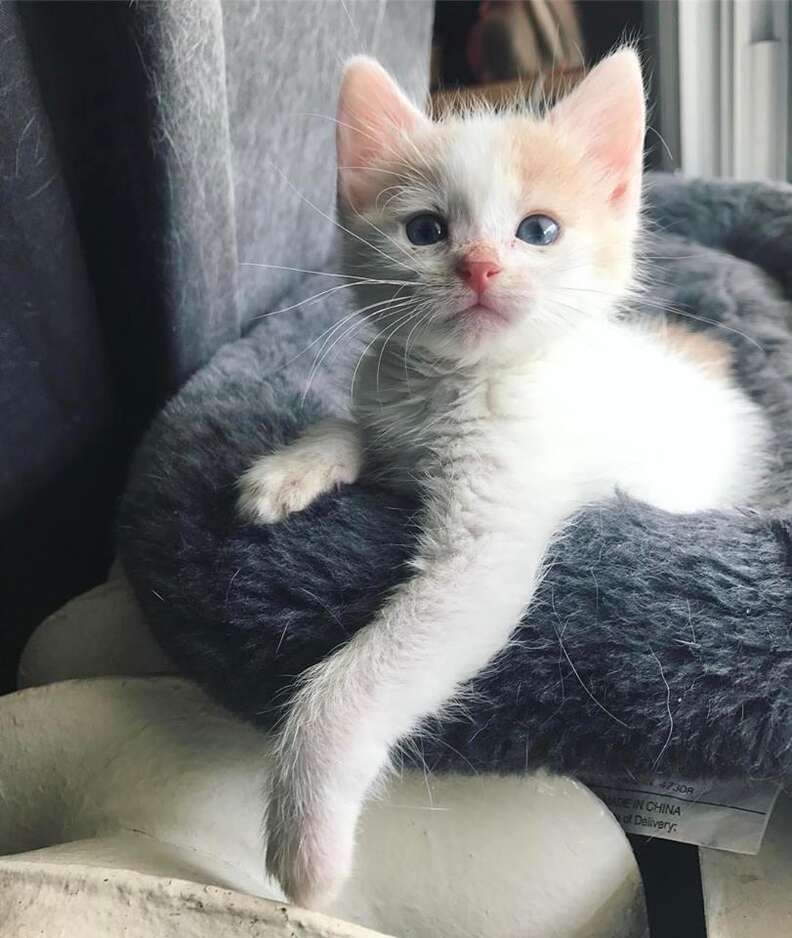 "It was a really cool experience, and we love her," Shaw said. "I think hope goes a really long way."
To help Shaw rescue more kittens like Munay, you can make a donation to Kitten Lady.