Circus Cat Living In Car Freed From Life In Chains
A sad, emaciated puma who spent his life chained to the open back of a car - the only home he'd ever known - is finally free.
"He lived the whole of his life wearing a harness and strapped to the back of a station wagon," Jan Creamer, president of Animal Defenders International (ADI), told The Dodo. "He shared the back of the station wagon with all the metal equipment."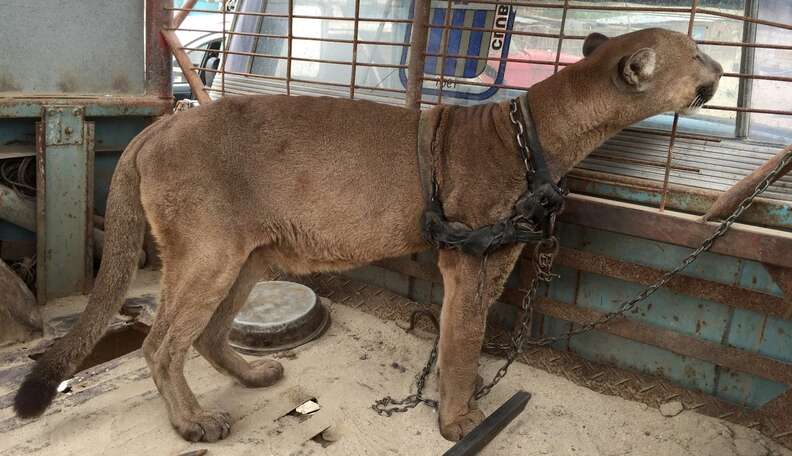 Lacking even the comfort of a cage, the unlucky cat had likely been sold into the exotic pet trade as an infant. Since then, he had been carted around from village to village with a Peruvian circus. When he wasn't performing, he slept in the car's metal bed, curled up behind the tent poles.
"It was absolutely the most sad, wretched thing that you've ever seen, to see a beautiful animal pushed into a corner," Jan Creamer, president of Animal Defenders International (ADI), told The Dodo. "It was like he wasn't even alive."
The mountain lion, named Mustafa, and a condor named Condorito, who also lived at the circus, were the last animals rescued as part of ADI's months-long Operation Spirit of Freedom, a crackdown on performing animals in the wake of Peru's 2011 ban on circus animals. The project has saved nearly 80 animals but, despite the Peruvian government's active partnership, it has often been a struggle.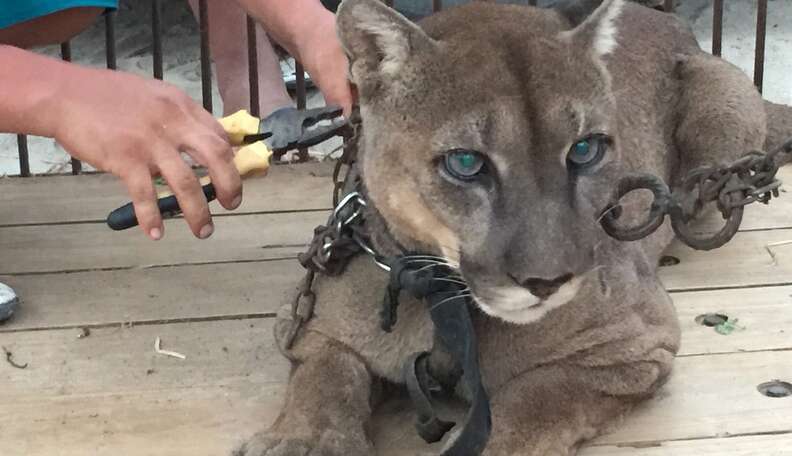 In Mustafa and Condorito's case, the circus owner staged a riot to prevent police and ADI from rescuing them.
"The circus owner offered money, and it was announced on the local radio that he was offering money, for people to come and fight the police," Creamer said. "A lot of people came and were shouting and screaming."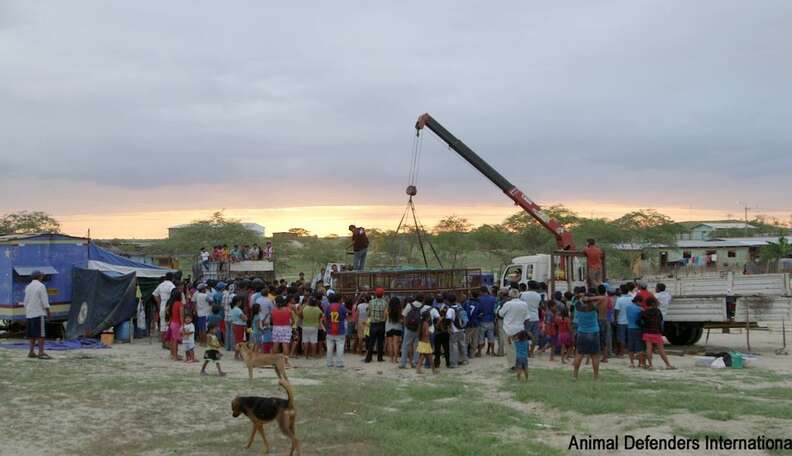 After an hours-long standoff between the circus and locals and police, the circus owner backed down when he realized he would be facing heavy charges - including possible child endangerment charges for asking people to bring along their children.
Unfortunately, standoffs like these aren't uncommon. Plus, circuses often travel between small villages and avoid big towns so they can't be found, knowing their animals could be seized if they are spotted.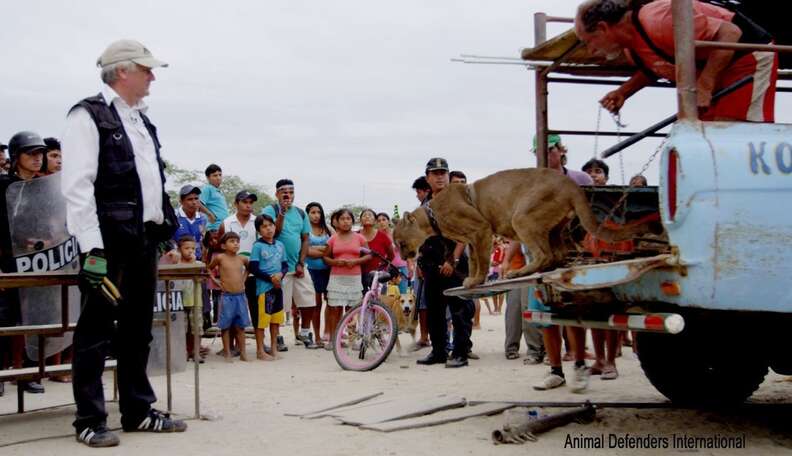 Just 24 hours before rescuing Mustafa, ADI had removed a tiger named Hoover from a similar circus - after another hours-long standoff with that owner. When ADI started tracking it, the circus had two surviving tigers out of an original group of 12. Eight months later, when the circus was found, Hoover was the only one alive.
Though the Peru job is officially done, ADI will continue to monitor the area to make sure every last animal has been rescued. They believe the circus that abused Mustafa is still hiding a monkey and possibly another condor. ADI is urging the public to use social media to alert them to any animals still in captivity.
Next year, ADI will turn its attention to Colombia, which outlawed circus animals in 2013, and Mexico, which followed late last year. In the meantime, the group is focusing on rehabilitating the animals currently in its care.
Mustafa is underweight, which is clear from pictures, but appears to be more injured emotionally by his unmerciful time in captivity.
"Mustafa is very shy," Creamer said. "He's really quite nervous and so we're just waiting for him to get a little bit more confident and not be afraid of us."
Though Hoover has perked up in the few days he's been with ADI, he appears to have lost a lot of weight quickly and is very tired and not eating well. Vets are concerned about parasites, but it's also possible he has broken teeth or a dental infection - all-too-common-problems in circus cats.
"Almost all of them, if they're of any age, have smashed teeth, because when people are handling animals in the circus, if they're causing any trouble, the first thing they do is smash them in the face with an iron bar," Creamer said. "The other thing is they chew the metal bars [of their cages] because they're desperate and they break their teeth."
Vets are waiting until the cats settle in to put them under the stress of sedation and a proper physical exam, but, fortunately, their futures are already looking better.
Hoover will be airlifted to Colorado's Wildlife Animal Sanctuary in June, along with 33 former circus lions ADI has rescued and a bear named Cholita.
As Mustafa is a native species, ADI and Peruvian officials are working to determine whether he would be better off at the Colorado sanctuary or at a sanctuary closer to home.
As for Condorito the condor, more than just freedom could be in his future: He could regain the power of flight. The circus clipped his wings to keep him flightless, but ADI has been told that it's possible for his flight feathers to regrow if they're plucked, which would make him eligible for release.
"That's our best wish for him," Creamer said. "That one day he will be soaring over the Andes."
The Peruvian rescue effort is expected to cost upwards of $1.2 million. If you'd like to support the project, you can make a donation here.