One By One, Peru's Circus Animals Are Being Freed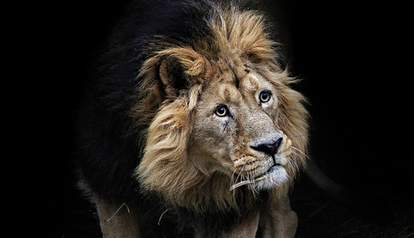 <p>jinterwas / <a href="https://www.flickr.com/photos/jinterwas/6935212740/in/photolist-byQM8s-32AECN-dy29yV-bXZasu-Gskmt-jmVe1-7RouJg-8xYnkT-7RrGDm-ghXbdc-9jZD2J-7Un2a2-7GmJWk-7AN3f-5Ym6Rt-c2eBZW-c2ezHw-c2exo5-nuToZM-hq5KP9-FTdBX-hsDnN5-9BZX9u-6WvEaw-8WG9Ti-9tvv5Y-HgKRY-6gYn1H-6WvDTA-f5bofb-6WrHha-7RouX6-7RrKFY-6WrSag-dTADKB-4LFGcN-9jWzgz-Jku7Q-bzTy1h-8niNYn-6YeRG1-7bevfg-ckZnK3-6WrMC2-edrxta-7RrKhq-fAvefL-a5YZkV-6jT4hC-4EtVKK">Flickr</a></p>
Life took a drastic change for nine circus lions in Peru this week, when they were each freed from a life in captivity. As part of a massive move to free the country's circus animals, rescuers placed the lions in a quarantine facility to prepare them for their eventual move to sanctuaries.
The rescues, named Operation Spirit of Freedom, were spearheaded by Animal Defenders International (ADI), along with the help of Peru's SERFOR (wildlife and environment), ATFFS (enforcement) government bodies. The mission was funded in large part by a donation from TV personality Bob Barker.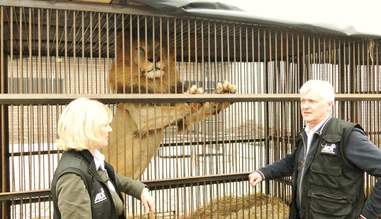 (ADI)
Peru banned performing exotic circus animals in 2011, following Bolivia's lead. But many animals are still being held in circuses there. Rescues are continuing to happen on the ground in Peru right now.
"We are pleased to be assisting the Peruvian authorities with this important mission to save animals from suffering and which can put Peru at the forefront of animal protection law enforcement in South America," said Jan Creamer, president of ADI.
This isn't the first time lions have been rescued from a circus and sent to better living conditions. A similar rescue mission in 2011 airlifted 29 lions from eight circuses in Bolivia to sanctuaries in the U.S.
Around the world, 27 countries have banned performing wild animals in circuses. These include Austria, Belgium, Colombia, Costa Rica, Croatia, Cyprus, Czech Republic, Denmark, Ecuador, El Salvador, Finland, Greece, India, Israel, Panama, Paraguay, Poland, Portugal, Singapore, Slovenia, Sweden and Taiwan.