A Community Came Together So This Sick Dog Could See 'Snow' One Last Time
It was a promise his mom refused to break.
The diagnosis came out of nowhere. Spunky had been a little stiffer than usual for a spell, not leaping up and down stairs, but otherwise the 12-year-old dog seemed healthy.
Then on Thursday morning last week, Spunky didn't want his breakfast.
"He always inhales his food so I knew something was off," his mom, Ashley Niels, tells The Dodo.
A trip to the vet confirmed Niels's worst fears. Spunky had hemangiosarcoma - a type of cancer - and was bleeding internally. Chemotherapy and surgery wouldn't help.
The vet "told me how sorry she was and that since we didn't want him to suffer, we should schedule an appointment to have him put to sleep," Niels says.
Niels scheduled the appointment for the next evening - and then suddenly remembered she'd once promised her thick-coated, winter-loving dog, who has lived in Texas for years, that he would get to see snow again.
"The prospect of breaking that promise to him sent me into a panic," Niels says.
Spunky is from Wisconsin; Niels adopted him from a local shelter while she was in college. The two lived blissfully in that tundra for four years.
"He is a total snow dog and could play in snow drifts for hours and be just fine," Niels says. "He loves snow, playing in it and eating it!"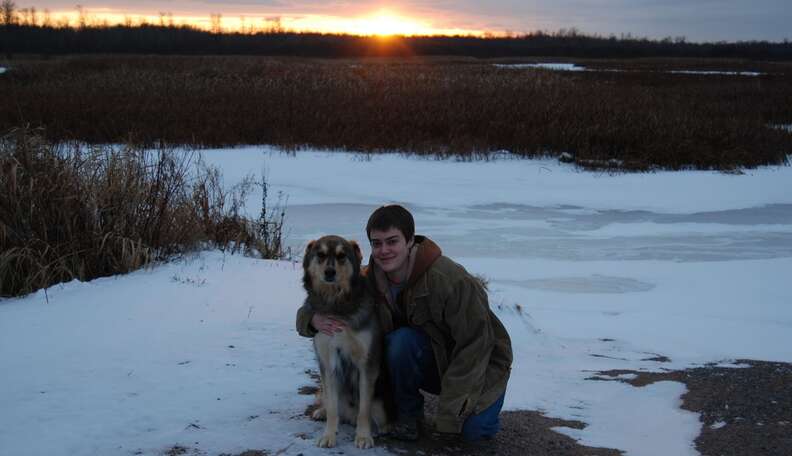 In 2008 they moved to Austin, Texas, where Niels works as a behavior and enrichment specialist at Austin Animal Center, the city shelter. These have been mostly snow-less years, except for the occasional unimpressive few flakes.
Summer in Austin, of course, would be an even less likely time to find some flurries.
Except that a group of volunteers and staff at Austin Animal Center pitched in to rent a snow machine, and brought it over to Niels's house so Spunky could enjoy a man-made snowstorm in his very own yard.
"To be honest, I think Spunky mostly sat there in the blowing 'snow' to humor me and make me happy," says Niels.
"But the real beauty behind the whole thing was how this entire village enveloped us in love, and pulled all of this together in hours so that I could give my boy a last wish, if you will. I can't tell you how touched I was."
After the snow, Friday evening came. The vet had to cancel, due to an emergency. Spunky's appointment was rescheduled for the following morning.
But Niels couldn't go through with it. Spunky seemed happy, and "I didn't want to take that away from him," she says.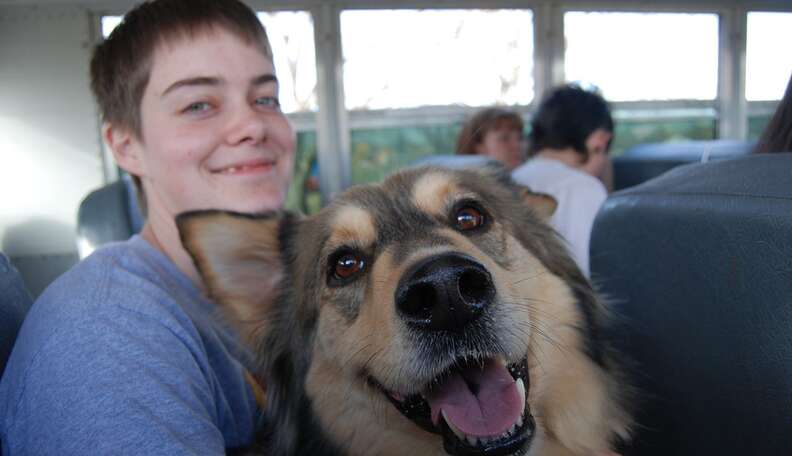 He's stayed that way since. So they've gotten a couple more days now, after all.
Niels's dad has flown in from Chicago, and her girlfriend has stayed home from work. Spunky's best friend, a cat named Merlin, has been paying him lots of extra attention, too.
"And we've also just been spending a whole lot of quality time with him. Laying with him, doting on him, constant kisses and pictures," Niels says. "I've been doing everything I can to spoil him and give him all the love and affection he can stand."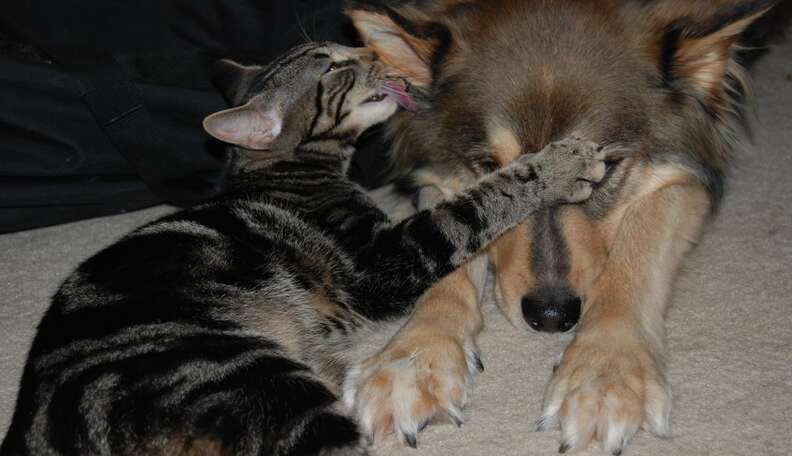 The snow machine's been put to more good use - it was brought by the shelter before being returned, so AAC's dogs could enjoy some snow, as well.
It pleases Niels that "the snow machine got to enrich the lives of some of our shelter's dogs."
Niels doesn't know how much longer she and Spunky will have together. She prays for a miracle, as you do in this sort of terrible situation; she feels grateful for what she's gotten.
For spending all these years with a dog who loves dressing up in costumes, and being brushed, and running, and playing, and exploring, and camping and loving.
"His love is the purest, most unconditional love there is," Niels says.
And for these last days, when the community came together on such short notice, so that Niels could fulfill an impossible, unbreakable promise.
"How beautiful is it that a group of people made it snow in the Texas summer?" she says. "All for the love of a dog. My dog. My Spunky."