People Bring Water To The Animals Everyone Else Has Forgotten
Few people ever get to see the terrible reality some animals experience. But thanks to the tireless work of some animal advocates, their suffering is finally coming to light - and hopefully that means change.
© Eyes on Animals, TSB|AWF
Thousands of animals - 900,000 sheep, 850,000 cows and 5,000 goats - were exported from the European Union (EU) to Turkey between 2010 and 2015. The animals have been routinely forgotten at the border of Turkey, left without food and water to suffer in horrifically high temperatures. The violations of international animal welfare regulations fill a "shocking" 1,000-page report. A whopping 70 percent of transporters inspected over a period of five years broke one or several EU animal welfare regulations.
Animals sometimes went for days without water - until investigators helped them.© Eyes on Animals, TSB|AWF
The investigation "revealed that sheep, cows, and goats were illegally kept on trucks at the Turkish border for days on end in squalid conditions without being offloaded," according to a press release from Compassion in World Farming. "They were given no shade in extremely high temperatures, and also endured a basic lack of food and water, with some animals exhibiting signs of extreme dehydration."
Sheep packed tightly in a transport truck.© Eyes on Animals, TSB|AWF
Temperatures on these trucks reached 106 degrees. Footage shows that investigators often tried to find a way to bring the suffering animals water with hoses or pails of water. The animals desperately struggled to get a drink.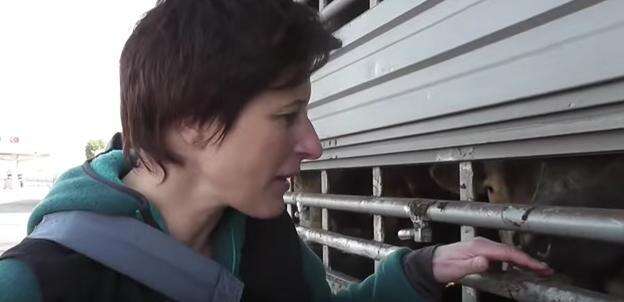 Injured animals and animals giving birth were left without any veterinary assistance, according to Compassion in World Farming; those who died were just left among the living. "Despite evidence of these conditions being brought to the attention of the authorities many times over the course of five years, no action was taken to put a stop to these practices," the group said.
Cow, desperate for water, licks the metal bars of the transport truck.© Eyes on Animals, TSB|AWF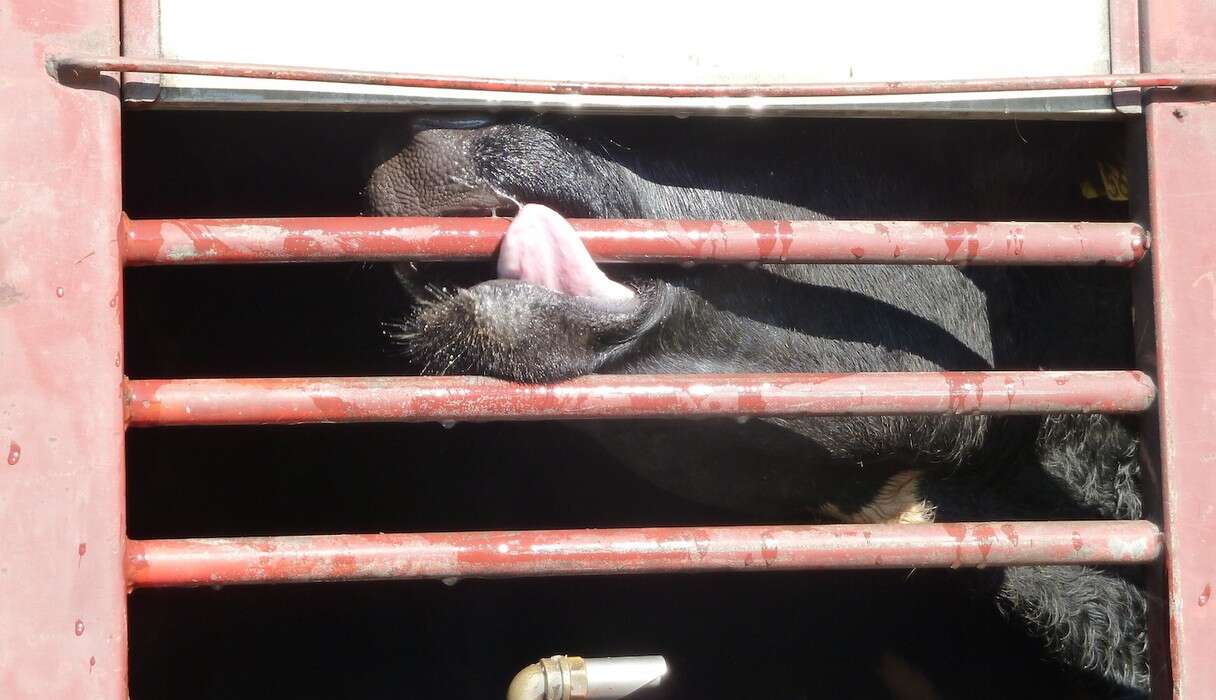 Investigators called the transport of these live animals a "systemic violation" of the rules that were meant to prevent their suffering "as sentient beings." Investigators documented filthy water troughs and images of dead animals being dragged from the transport trucks.
The pain the animals at Turkey's border endure is the disastrous reality of live export, a practice that plagues the lives of animals all over the world. This particular instance shows the neglect embedded in the practice of shipping animals across borders just to be slaughtered - often inhumanely.
© Eyes on Animals, TSB|AWF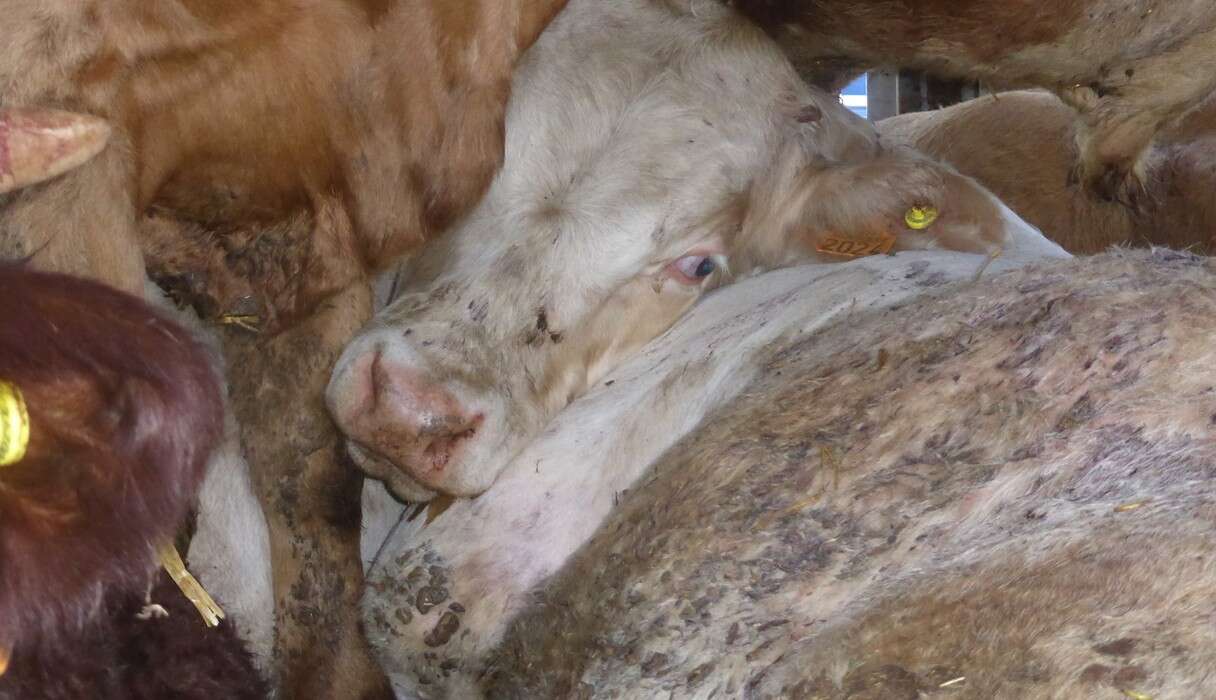 But not everyone understands why a livestock animal's comfort is a big deal in the first place. A commenter on Reddit recently wrote: "Why would this be something to talk about... Hey, did you hear about those animals that are going to die are dying?"
Perhaps the question we should ask ourselves is whether we want to be the kind of society who simply stands by and lets animals suffer torturous conditions for days. (As if slaughtering an animal who forms friendships and remembers the past isn't bad enough.)
© Eyes on Animals, TSB|AWF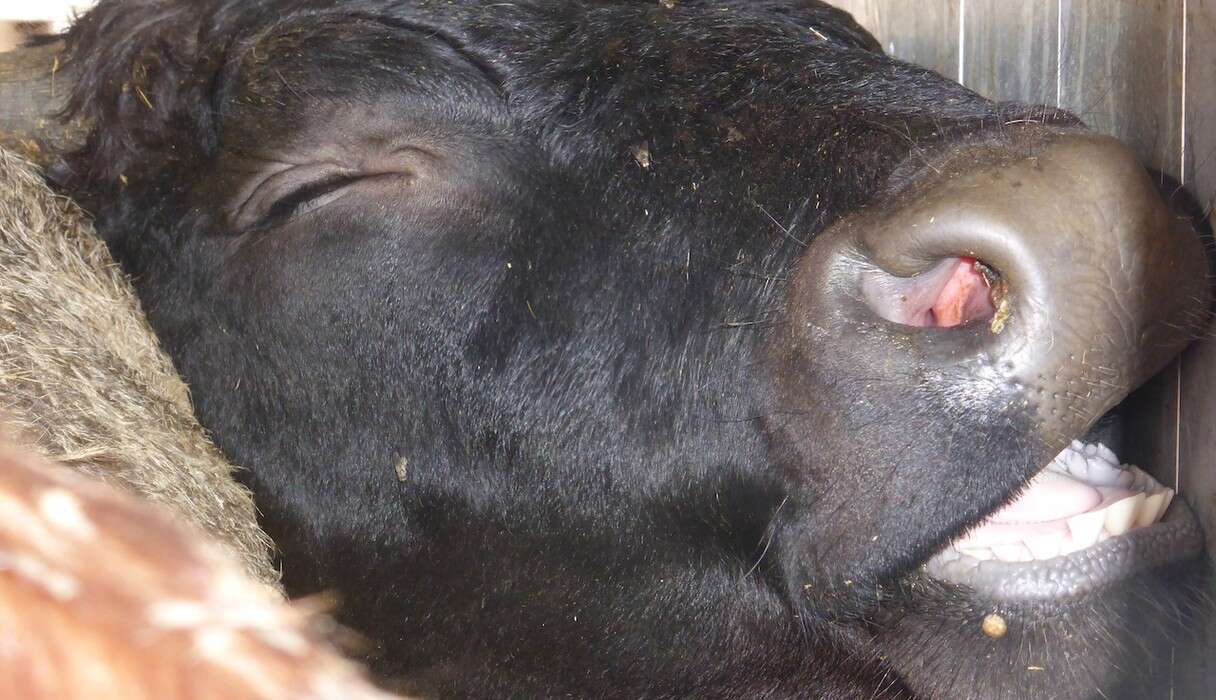 Have a tip? Email sarahv@thedodo.com.