Dog Who Couldn't See Or Hear Finds The Perfect Dad
For Penelope, there was a light at the end of the tunnel. Even if she couldn't actually see it.
As a rescue from Miami-Dade Animal Services, where the sheer number of animals spells the end for so many, she found a lifeline.
A Canadian group, having heard of the plight of so many animals in Miami, sent a delegation to help.
A dog at Miami-Dade Animal Services who wasn't saved in time

| DOG TALES
Dog Tales Rescue and Sanctuary brought dozens of dogs back to Ontario.
Among them?
An old shepherd mix named Penelope who could neither see nor hear. A dog like that was hardly expected to find her way out of Miami.
Penelope

| Dog Tales
But in Canada, she saw the light.
Hundreds of thousands of people viewed and shared her story. The organization sifted through countless adoption inquiries, until Penelope made the call.
Dog Tales says she had "an incredibly strong connection" with a man named Jeff.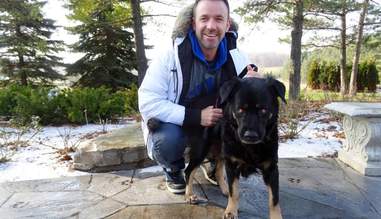 Penelope

| Dog Tales
She's even taking her halo along - a makeshift device that keeps Penelope from bumping her head into things.
It's pretty much the same halo her new owner wears. Only on the inside.
Dog Tales
If you would like to support Dogs Tales and the work they do for thousands of animals, visit its website.