Sheep Doomed To Death For Stealing Pears Finds Friends Just In Time
Ferdinand the sheep has a lurid past. He climbed a fence to steal the pears from five pear trees on the Santa Cruz farm he called home.
Enraged at the sheep, the owner of the farm threatened to shoot poor Ferdinand and eat him.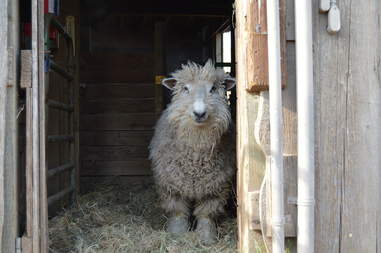 Farm Sanctuary
But a college student renting a room on the farm saved Ferdinand's life. He reached out to everyone he knew to find a home for Ferdinand.
Finally, he contacted Farm Sanctuary.
Farm Sanctuary happily welcomed the "master pear thief" to their Orland, California, shelter this week. Here, Ferdinand will "graze, bask in the sun, and eat as much fruit as his heart desires," Farm Sanctuary told The Dodo.
Ferdinand makes a grand entrance at his new home.
He appreciates some pets from new friends ...
... and then looks around at his surroundings.
Ferdinand taste-tests some local cuisine.
... and then goes in for seconds.
Mmmmm ... Delish.
Maybe Ferdinand's pear-thieving days are over.
Farm Sanctuary
Maybe.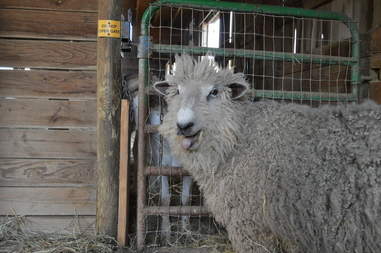 Farm Sanctuary
Help Farm Sanctuary help animals here.