Last March, John Thompson was feeding the feral peacocks in his neighborhood like he did every day. But it was the peacock with the 3-foot-long arrow lodged in his side that stood out. Someone had obviously shot the bird.
The injured peacock and the rest of the flock are regulars in a neighborhood where residents like Thompson have been enjoying watching and feeding the birds for decades.
Thompson contacted Grays Harbor County animal control officer Nichole Pollard, who reached out to Dr. Sonnya Crawford, a veterinarian and owner of Grays Harbor Veterinary Services in Montesano, Washington.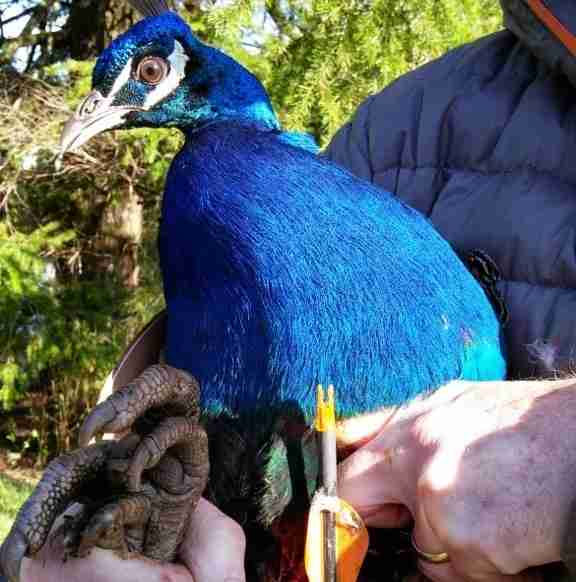 As the only veterinarian in the county who treats birds and other wildlife, Crawford sees a lot of ducks, chicken, peacocks and pelicans as well as a lot of farm animals. She and Pollard went over to the site but they had no way to catch the peacock. "I told Nikki that I would try to come up with something and thought about Dan [Varland] and his net thrower," Crawford told The Dodo.
When Crawford called Dan Varland, of Coastal Raptors, to ask if he could catch the peacock, Varland originally said no.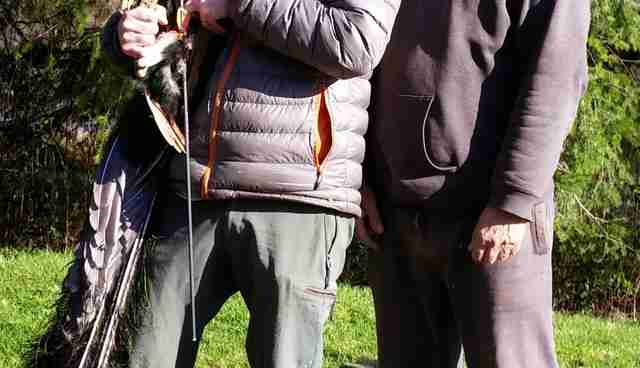 "He was not thrilled about that idea because he really seems to be focused on eagles and doesn't have the extra time," Crawford said.
But Crawford wouldn't take no for an answer. "I kept asking him until he gave in," she said. "And so he did."
Not a typical trapping
As executive director of Coastal Raptors, a nonprofit in Hoquiam, Washington, Varland is focused on research and education programs for birds of prey. Catching the peacock was definitely not something that typically fit in with his schedule.
"Crawford was aware of my nonprofit and that I use a Net Launcher," Varland told The Dodo. The Net Launcher by Trapping Innovations is a net that humanely captures birds.
First time's the charm
"I took a morning off to see if I could catch him and give it a shot," Varland said.
What Varland predicted might take an entire day actually was achieved on the first attempt. He set up his Net Launcher and captured the peacock immediately.
"First Peacock ever to ride in my 4Runner...eagles, vultures, peregrine falcon...yes, ...but a Peacock! This was a first!" Varland wrote on the Coastal Raptors' website.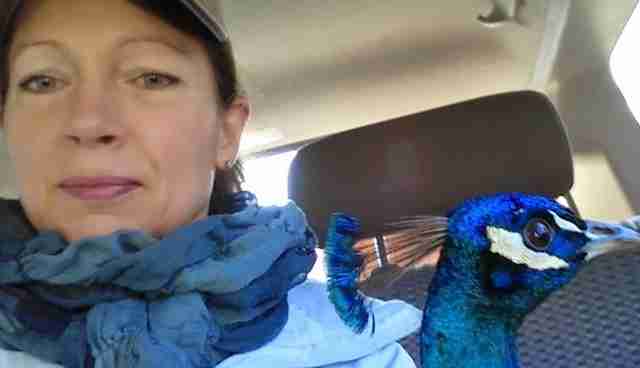 That's when Crawford and her staff took over.
"He was scared," Crawford said of the peacock. "He didn't like people. He was wild, so he was pretty nervous.
"I put him under anesthesia, and once under, the arrow pretty much fell right out," Crawford said. "The skin and tissue around the arrow was dead."
The peacock was lucky because the arrow had only gone under the skin and barely penetrated the muscle.
They sewed him up and kept him overnight.
"It was really infected so walking around like that would have made him very sick," Crawford said.
The approximately 5-year-old peacock weighed about 10 pounds. "They look big because of all the feathers," Crawford said. She added that the birds are gregarious and have multiple mates. Roosting in trees, they are pretty shy and eat everything from worms and insects to berries.
They fixed him up and sent him off
The next day Pollard released him back to his flock.
Crawford even received a thank you letter from the local sheriff who praised her for helping the injured bird and donating her time and services along with Varland.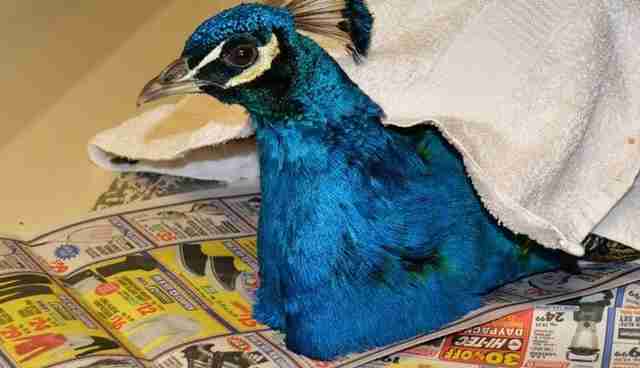 "He did drop a couple tail feathers in his cage, and we kept them," Crawford said. "They're just so pretty."