We Tried This Affordable Duster And Our Homes Are No Longer Covered In Fur
And so much less scary than the vacuum 🙀
We independently pick all the products we recommend because we love them and think you will too. If you buy a product from a link on our site, we may earn a commission.
It probably feels like your pet spends all day just intentionally covering your home in hair.
But you hate spooking your pet when you turn on the loud, noisy vacuum to clean it all up. Plus, big vacuums can sometimes struggle to get into all the nooks, crannies and corners.
So, we decided to test out the Swiffer Dusters Heavy Duty Super Extender Dusting Kit with two different cloths — one with the standard cloths included in the kit, and the other with pet-specific duster cloths — to see if they could quietly pick up all of our pets' hair.
The verdict? Here's why it earned our Paw of Approval.
What Is The Swiffer Dusters Heavy Duty Super Extender Dusting Kit?
The Swiffer Dusters Heavy Duty Super Extender Dusting Kit is made with Swiffer's Super Extendable Handle, which stretches up to 6 feet to help you reach those high shelves and moldings, but also collapses back down into a compact size so you can store it easily.
It has a pivoting swivel head that locks in four different positions, and is made with fluffy, flexible cloth fibers that extend out 360 degrees. The cloth is made with Swiffer's Dust Lock Adhesive, designed to pick up dust and other allergens.
The only real difference between the cloths that come with the Super Extender Dusting Kit and the ones designed for pets is that the pet cloths are pre-treated with Febreze to tackle any pet odors.
(So if you already have the Swiffer Super Extender Dusting Kit, you could always get the Pet Heavy Duty Refills to replace your current cloths when they get too dirty.)
We picked two Dodo dogs — who really love to leave fur all over the place — to put the Swiffer duster extender to the ultimate test. (But their moms were the real judges here.)
TaxonomyTermContributor is missing
TaxonomyTermContributor is missing
So … Did It Really Pick Up Our Pets' Hair?
Our pet parents were pretty impressed with how effectively the Swiffer duster extender picked up after their dogs — and that it could cover so much space.
"It definitely grabbed dust, dirt and hair really easily! The duster cloths seem to be quite clingy. One quick swipe and it collected dirt I didn't even know was there!" — Jane Y.
"I think it definitely did what it's intended to do. I like how long it reaches and how much surface area it covers. It seems to pick up a lot of dust and hair." — Danielle E.
What Pets Loved: It Didn't Bother Them!
Loud vacuum noises can spook a lot of pets, so ours loved that the Swiffer duster extender is completely and totally silent.
"Lucy had no real interest in it, but ultimately I think that's ideal for a cleaning product! If it was noisy or smelled weird, it would get a reaction from her, so I'm glad she didn't notice anything about it." — Jane Y.
Our other judge isn't bothered by pretty much anything, which meant the duster didn't bother her either.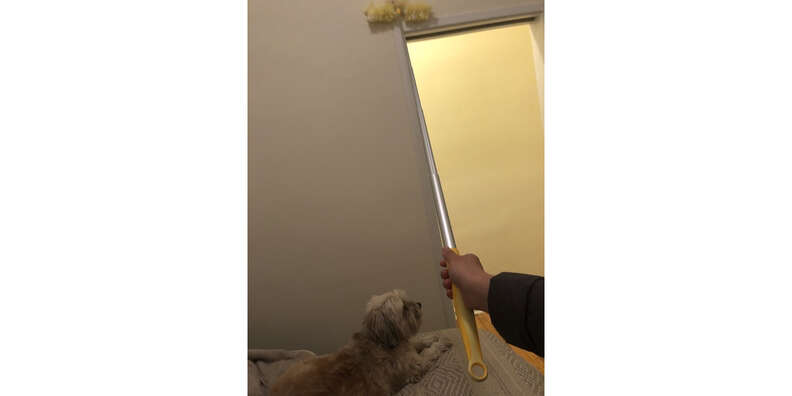 What Parents Loved: It's Quiet And Gets The Job Done!
The fact that the Swiffer duster extender is so silent wasn't just a plus for our pups — it made things so much easier for their parents, too.
"I can clean in peace and not have any interference from Lucy or worry that it's upsetting her." — Jane Y.
And both parents loved that it worked so well.
"I was pleasantly surprised at how smoothly it worked and how easily it picked up dust, dirt and hair fuzzies!" — Jane Y.
The Swiffer duster extender is really great at getting those hard-to-reach places.
"I like how long it reaches to get into crevices. And I like that it rotates." — Danielle E.
"It easily extended all the way and I was able to reach the top corners of my 12-foot-high ceilings and along the tops of door frames and crown molding." — Jane Y.
Our pet parents also loved how durable the duster is.
"The pole definitely felt heavy-duty and sturdy, but still lightweight. I wasn't worried that it would collapse while I used it fully extended." — Jane Y.
"It's sturdy and the duster piece doesn't fall apart." — Danielle E.
Not to mention, the fact that it collapses from 6-feet-long to something small and compact is so essential for when you have to put it away.
"It stores with a pretty low profile. With apartment living, it's important to have items that don't take up a lot of storage space when not in use." — Jane Y.
The Swiffer duster extender kit goes for $11.99, which both of our pet parents felt was the perfect price. The pet cloth refills cost $18.29 for a pack of 11.
With the Swiffer duster extender, we noticed the pivoting head can get a little tricky at times.
"The swivel top doesn't swivel as elegantly as you'd expect — it sticks a bit, so it doesn't just move easily if it's 6 feet away from you — but I think that's fine." — Danielle E.
And the standard duster cloths didn't hold up as well as we would've liked.
"The actual duster cloths could be fluffier and more durable — they started to break apart when I initially fluffed them up as directed." — Jane Y.
Despite these things, both of our human testers would continue using the Swiffer extendable duster, and definitely recommend it to other pet parents.
Our Takeaway: It Gets All The Pet Hair From Those Hard-To-Reach Places
The expandable handle on the Swiffer duster extender made it so easy to clean pretty much anywhere in our homes.
It's also super impressive just how much dust, dirt and pet hair the dusting cloths picked up.
And your pet will definitely love that it's so quiet and won't scare him or interrupt his nap while you (lovingly) clean up the fur he (indifferently) left all over the place.
The Dodo may receive complimentary samples to test in our Paw of Approval program, but all our opinions are 100 percent our own. We only publish endorsements of products we (and our dogs and cats) absolutely love! You can find out more about our testing process here.
If you have a product you love that you want to share with other pet parents, send a tip to dodopaw@thedodo.com.