This Harness Actually Helped With Our Dogs' Leash-Pulling
And it's so cute on them, too 😍
Kurgo Tru-Fit Smart Dog Walking Harness
Why We Love It:
It's a durable, affordable, no-pull harness that you can adjust in five different places for the perfect fit. It also comes with a seatbelt loop to keep your pup extra safe in the car!
We independently pick all the products we recommend because we love them and think you will too. If you buy a product from a link on our site, we may earn a commission.
If your dog's a big leash puller, you're probably in the market for a good harness, since he could strain his neck with a collar or even slip out of it if he's determined enough.
But you might be a little stressed about finding a harness that your pup will actually be comfortable wearing — especially since there are so many options out there.
The Dodo decided to give the Kurgo Tru-Fit Smart Dog Walking Harness a try to see if it's the solution to our leash-pulling problems.
Here's why it earned our Paw of Approval.
What Is The Kurgo Tru-Fit Smart Dog Walking Harness?
The Kurgo Tru-Fit Smart Dog Walking Harness is a harness that's designed to be super adjustable, to the point where it'll feel like it was custom-made for your pup.
The sizes range from extra small to extra large, and it's got five different spots where you can adjust the fit to get a perfect size for any dog.
This Kurgo dog harness also has a bunch of quick-release buckles, so you can get it on and off your pup super fast.
And since there are leash attachments on the front and back, you can clip it on however he likes best. (It also comes with a seat belt loop so you can keep him nice and secure in the car.)
The stylish design is available in three colors, and there's reflective trim to make night walks even safer. Plus, it's machine washable — which is always huge for pup parents.
We picked three office dogs with a bit of a pulling problem to take the Kurgo Tru-Fit Smart Harness for a test drive.
TaxonomyTermContributor is missing
TaxonomyTermContributor is missing
TaxonomyTermContributor is missing
So … Did It Keep Our Dogs Under Control?
Even though we had some pretty strong pullers on our judging panel, our pet parents definitely noticed a difference when walking their dogs with the Kurgo Tru-Fit Harness.
"It does feel like we have a bit more control of Lefty on walks, and it definitely feels like a safer option when we take him on car rides. We will 100 percent use this for car rides moving forward." — Brian C.
"I really like that the chest piece is padded and thick. I could tell it was keeping her from getting all constricted." — Sylvie K.
"The front buckle made us feel slightly more in control." — Christie R.
The included seat belt loop is also great for keeping your pups in the backseat of your car.
"It's most helpful to keep Cannoli from climbing into the passenger seat." — Christie R.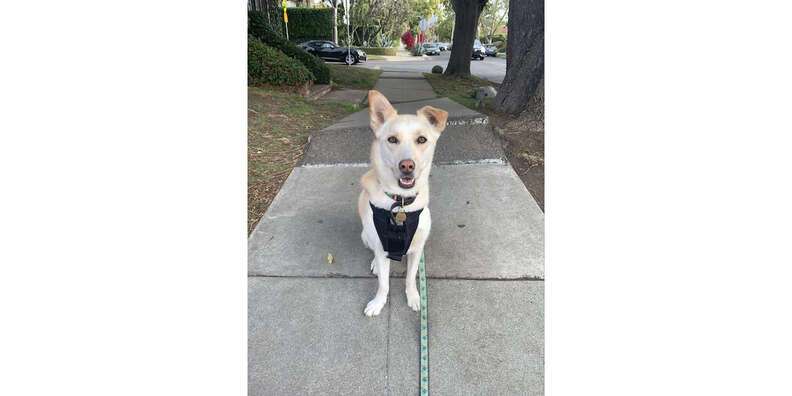 What Pets Loved: They Can Still Be Themselves In It!
Two of our three judges didn't mind wearing the Kurgo Tru-Fit Smart Harness at all. They knew they could still have a ton of fun while they were buckled into it.
"Lefty walked and sat (when in the car) like his happy, normal self, moving with a spring in his step and often smiling back at us as we walked him." — Brian C.
"Maki runs, jumps, falls and plays a LOT with other dogs, and it's stood up to everything, no problem." — Sylvie K.
Our third judge didn't love the harness itself, but liked how safe she felt in the car thanks to the included seat belt loop.
"Cannoli feels a bit more secure with the included doggie seat belt than just in her backseat hammock." — Christie R.
What Parents Loved: It's Nice And Sturdy!
Our pet parents were thrilled that the Kurgo Tru-Fit Smart Harness helped curb their pups' pulling.
But they also loved that it's made with sturdy materials that seem like they'll last a while.
"Everything looked and felt sturdy and well-made. The harness also looked good on Lefty." — Brian C.
"It's durable, the straps are thick, and you can tell by the weight of the material that it's quality." — Sylvie K.
"The fabric and materials definitely seem to be high-quality. It felt much nicer than our original harness." — Christie R.
Most of our testers also loved how easy it was to get the harness on.
"Lefty seemed to take to the harness pretty well. He had no reluctance putting it on." — Brian C.
"I appreciate all of the design, and how easy it is to adjust and clip in." — Sylvie K.
And when it comes to cost, all of our pet parent's felt the Kurgo Tru-Fit Smart Harness was very fairly priced at $28.99.
"I appreciate that this product is the same price for small sizes vs. large ones. As a big-dog mom, I have a strong aversion to items that increase in price exponentially based on size!" — Christie R.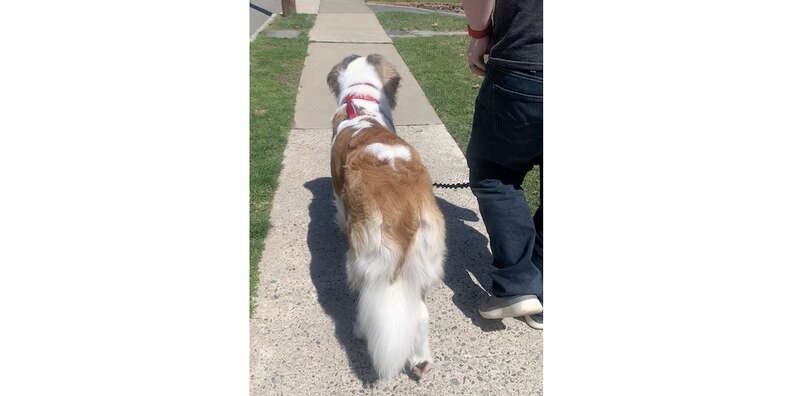 While it certainly helped with our pups' leash pulling, it didn't completely cure the problem.
"The only minor issue is that it did seem to choke Lefty a little bit whenever he pulled away aggressively, or we pulled him away from cats/squirrels. This did not seem to affect him very much, but we did notice that it restricted his torso a bit more than we are accustomed to." — Brian C.
"It didn't fully stop Cannoli's ability to pull." — Christie R.
And even though two of our dogs had no trouble putting on the Kurgo Tru-Fit Smart Harness, one of our testers had an issue with all the straps.
"It was SO HARD to get on her and adjust. This could have been easier with a smaller dog, but with one Cannoli's size, I needed my husband's assistance to get her secured in it." — Christie R.
Despite the downsides, two of our three (human) testers said they would continue using it, and even recommend it to other pet parents. The third would only recommend it for smaller dogs, but plans to keep using the seatbelt loop.
Our Takeaway: Give It A Try If You've Got A Puller!
The Kurgo Tru-Fit Harness is definitely one of the more affordable options on the market, and the chest pad and adjustable straps will help your dog find his perfect fit, while the durable materials are a nice surprise for the affordable price.
And since there are leash clips on the front and the back, you can choose the best setup to keep your dog from pulling.
Plus, the included seatbelt loop is such a nice bonus — since your pup's safety is always priority number one.
The Dodo may receive complimentary samples to test in our Paw of Approval program, but all our opinions are 100 percent our own. We only publish endorsements of products we (and our dogs and cats) absolutely love! You can find out more about our testing process here.
If you have a product you love that you want to share with other pet parents, send a tip to dodopaw@thedodo.com.