I Found A Magical Couch That's Basically Pet-Proof
Twenty dogs later and it still looks perfect ✨
Blu Dot One Night Stand 80" Sleeper Sofa
Why We Love It:
We've found it — the ultimate pet-proof couch. Durable fabric, chew-proof metal legs, and a magical ability to stay looking new despite anything your pet throws at it.
We independently pick all the products we recommend because we love them and think you will too. If you buy a product from a link on our site, we may earn a commission.
Couches take a lot of wear and tear from your pets.
Your cat claws at the arms, or your puppy chews at the legs, so finding a sofa that's actually pet-proof seems impossible.
But wait! There's actually hope!
The Dodo's Katy Brink has had a Blu Dot One Night Stand 80" Sleeper Sofa for a couple years now, and it's one of the only things that's held up in a house full of people, pets and a whole bunch of foster pups.
Here's why it earned our Paw of Approval.
What Is The Blu Dot One Night Stand 80" Sleeper Sofa?
The Blu Dot One Night Stand Sleeper Sofa is an 80-inch couch that unfolds into a queen-sized bed.
The Craig Red style — which is the one Katy has — is upholstered in a polyester and linen blend upholstery, and has stainless steel (puppy-proof!) legs and matching accent pillows.
The couch embodies the sleek modern design that Blu Dot's known for. But Katy was mainly interested because she wanted a cute couch that would actually be able to handle a house with a whole bunch of pets (like, a lot).
"Our friends who are also dog people had just gotten this Blu Dot sofa and said that their active Aussie puppy was unable to mess it up and it was easy to keep clean." — Katy B.
And so she took the plunge two years ago — here's how it's held up.
The Judges
Katy lives with three adorable pets of her own.
Norman
"
Norman, 10, loves ball more than anything and is a smart, loyal and silly boy. He has the cutest shy smile and loves sniffing. — Katy B.
Sasha
"Sasha, 9, is either a wrecking ball or a big baby who's sitting on top of you. She helps us foster puppies and likes to sleep in." — Katy B.
Robert
"Robert is a playful 14-year-old kitten who likes to stick his head in water glasses, knock things over and stare at the foster puppies." — Katy B.
Katy's also had about 17 foster puppies come through her doors in the two years since she's gotten her couch, so it's really been put through the ringer.
So … Did It Actually Hold Up?
Over the years, Katy, her husband Collin, their fosters and their own pets have used the Blu Dot One Night Stand Sleeper Sofa a bunch to really put it to the test.
"Our foster pups usually stay in the office while they decompress. We always find them curled up on the sofa. We also use it for lounging and watching TV with our own dogs and cat, and as a bed for overnight human guests." — Katy B.
This kind of action would definitely get the best of some sofas.
"Our dogs like our other sofas as well, but those sofas haven't held up as well — the wood legs are chewed, fur sticks to them and the fabric is worn or scratched." — Katy B.
But the Blu Dot sofa has handled everything Katy and her pets have thrown at it.
"This sofa was exactly what we were looking for. It's chic, firm and has held its shape through more than a dozen foster pups lounging and wrestling on it." —Katy B.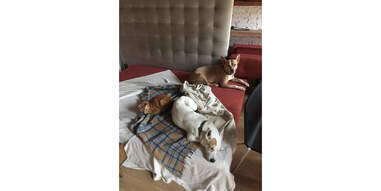 Robert, Norman and Sasha all snuggled up when the couch is pulled out.

| Katy Brink
What Katy's Pets Loved: It's A Snuggly Space!
Katy's dogs feel super cozy when they're lounging on the Blu Dot One Night Stand Sleeper Sofa.
"The dogs have pretty much taken it over! Even the most timid new fosters curl up on it and sleep hard." — Katy B.
And since it pulls out into a bed, it's big enough to give some struggling fosters the extra company and attention they need.
"It also doubles as a bed when we have overnight guests in our NYC apartment, or when one of us needs to sleep with a nervous or sick foster pup." — Katy B.
It's great for cuddling with tiny puppies, too.

| Katy Brink
What Katy Loved: It Stays In Good Condition!
Katy enjoys how incredibly durable the fabric is. Not only has it held it up, but it's also super easy to clean when messes do happen.
"The fabric is easy to clean with a lint roller (or a bit of soap and water for messes) and doesn't pill. It's not super clean in all these pics because we are usually more focused on dogs than our house, but it's good as new whenever we do get around to cleaning!" — Katy B.
Plus, the couch legs are pretty puppy-proof.
"The metal legs stand up to little puppy teeth." — Katy B.
And the best part is she doesn't have to sacrifice style for durability.
"We're happy with how it looks, and visitors always compliment it." — Katy B.
There's room for everyone!

| Katy Brink
Any Downsides?
Even though the couch can transform into a bed, it's not super plushy or soft (a downside of a lot of modern furniture). That's one reason it holds its shape.
"I realized pretty quickly that it's so firm you need a mattress topper (not just a mattress pad) to make it comfortable as a bed. Now that we use one, it's just as comfortable as a normal bed and even my mom gets a good night's sleep." — Katy B.
And at $2,000, Blu Dot One Night Stand Sleeper Sofa may be an investment piece for some pet owners. But since it's stylish, pet-resistant and versatile, Katy says she's absolutely gotten her money's worth.
"It's priced right. It's not cheap but it's a quality piece of furniture that will last a long time and hold up through many foster pups." — Katy B.
Our Takeaway: Treat Yourself To A Cute Sofa That Can Handle All Sorts Of Situations
At The Dodo, we spend a lot of time comparing the damage our pets have done to our furniture — but the Blu Dot One Night Stand Sleeper Sofa is an exception. It's remarkably held up to pet wear-and-tear in a house literally filled with pets, making it a great choice for any pet owners who want a nice sofa without worrying it won't last a month.
It also looks great, is easy to clean, and the fact that it can double as a bed makes it as practical as it is stylish (especially if you're in a small space).
The Dodo may receive complimentary samples to test in our Paw of Approval program, but all our opinions are 100 percent our own. We only publish endorsements of products we (and our dogs and cats) absolutely love! You can find out more about our testing process here.
If you have a product you love that you want to share with other pet parents, send a tip to dodopaw@thedodo.com.