Boy Walks 2 Miles To Get Help For His Sick Puppy
"She was very thin and the boy told us he didn't have enough money for food for her."
A 13-year-old boy walked up to Dinielle Stöckigt with a puppy in his arms. The puppy was sick, he told her, and she wasn't eating or drinking. She also had a more serious symptom - bloody diarrhea.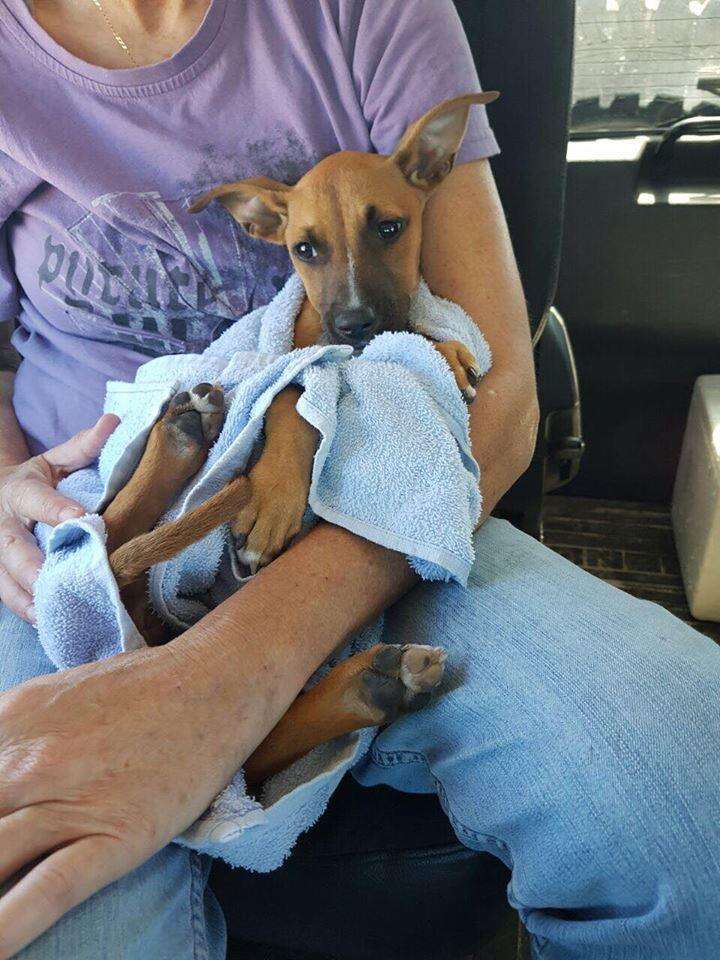 The boy lived in Delft, one of the poorest communities in Cape Town, South Africa. In Delft, many people live tiny homes with limited utilities, and gang violence is rampant. A lot of people don't have enough money to feed and care for themselves, let alone their companion animals.
In the neighboring community of Blikkiesdorp, life is even harder - instead of living brick homes, many people in Blikkiesdorp live in metal shacks. To help animals living in these communities, three South African women - Stöckigt, Rosie Kunneke and Clarina Hanekom - started Tin Can Town, an organization that offers free, life-saving animal services to local dogs and cats.
Every other Sunday, they have outreach days in Blikkiesdorp to neuter and spay animals, and to provide basic veterinary care, food and advice. Since the boy lived in Delft, he'd walked two miles to get the puppy to them.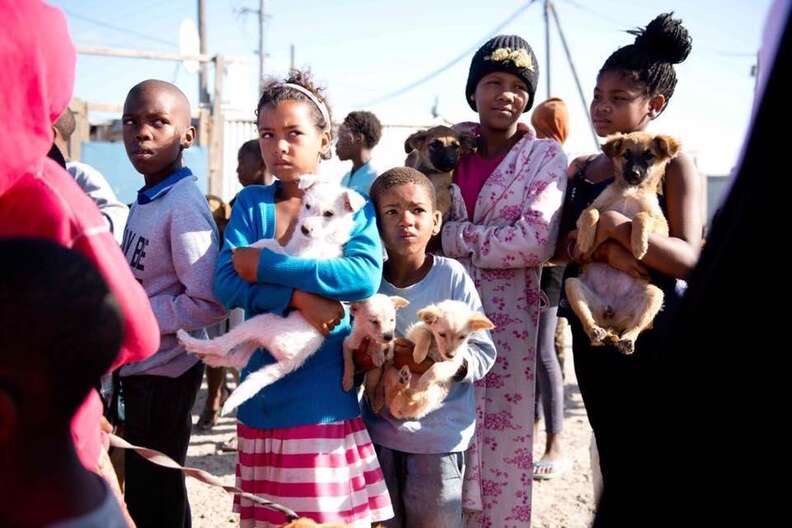 "She was very thin and the boy told us he didn't have enough money for food for her," Stöckigt told The Dodo. "We told him we would do our best to save her life, and find her a new loving home that can take care of her. We thanked him for bringing her to us for help."
One of the Tin Can Town volunteers, a vet named Dr. Rozanne Visser, suggested rushing the puppy to Sunset Beach Veterinary Clinic, where both Dr. Visser and Kunneke work.
It turned out that the puppy, whom they named Nanuk, had parvo virus, a deadly disease that attacks and breaks down a dog's intestinal linings.
"The virus causes anorexia, diarrhea, vomiting and weight loss and is typically fatal if left untreated," Dr. Cathy Meeks, a veterinarian with BluePearl Veterinary Hospital in Tampa, Florida, told The Dodo. "Dogs typically require hospitalization and can be in the hospital anywhere from a day to over a week depending on the severity."
The only way to prevent parvo is to get a vaccination, but unfortunately, Nanuk had never gotten one.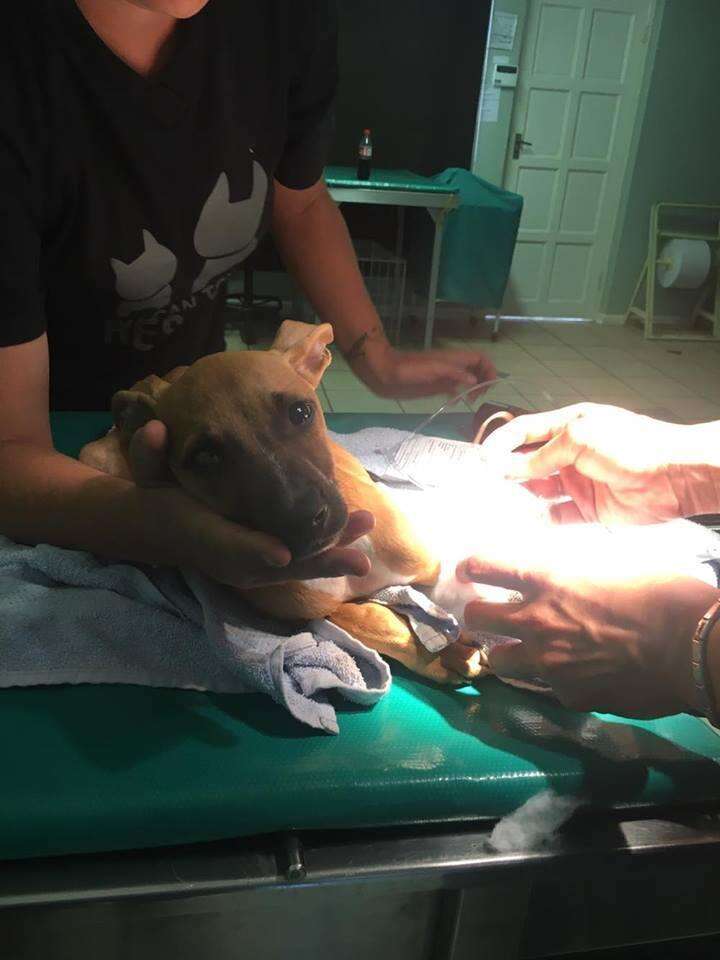 Nanuk was immediately placed on a drip. Then the vet team tried to get some food inside of her. But even with antinausea medication, Nanuk couldn't keep anything down. Then she stopped eating altogether.
"We would cook her a buffet of food types, and try and entice her to eat," Stöckigt said. "But she wouldn't."
At this point, Nanuk was underweight at only 8 pounds. If she didn't eat, she was going to die.
They tried feeding Nanuk via a feeding tube, but she got even sicker.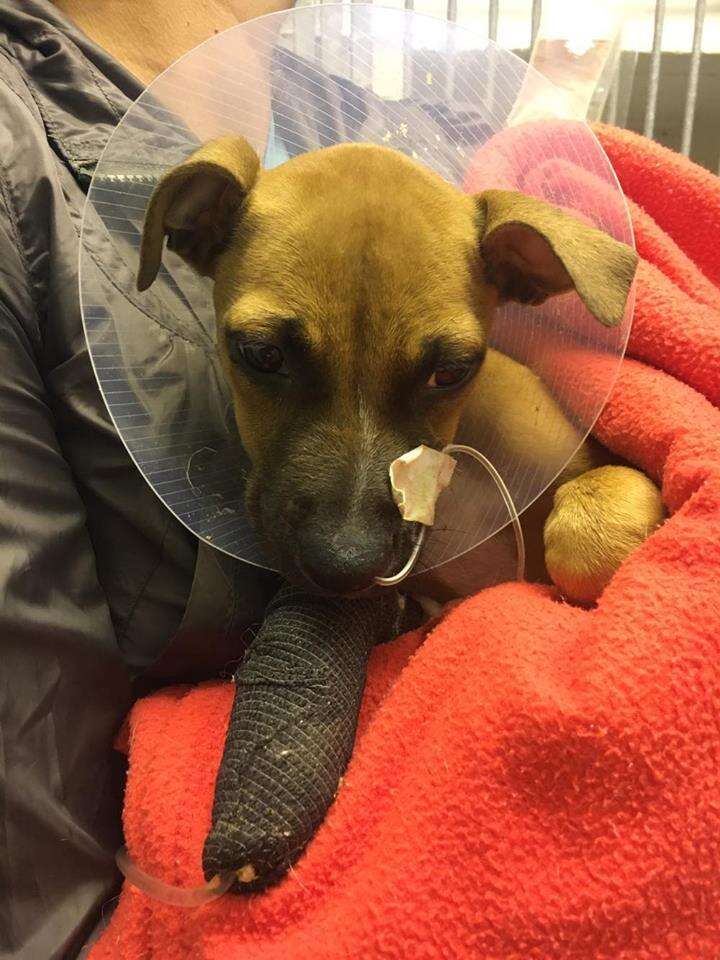 When Nanuk showed no improvement after five days, the vet team tried to prepare Kunneke and Stöckigt for the worst.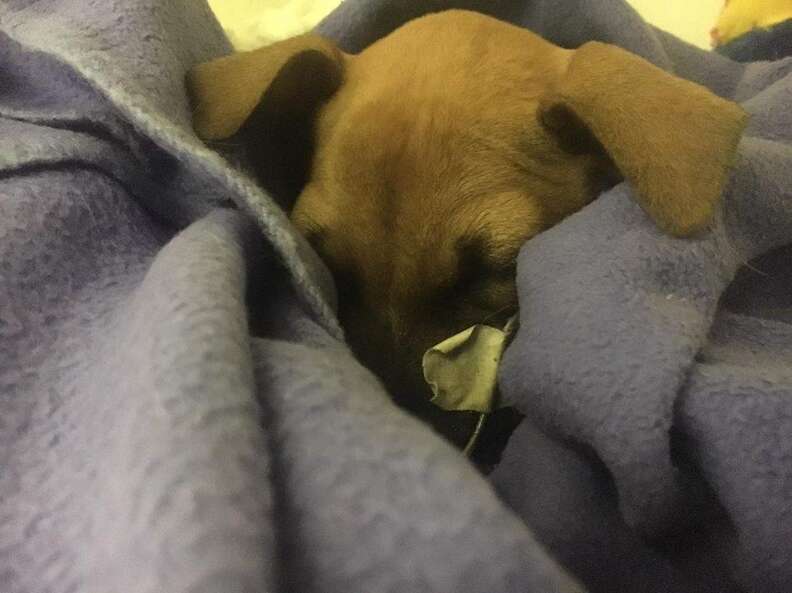 "The two vets alerted us that if she does not show a remarkable improvement in the next 24 hours, they will have to help her over to the rainbow bridge [put her to sleep]," Stöckigt said.
But Kunneke and Stöckigt refused to give up.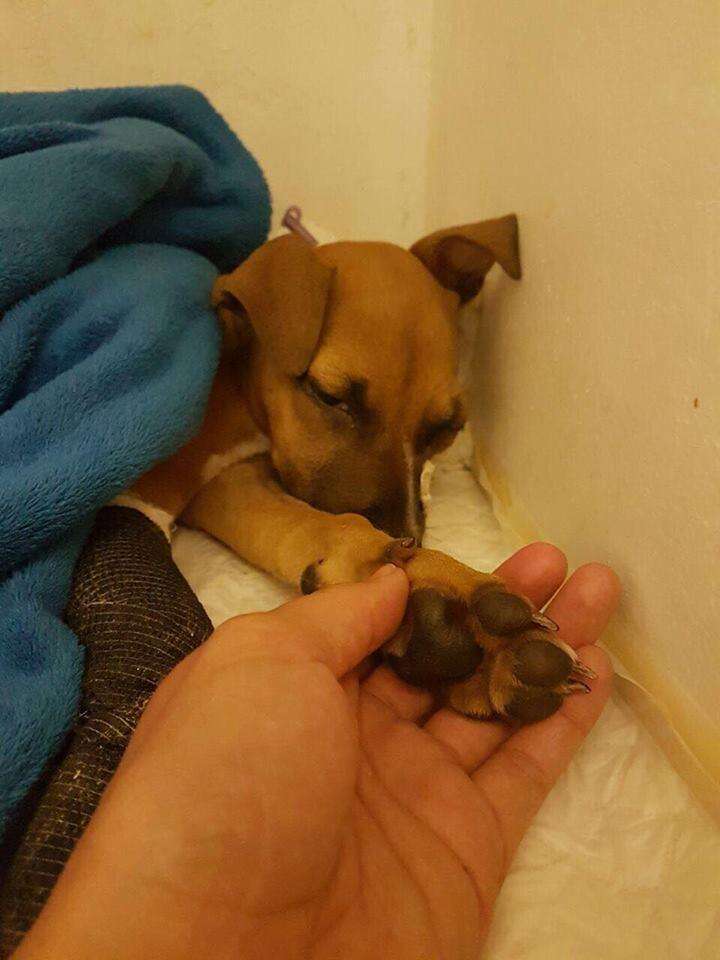 "We took turns sitting in her hospital bed with her, giving her pep talks and telling her that she must fight, and that a beautiful life awaited her," Stöckigt said.
They also tried to lift Nanuk's spirits with a special visit from foster cats. While parvo is a highly contagious disease, cats can't catch it.
"There was a sparkle in her eyes when the kittens came to visit," Stöckigt said. "Although she was very sick and weak on that day, she still lifted her head to sniff and cuddle with them."
On the sixth day, something miraculous happened. Nanuk ate all of her food, and she kept all of it down. She still had a long way to go, but she was finally on the road to recovery.
"I think it is a combination of the kittens, having one of us by her side the whole time giving her love and encouragement, and of course her amazing courage and will to live," Stöckigt said.
Now that Nanuk is better, Kunneke and Stöckigt have been looking for a family to adopt her. But amazingly, no one has offered.
"We really can't understand why she has not found a home yet," Stöckigt said. "All we can think of is she is competing with so many other rescued animals looking for their forever homes."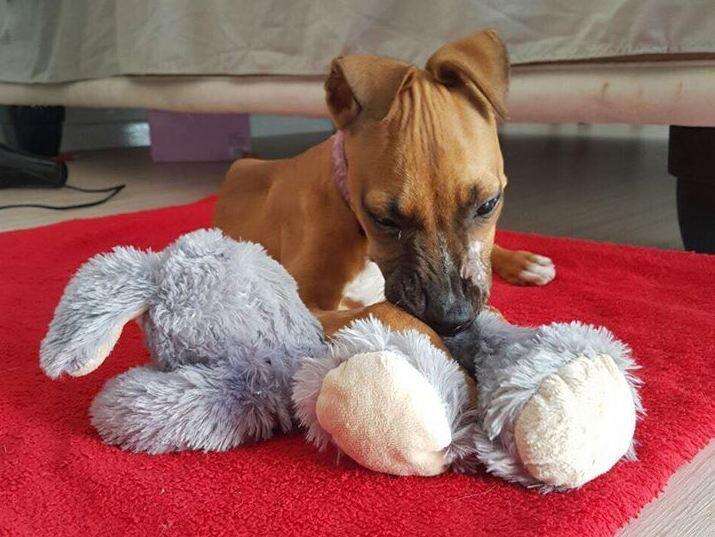 While Nanuk waits for a home, her health continues to improve.
"She is currently being fostered by her vet, and is doing better and better everyday," Stöckigt said. "She has three cats for company. She went on her first road trip to Stellenbosch this past weekend and got a warm jacket for the trip as she gets cold very easily because she's so skinny."
When she finally does find a home, Stöckigt is sure Nanuk will make her new family very happy.
"Nanuk is playful little girl who loves cuddles, especially if you kiss her tummy," Stöckigt said "She has this cute way of covering her eyes with her boxer-long legs when she gets excited about the cuddles. When you come close to give her some love, she immediately rolls on her back, awaiting tummy kisses and belly scratches. She loves playing with her ball and always sleeps with her elephant toy."
If you live in South Africa and you're interested in adopting Nanuk, contact Tin Can Town.
To help the organization care for more dogs and cats in underprivileged areas, make a donation.