Over the weekend, nearly a million partygoers turned out to dance and celebrate during Switzerland's famous Street Parade, billed as the largest techno music parade in the world. But amid the raucous festivities, those throngs of revelers made darn sure their good time didn't bother any baby birds.
When Elisabeth Kehl, director of the Zurich city aviary, learned that the street party would be passing nearby, she was more than a little concerned. As it so happened, a nest full of crowned hornbill eggs at the facility were expected to hatch the very day of the party, and she feared the blaring music and cheering crowds would disturb the tiny birds in the fragile first moments of their young lives.
So, prior to the event, Kehl posted signs along the parade route, kindly asking that they try to keep it quiet while passing her street. And sure enough, much to her amazement, they did just that.
According to TheLocal.ch, as the techno parade approached along with some 950,000 people in tow, organizers cut the music as not to bother the feathered new arrivals. The crowd, unable perhaps to contain themselves in silence, did break the no-music request for a moment, but in a charming form.
They sang the happy birthday song.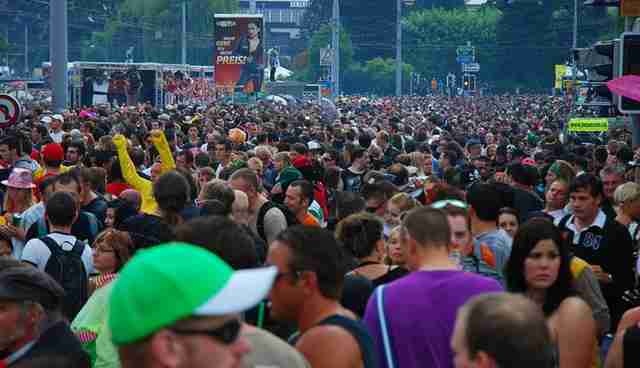 Afterwards, as the fun continued further on down the road, the aviary took to Facebook to express their gratitude, and to let everyone know that the young family appreciates it too:
"The commitment and consideration of the organizers of the Street Parade was terrific and shows that together, anything is possible. All the birds are doing fine and the female hornbill has not been fazed. Wonderful! Thank you!"