Anxious Bird Was So Bored She Plucked A Hole In Her Chest
<p>Exotic Bird Rescue of Oregon</p>
Jackie, a 22-year-old Moluccan cockatoo, is a gentle bird with an even sweeter voice. Whenever her foster mom enters the room, she's quick to greet with her with a chipper "hello."
It's almost hard to believe that such a friendly parrot, who adores head scratches, has done so much damage to her body - a sad cumulation of 18 years spent self-mutilating.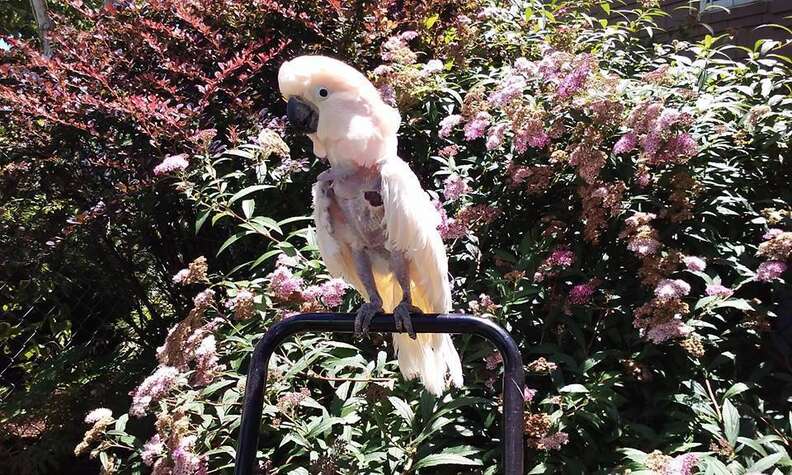 Jackie was given to the Exotic Bird Rescue of Oregon in late May after her primary caretaker passed away. Her owner's family felt that they were unable to continue giving Jackie the care she needed. The two most noticeable things about Jackie were her body, stripped of its feathers, and the quarter-sized open wound on her chest.
As the family explained to the rescue, Jackie was a plucker, and, at some point, started to do more than simply pull her feathers out - she started to hurt herself too. Even more disheartening was the fact that she had been like this for years. In order to curb Jackie's plucking, a plastic collar was screwed into place around her neck. She had worn this particular collar for seven years. But even so, Jackie found a way around it to continue attacking her body.
Roo Nitz, a board member of the rescue and Jackie's current foster mom, said she isn't sure exactly what has driven Jackie to her plucking. "I think it might have been hormone-related because she started right at puberty, but that was 18 years ago," she said. "There weren't many toys in her cage when we picked her up. I think, at this point, it is a combination of learned behavior and boredom."
During a recent vet visit, Jackie's stiff plastic collar was removed and replaced with a pink fleece one. As for her chest wound, plans are underway to get her the surgery needed to help remove the damaged tissue and bring together healthy skin to cover the area.
"At this point, there is probably nerve pain," Nitz said. "But before surgery, we want to make sure she cannot get to the wound and make sure she has a lot to do while healing." Nitz added that Jackie's feathers more than likely won't grow back fully due to follicle damage.
Nitz also hopes to get Jackie in a better place emotionally. "She is afraid of a lot of toys, so we are slowly introducing them," she said. Currently, Jackie is on pain medication and antibiotics.
But Jackie is enjoying being spoiled with her favorite food of all: bananas. Nitz said Jackie will do almost anything for a banana, which comes in handy during training time, part of the preparation Nitz is doing to help Jackie find a forever home.
"Naked birds don't usually get adopted and large cockatoos don't either," Nitz said. "Hopefully we will get her healthy and find the perfect home, but that won't happen for a while."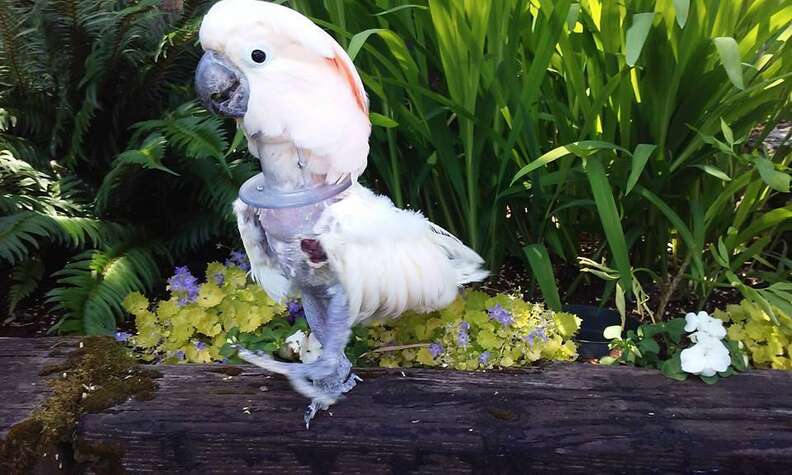 Want to help with Jackie's ongoing medical care? Consider making a donation here.
Watch this video of Jackie being the best sport about taking her medication: