You may not be the type of person who finds a video of two dogs playing with a water bottle particularly touching. But once you know the story of this puppy's incredible life, you might be.
Meet Sunshine. She was born on June 15, and, for the most part, she was a happy, healthy Rhodesian ridgeback puppy.
Mija Cyphert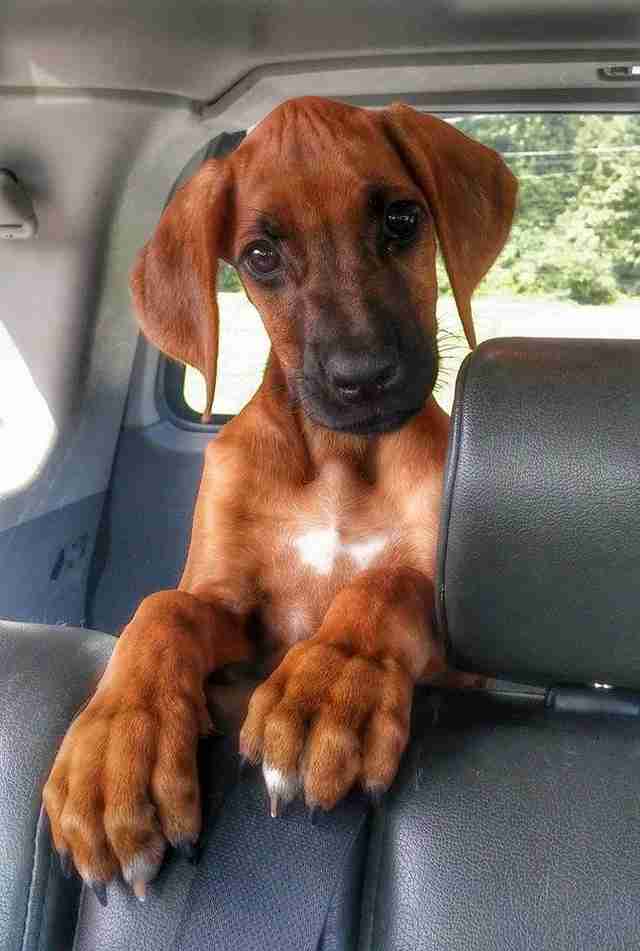 Although she suffered from intussusception, a life-threatening condition of the intestines, she received two surgeries and was doing well, aside from the occasional diarrhea.
Then, the unthinkable happened one night. She sustained an injury while out of her owner's eyesight in the backyard, and it caused her to become almost completely paralyzed.
Mija Cyphert
Mija Cyphert
Veterinarians ran many tests to locate the origin of the paralysis. On paper, Sunshine was a happy, healthy dog, but in reality, she was paralyzed from head to tail. All she could do was let out a soft, inconsolable cry.
The vets said that Sunshine would never move on her own again, and they recommended euthanizing her to relieve her of her suffering.
Mija Cyphert
Sunshine's owners wanted to take the vet's advice, but Mija Cyphert, Sunshine's breeder, couldn't see this young dog die. She went to get a second opinion from Dr. Vincent Zaccheo of Warren Animal Hospital, who had seen cases like this before. He told Cyphert that with rigorous daily treatment, Sunshine could heal.
Cyphert took the dog into her home near the Appalachian Mountains in New Jersey and began extensive physical therapy.
Mija Cyphert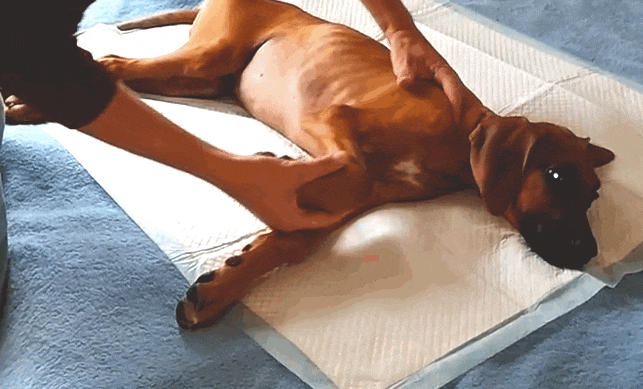 Mija Cyphert
"I [wasn't] going to let her suffer," Cyphert told The Dodo.
Although she didn't have control of her muscles, Sunshine could feel, so Cyphert focused on strengthening those sensations. She researched rehabilitation techniques and pushed Sunshine to challenge herself.
Along with physical therapy, Sunshine received laser treatment and acupuncture to stimulate her nerves and remind her body of the sensation of movement.
Mija Cyphert
And eventually, after a lot of hard work on both Cyphert and Sunshine's part, the puppy began to show little movements.
Those little movements became bigger. Slowly but surely, Sunshine was learning to use her body once again.
Mija Cyphert
Mija Cyphert
"She's a fighter," Cyphert said. "She loves life."
Cyphert sat Sunshine's hind legs in her lap and supported her from underneath, reteaching the dog how to use her front legs.
Mija Cyphert
Mija Cyphert
"I was trying to hold her up in that position which is natural for her body, so her body would get the message that there was pressure," Cyphert said. This movement told Sunshine's brain not to let her bones decalcify or her body to give up.
As Sunshine's body grew stronger, so did her spirit and her desire to heal.
Mija Cyphert
Mija Cyphert
Cyphert used a balancing ball and harness to get Sunshine on her feet.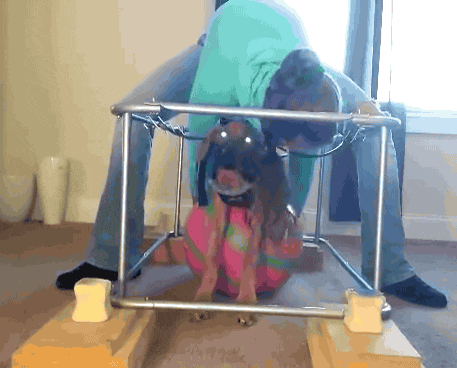 Mija Cyphert
And back in the tub, Sunshine took her first steps, albeit backwards.
Mija Cyphert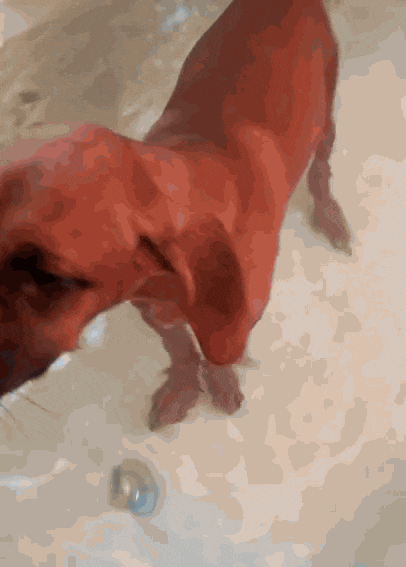 Mija Cyphert
"Since the water didn't put as much pressure on her body, she was able to take her first few steps in the water," said Cyphert, who called the achievement a moonwalk. "From there, she was able to transfer into the wheelchair."
Cyphert used food to encourage Sunshine to move herself across the ground.
Mija Cyphert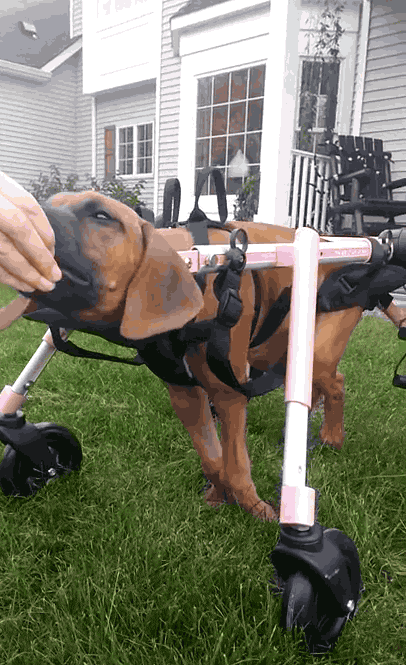 Mija Cyphert
Along with frequent verbal encouragement, the food gave Sunshine a reason to move her body forward.
Mija Cyphert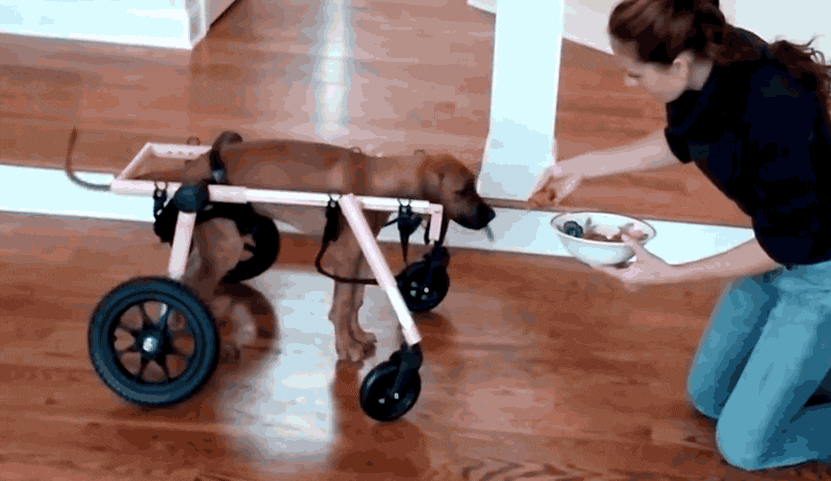 Mija Cyphert
Soon, she didn't even need the wheelchair.
Mija Cyphert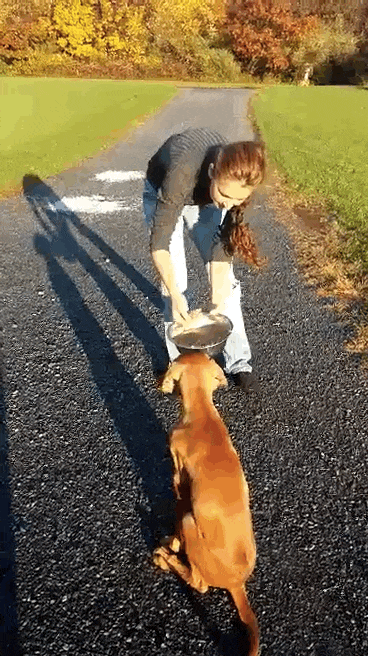 Mija Cyphert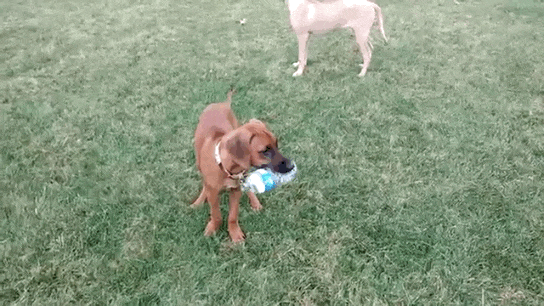 Mija Cyphert
She's keeping up with the rest of them.
Mija Cyphert
Mija Cyphert
And, as the video shows, she can even pull a fast one on her friends.
"It was a lot of work, but it was not wasted life," said Cyphert, who hopes that her story will inspire people to give their dogs a second chance, especially when the dog has no other hope.
"Sometimes situations can seem so dark and there is no hope, but you never know what tomorrow will bring," Cyphert said.
Mija Cyphert
Mija Cyphert
Cyphert will continue Sunshine's rehabilitation at their beautiful home, where Sunshine will be able to run and play as much as her heart desires.
Below are three videos of Sunshine. To the viewer who doesn't know her story, they may seem uneventful. They show a dog playing with a water bottle, running in a field and going on a hike. But now that you know her story, those videos may just mean a little something more.