Update: This story has been updated to include a statement from Santuario Gaia.
Patricia the pig couldn't contain herself when her caretaker brought new wood shavings for her pen. And who wouldn't be ecstatic to have a handsome man lay down fresh bedding in your barn?
Patricia, who lives at Santuario Gaia, a sanctuary in Spain, immediately perked up when she saw the bags.
When the man opened them, Patricia stuck her snout in the waterfall of shavings.
It was only a matter of seconds before she dove to the ground and started to breakdance.
When the dancing was over, she snuck a kiss.
He gave her some love back ...
... and some well-deserved pets.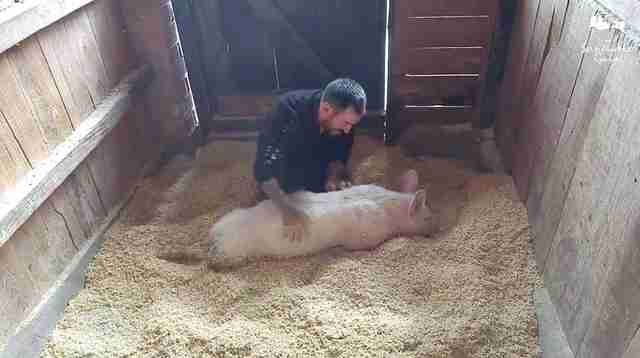 Patricia loves the feeling she gets when new bedding arrives because pigs are such hygienic creatures. "Pigs are the cleanest animals in the sanctuary, never defecating where they sleep and where they eat," Santuario Gaia wrote in the video's caption. "Imagine the suffering they have on the farms where they live surrounded by their own waste."
That was the life that Patricia, who was born on a factory farm, left behind when she came to Santuario Gaia. Her mother, who was trapped in a cruel gestation crate, had accidentally fallen on her and left Patricia paralyzed from a spinal cord injury.
Though she was just a baby, the farm wanted to kill her. Fortunately Santuario Gaia stepped in to give her a home. Patricia was saved from farm life and given a special wheelchair to help her move about.
The photo above shows Patricia when she first arrived at the sanctuary back in September. With the help of her wheelchair, she's able to walk and even run around with the other animals.
"Patricia has been a very happy little pig since she came to the shrine ... always curious and cheerful," Santuario Gaia told The Dodo. "Her disability does not prevent her from having as normal a life as possible." Although tests have shown that Patricia's spinal cord damage is most likely irreversible, the sanctuary goes to great lengths to allow her the same joys of life that other pigs experience.
"Now she goes out every day with her wheelchair and handles it very well," Santuario Gaia continued. "She has learned to drive it without problem through the fields and plays with another little pig [at the sanctuary], Javi."
Currently, Patricia is in need of a new wheelchair after the harness on her previous one broke. You can help Patricia get a new wheelchair - and help other rescue animals like her get a second chance - by making a donation to Santuario Gaia.
Watch the full video below.