Paralyzed Stray Dog Found Crawling On Thai Beach Makes Stunning Transformation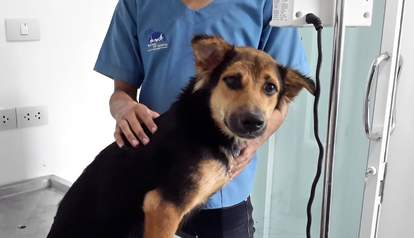 When a traveler on a beach in Thailand came across a dog who was paralyzed in his back limbs - though otherwise cheerful - she knew that she couldn't leave without helping the pup. He was covered in ticks, malnourished, and had resorted to eating sand to stay alive.
(Meagan Penman)
Meagan Penman took footage of the dog as he dragged his hind limbs over the sand and posted it on reddit, where it soon went viral
After local shelters denied the dog, whom she named Leo, Penman realized that his fate was in her hands. She set up an online fundraising account as well as a Facebook page to raise money for his veterinary bills. X-rays revealed that Leo's back was broken, he was completely paralyzed, and would never walk again.
(Meagan Penman)
But Penman couldn't shake him - he was upbeat and friendly, despite his predicament. After three months of veterinary care, Leo was flown to Canada to his new home with Penman. Thanks to the generosity of strangers, Leo received a wheelchair so he would no longer have to drag his hind legs around. The Dodo checked in with Penman for an update on Leo, whom she said is "doing really well."
(Meagan Penman)
"Now with the wheelchair he is able to go on two walks a day as well as the park," she said. "He got to chase a squirrel for the first time the other day - his Canadian initiation."
She added that Leo's health has improved dramatically and he's put on five pounds.
"I'm sure he must be really happy to have a human around to give him attention," Penman said. "When I found him on the beach that is really all he wanted, was attention from people. Nobody would give it to him though because he was in such a disastrous state. I don't think he will have that problem anymore though."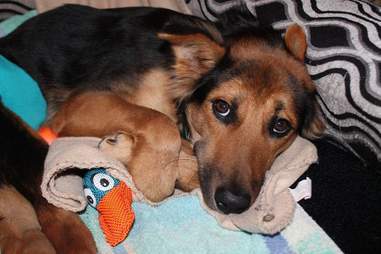 While Leo's story is a heartwarming one, there are thousands of dogs like him who aren't so lucky. Penman, who saw many of these animals during her travels in Asia, says that spaying and neutering pets is the best way people can help.
You can also support organizations that care for stray animals - Humane Society International, World Animal Awareness Society, and the Soi Dog Foundation are all great places to start. It's also surprisingly easy to adopt a stray dog from Thailand, where there are many, many dogs needing good homes. See this post for more information on how to adopt.