Panera Is Turning Its Back On Thousands Of Suffering Chickens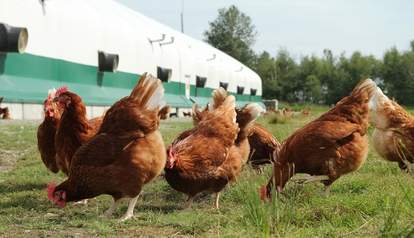 <p> World Animal Protection </p>
Panera Bread advertises "food as it should be," but only 18 percent of the 70 million eggs in its supply chain come from cage-free barns. With over 280 million hens in the US suffering in cramped, barren cages, this is one of the cruelest practices in modern farming. Hens in cages cannot spread their wings, turn around, or express natural behaviors like perching and dust bathing. Hens in cages are not living as they should be. Can any business continue to argue that this is how hens should be treated?
By and large, Panera has shown industry leadership when it comes to animal protection and sustainable food. By January 2015, it had phased out the use of gestation crates for its pork and 80 percent of its beef came from grass-fed cows. But almost a year later, Panera has yet to say more about the remaining 82 percent of its eggs that come from hens in cages. By not committing to increase the number of cage-free eggs it uses, Panera is turning its back on close to 160,000 hens each year. It's time for Panera to do more for hens.
Ron Shaich, Panera CEO, recently wrote an open letter to customers, saying, "Consumers are demanding more of the companies that feed them." This is true. Sixty-seven percent of shoppers consider animal welfare in their food purchasing decisions, with 42 percent doing more today than just five years ago. Restaurants evaluating the future direction of food should also take note that a whopping 83 percent of millennials take animal welfare into account when making food purchasing decisions. In addition, a 2015 Food Marketing Institute survey found that animal welfare is the second most important consideration for shoppers, scoring higher than environmental sustainability.
The landscape of egg production has shifted drastically in the last several years. Many of the largest food businesses in the US, such as McDonald's, Starbucks, General Mills, and Aramark, have already responded to the public's outcry for better treatment of hens and have committed to sourcing 100 percent cage-free eggs within the next five to 10 years. These commitments must be followed with action and transparency on progress, but a public commitment is the vital first step in a long process of change.
Regulations in many states, both current and pending, will also further drastically alter cage-free production by requiring egg producers across America to meet minimum standards in order to produce or even sell in states with such legislation. Chad Gregory, CEO of the United Egg Producers, has acknowledged that he expects cage-free production to increase.
With the availability of cage-free eggs already growing thanks to this shifting market, change is both possible and necessary. Failure to commit to a 100% transition to cage-free eggs can and will put Panera at risk in the future. Waiting to act any longer is sure to lead to revenue loss for Panera as demanding consumers go elsewhere to get food as it should be, from hens living as they should be.
Join World Animal Protection in urging Panera to commit to 100 percent cage-free eggs!